Ambassador launches Yeats 2015 at LASALLE Singapore
On 23 April, Ambassador Keating officially opened the "Life and Works of Yeats" exhibition at LASALLE College of the Arts as part of the global Yeats 2015 initiative that marks the 150th anniversary of the birth of the poet.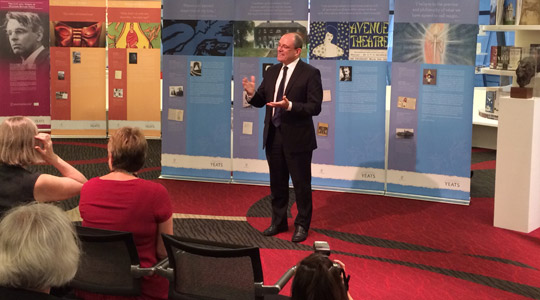 In presenting the exhibition locally, the Embassy has partnered with LASALLE College of the Arts, a leading tertiary institution in cutting edge contemporary arts and design education and practice. The College was founded in 1984 by artist and De La Salle Brother Joseph McNally, a native of Co. Mayo, whose artistic contribution to the arts in Singapore is so cherished to this day.
The launch event brought together academics, practitioners and cultural contacts of the embassy. LASALLE students and faculty read excerpts from Yeats poems and plays and Professor Steve Dixon, President of LASALLE, recited The Song of Wandering Aengus.
The exhibition, commissioned by the Irish Department of Foreign Affairs and based on material in the National Library of Ireland, celebrates Yeats' life, his works, and his contribution to the great debates of his age. Admission is free to the public and the exhibition will remain on view at LASALLE's Ngee Ann Kongsi Library until 30 June.
More details are available from the LASALLE website and from the Yeats 2015 website.
William Butler Yeats is widely considered to be one of the greatest poets of the twentieth century. In 1923, he was awarded the Nobel Prize in Literature as the first Irishman so honoured for what the Nobel Committee described as "inspired poetry, which in a highly artistic form gives expression to the spirit of a whole nation."