H.E. Seán O'Regan
Ambassador of Ireland to the Republic of Slovenia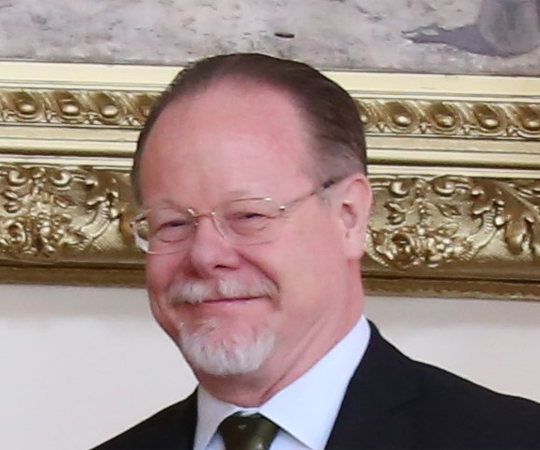 Message from the Ambassador
H.E. Seán O'Regan
Ambassador of Ireland to the Republic of Slovenia.
Thank you for visiting this website, which we intend to be a useful and informative resource. I would be very happy to hear your comments and suggestions for improvements.
Ireland and Slovenia enjoy an excellent diplomatic and political relationship. We are two small countries with many parallels in our history and recent economic experience. As Ambassador my work is focussed on strengthening and deepening our relationship in all spheres. This should help us to work more closely together in areas of common interest, particularly within the European Union framework.
Ireland and Bosnia & Herzegovina also enjoy an excellent bilateral relationship. We support Bosnia & Hercegovina's aspiration to EU membership and continue to provide various forms of assistance in pursuit of that goal. In line with Ireland's long tradition of peacekeeping under United Nations auspices Ireland continues to contribute to peace and security in BiH, as we have for many years, through EUFOR.
We aim to provide superlative services to our citizens living in or visiting our area of responsibility. Please do not hesitate to contact us for assistance in consular matters or in building your business in Slovenia and Bosnia & Herzegovina.
Please consider connecting with us on Twitter (@IrlEmbLjubljana), Facebook (@EmbassyIrelandLjubljana) and LinkedIn (www.linkedin.com/in/embassy-ljubljana-648b26119), where we also have a virtual business network (Ireland Slovenia Business Network).
I tweet myself from @SeanOReganIRL.
Seán O Regan
Ambassador
15 May 2017
Ambassador's Biography
Ambassador's Biography
Seán O Regan joined the Department of Foreign Affairs in 1991 after a short career in the Bioscience Industry.
In his diplomatic career he has served at the Irish Embassies in Finland (1993 - 1997), Turkey (1999 - 2004) and China (2009 - 2013) and has worked in Brussels at the Irish Permanent Representation of the EU (1996) and in the Cabinet of former Secretary General High-Representative Javier Solana (2004 - 2009).
At headquarters in Dublin he was worked in the Anglo Irish and European Union Divisions and the Press Office of the Department of Foreign Affairs. His most recent assignment was as Joint Director General of the International Fund for Ireland.
The Ambassador graduated in 1984 from University College Cork with a degree in Microbiology. In 1990 he obtained a Professional Diploma in Accounting at Dublin City University. In 2000 he wrote a thesis on public sector reform in Ireland leading to a masters degree in public policy and strategy, also from UCC. In 2015 he was awarded a post graduate diploma in conflict and dispute resolution studies by Trinity College Dublin.
Mr O Regan is a member of the Mediators Institute of Ireland.