H.E. Seán O'Regan
Ambassador of Ireland to the Republic of Slovenia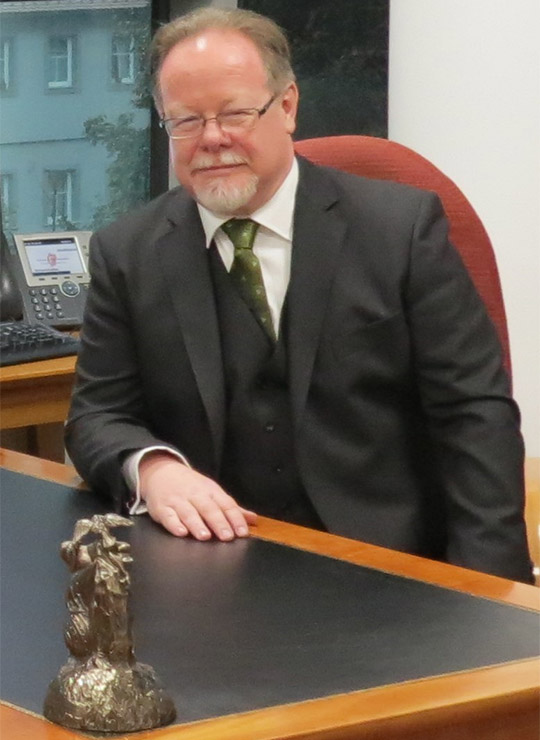 Message from the Ambassador
Message from Ambassador
Ambassador of Ireland to the Republic of Slovenia.
As we start 2017 I would like to wish you all a healthy, happy and fruitful year ahead.
I am delighted to welcome you to the website of the Embassy of Ireland in Ljubljana. I hope that you will find it a useful and informative resource. We are always happy to hear your comments on how to improve the site.
While 2017 does not have the same importance to us as the past year there are some significant international anniversaries including the 500th anniversary of Luther's Reformation, the 350th anniversary of the birth of Jonathan Swift, the centenary of the Russian revolution as well as several other anniversaries of Irish interest.
We intend through the year to bring you what we hope you will find to be a varied and interesting programme of events. Visit this site often for updates and to follow us on Twitter, Facebook and LinkedIn to stay up to date with our activities.
An essential element of the Embassy's work is to support our citizens here, both those who are resident and those who are visiting. We are also at the service of Irish businesses in their development of trading and investment links with Slovenia. Please do not hesitate to contact us for assistance.
Seán O Regan
Ambassador
10 January 2017
Ambassador's Biography
Ambassador's Biography
Seán O Regan joined the Department of Foreign Affairs in 1991 after a short career in the Bioscience Industry.
In his diplomatic career he has served at the Irish Embassies in Finland (1993 - 1997), Turkey (1999 - 2004) and China (2009 - 2013) and has worked in Brussels at the Irish Permanent Representation of the EU (1996) and in the Cabinet of former Secretary General High-Representative Javier Solana (2004 - 2009).
At headquarters in Dublin he was worked in the Anglo Irish and European Union Divisions and the Press Office of the Department of Foreign Affairs. His most recent assignment was as Joint Director General of the International Fund for Ireland.
The Ambassador graduated in 1984 from University College Cork with a degree in Microbiology. In 1990 he obtained a Professional Diploma in Accounting at Dublin City University. In 2000 he wrote a thesis on public sector reform in Ireland leading to a masters degree in public policy and strategy, also from UCC. In 2015 he was awarded a post graduate diploma in conflict and dispute resolution studies by Trinity College Dublin.
Mr O Regan is a member of the Mediators Institute of Ireland.