1916 documentary screening on national RTV SLO.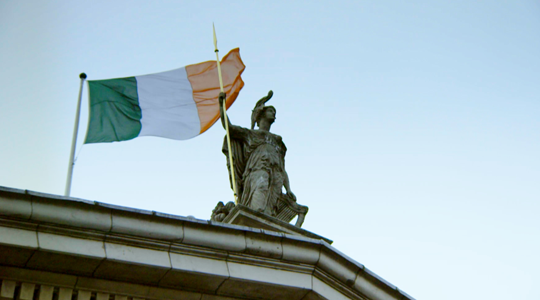 The Embassy of Ireland in Ljubljana is delighted that this film, marking one of the most significant events in Ireland's history, will be shown on TV SLO 2 on Monday, 5 December at 21:00.
In 1916, a series of events that would lead to the creation of an independent Irish State were set in train by men and women drawn from the ranks of the Irish Republican Brotherhood, the Irish Volunteers, the Irish Citizen Army and Cumman na mBán.
The events of April and May 1916 in Ireland were, of course, felt most profoundly there, but their global impact should not be ignored. This was the first in a series of revolutions during World War I that led to the end of the age of European empires and to the assertion by small nations of their right to self-determination and ultimately to decolonisation. There is a considerable body of evidence that the Easter Rising, and the events that followed, inspired the leaders of independence movements in Africa and encouraged greater militancy in the ranks of the Indian National Congress. The Embassy hopes that the screening of this film will be an encouragement to Slovenes to learn more about the Rising and about those who led it.
Throughout 2016, Ireland has remembered, reflected and re-imagined the Easter Rising of 1916. This was done through a series of dignified events, which were inclusive and respectful. Some aspects of this commemoration have been challenging and in consequence have been controversial, but all have captured the zeitgeist of reconciliation. That vital process of reconciliation is ongoing at every level of society on the island of Ireland, respectful of the different traditions and histories. The legacy of the centenary programme will inform the commemoration of future events in this "decade of centenaries", including the formation of the first revolutionary Dáil Éireann (the National Assembly), the Irish War of Independence, the establishment of the Irish Free State, the Irish Civil War, and beyond.
A detailed listing and description of the Centenary Programme is available.