Week of Irish Culture, Ljubljana City Library, 4-8 December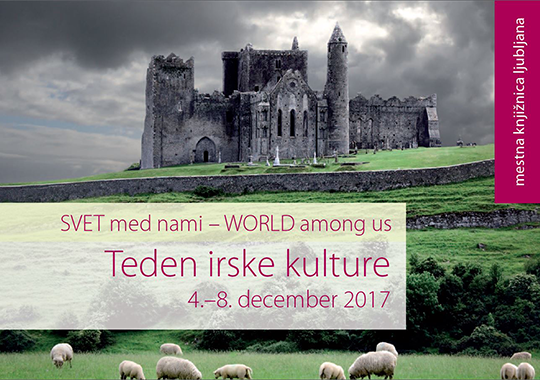 Ireland is the focus of this year's project 'The World Among Us' with which Ljubljana City Library aims to bring the culture of the country to a wider audience, with free events taking place throughout the network of Ljubljana City libraries.
The Embassy of Ireland in Ljubljana is supporting the project run by the Ljubljana City Library called 'The World Among Us'.
A rich and diverse programme of events will be available from 4 to 8 December throughout the network of the Ljubljana City Library venues, with the opening event taking place in Knjižnica Otona Župančiča library on Monday, 4 December at 18:00.
The Embassy is also very proud to have secured Irish participants for two separate evenings:
Wednesday, 6 December at 20:00, in Trubarjeva Hiša Literature:
Neil McCarthy , an Irish poet currently living in Vienna, is not your typical poet but rather delivers his Spoken Word poetry to his audiences in a playful and entertaining manner. He is living proof that Irish poets are excellent narrators and that poetry too can be fun. The event will be in English.
Thursday, 7 December at 19:00, in Knjižnica Otona Župančiča:
Irish literary experts, Prof. John McCourt, University of Macerata, Italy and Prof. Aidan O'Malley, University of Rijeka, Croatia will be in conversation with Prof. Tina Mahkota, the renowned and prize-winning translator of James Joyce's Dubliners, touching on the subjects of Irish literature, culture, identity and the Irish connections with the region. The discussion will be in English with Prof. Tina Mahkota summarizing in Slovene.
See the full programme of events during the "Teden Irske Kulture".
All of the events are free and no tickets are required. Enjoy!