Večer tradicionalne irske glasbe – Irish trad session
16.3.2016, 20:00 – 22:00
Cutty Sark, Knafljev prehod 1, Ljubljana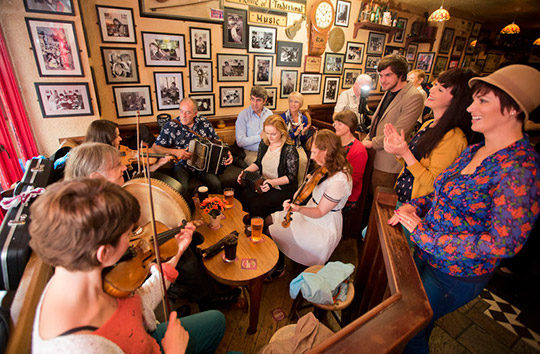 Doživite avtentični irski 'trad session' (srečanje glasbenikov) kar tu v Ljubljani!
Neformalna srečanja glasbenikov, ko se le-ti zberejo, da bi igrali irsko glasbo v sproščenem okolju, pogosto v pubu, so osrednji del irske kulture in tradicije. Namen takega srečanja glasbenikov ni nastop pred publiko temveč druženje s prijatelji in glasbenimi kolegi ter neobvezno in spontano preigravanje irske glasbe. 'Trad session' ponavadi poteka tako, da eden iz skupine zbranih glasbenikov prične z igranjem skladbe, ostali, ki melodijo poznajo pa se mu vsak na svojem inštrumentu pridružijo. Neformalni bonton takega srečanja veleva, da tisti, ki ne pozna melodije ne igra z ostalimi glasbeniki temveč počaka dokler ne pride na vrsto melodija, ki jo pozna. Kadar je srečanje odprto se skupini lahko pridruži kdorkoli, ki zna igrati irsko glasbo. 'Trad session' je tako pogosto tudi način zabave za obiskovalce puba, ki mnogokrat pridejo v lokal prav z namenom slišati glasbo v živo in preživeti zabaven večer.
Irska glasbena scena v Sloveniji je v zadnjih letih vse bolj pestra in srečanja glasbenikov se enkrat mesečno odvijajo v različnih lokalih v centru mesta. Pridite na večer irske glasbe v Cutty Sark tudi vi in v živo doživite pravi irski 'trad session' – zagotavljamo vam enkratno in zabavno doživetje!
---
Experience a real Irish trad session, right here in Ljubljana! The trad session is central part of Irish culture and tradition. Amateur musicians gather in an informal setting – often a pub - to play Irish music together. The aim is not to provide music for an audience, but for the musicians to play together for their own enjoyment. Of course everyone is welcome to come along to play or to listen and it is always a very enjoyable evening.
The session usually begins when one person starts playing a tune, and those who know it join in, sometimes adding variations. Good session etiquette requires you to hold back if you don't know the tune, and wait for a piece you know to come around. In an "open" session, anyone who is able to play Irish music is welcome.
The Irish music scene in Slovenia has been growing in recent years and there is now a lively session held at a different city centre pub each month. Come along to Cutty Sark on 16 March and see for yourself we guarantee a unique and wonderful experience!