Ambassador
Welcome Message from H.E. Fionnuala Gilsenan, Ambassador of Ireland to South Africa.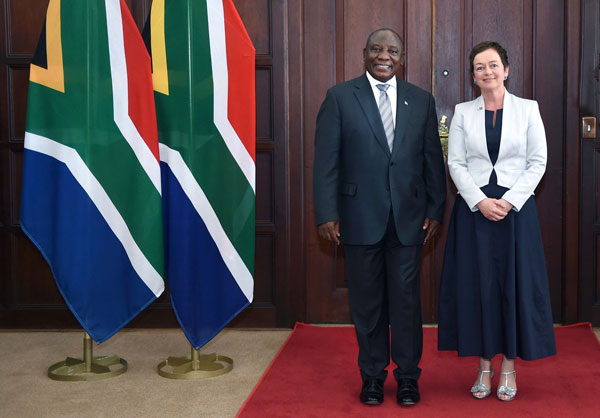 ‌
On behalf of the Embassy in Pretoria, I would like to welcome you to our website. I hope that you find it useful.
This Embassy represents Ireland in South Africa, Zimbabwe, Mauritius, Lesotho and Botswana. Our commitment to promote cordial relations and foster mutual understanding between the Government and people of Ireland and each of these countries is greatly supported by the longstanding presence of so many Irish citizens as integral members of the community in their adopted homes. The Irish community throughout Southern Africa is strong and thriving. Our work is assisted by the continuing activity of Irish associations, and the tremendous contribution of Irish religious and NGOs, in our countries of accreditation.
While the Embassy is located in South Africa, we represent all of you, and are here to assist with whatever queries you may have.
Finally, if you have any suggestions or comments, please do not hesitate to contact us.
Go n-éirí an bóthar leat.
Ambassador H.E. Fionnuala Gilsenan
---
Thar ceann na hAmbasáide i bPretoria, ba mhaith liom fáilte a chur romhat chuig ár suíomh gréasáin. Tá súil agam go mbeidh sé ina chúnamh duit.
Déanann an Ambasáid seo ionadaíocht ar Éirinn san Afraic Theas, sa tSiombáib, in Oileán Mhuirís, i Leosóta agus i mBotsuáin. Táimid tiomanta do chaidreamh croíúil a chothú agus comhthuiscint a spreagadh idir Rialtas agus muintir na hÉireann agus gach ceann de na tíortha sin, agus is mór an cúnamh dúinn san obair sin go bhfuil an oiread saoránach Éireannach anseo le fada an lá agus iad ina mbaill lárnacha den phobal sna háiteanna inar chuir siad fúthu. Is láidir é an pobal Éireannach ar fud Dheisceart na hAfraice agus tá ag éirí go geal leis. Fágtar ár gcuid oibre níos éasca de bharr ghníomhaíocht leanúnach na gcumann Éireannach, agus de bharr an chion mhóir atá déanta ag oird rialta agus eagraíochtaí neamhrialtasacha Éireannacha inár dtíortha creidiúnaithe.
Cé go bhfuil an Ambasáid suite san Afraic Theas, déanaimid ionadaíocht oraibh go léir, agus is ann dúinn anseo chun cabhrú libh le ceist ar bith atá agaibh.
Mar fhocal scoir, má tá aon mholtaí nó tuairimí agat, ná bíodh drogall ar bith ort teagmháil a dhéanamh linn.
Go n-éirí an bóthar leat.
An tAmbasadóir H.E. Fionnuala Gilsenan