Development Cooperation in South Africa
South Africa's continued development is significantly constrained by stark inequality and high youth unemployment. It is also beset with high levels of violence to which women and children are particularly vulnerable.
Ireland has provided development assistance to South Africa since 1994. Approximately €2 million per annum will be provided under the Ireland in South Africa Strategy between 2017 and 2021. We invest in education and the development of critical skills, as well as addressing gender based violence.
Education Skills and Development
There are two key elements to this section of our programme. The first is our Kader Asmal fellowship programme. We select and support students to study at Master's degree level in Ireland. On their return, we encourage them to join the alumni association to maintain links with Irish scholars and businesses.
The Embassy also supports life-skills training in selected institutes of vocational training, and promotes greater links between South African and Irish institutes of higher education.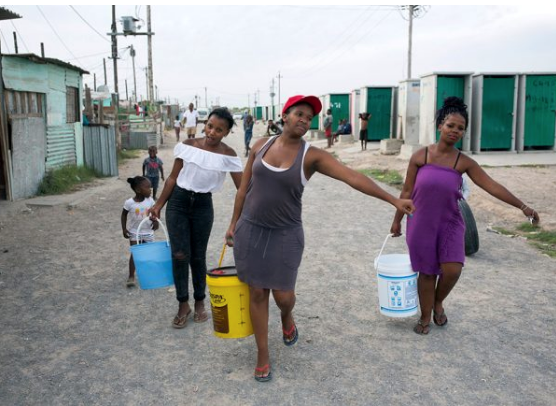 Women collecting water in Khayelitsha Township in the Cape Flats, Cape Town
Credit: Gallo Images/Getty Images.
Gender based violence (GBV)
We work with a number of agencies, including the UN and South African civil society, to improve coordination amongst agencies working in this area. We also support selected projects focussed on violence-prevention and fund community-based organisations providing much needed assistance to survivors of GBV.
Examples of our results in 2017:
Expansion of the life-skills training programme from 1 to 5 technical and vocational institutes.
13 South African students of the Ireland Kadar Asmal Fellowship programme graduated in 2017.
New alumni association for Irish fellowship students formed to promote and sustain links between graduates and contacts made whilst in Ireland.
Sonke Gender Justice and other organisations delivered training to communities on violence prevention.
Further detail on the Irish Aid programme in South Africa is available in the Ireland in South Africa Strategy 2017-2021.