Ambassador Harman attends Irish Studies Conference in Bilbao
Ambassador Harman and Ireland's Honorary Consul in Bilbao, Rocco Caira, recently participated in the 13th annual conference of the Spanish Association of Irish Studies (AEDEI) at the University of Deusto in Bilbao.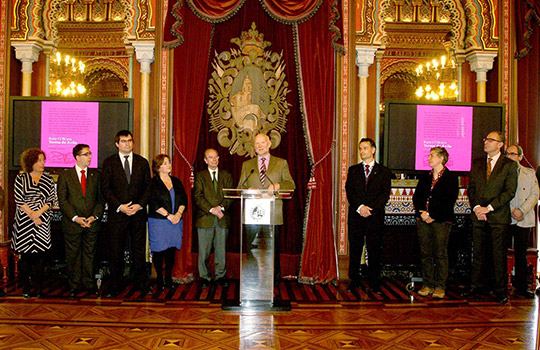 This year's programme included a special emphasis on the theme of dysfunction in an Irish context as well as an interesting opportunity to explore links between Ireland and Bilbao, especially through the prism provided by the work of Limerick-born writer, Kate O'Brien. The Ambassador also participated in a special event on the margins of the conference hosted by the Mayor of Bilbao, Ibon Areso, to celebrate this unique Irish writer and her connection with the city.
Kate O'Brien's work was also celebrated this month in Madrid, with the Embassy proud to sponsor the launch of a Spanish language translation of O'Brien's 1951 biography of Teresa of Avila. The launch event took place at Madrid's prestigious international book fair, the Feria de Libro.