Ambassador Cooney promotes Irish travel technology to key Spanish customers
Ambassador Cooney spoke at a seminar involving Enterprise Ireland client companies which provide innovative IT services to the tourism sector. Some fifty high-level guests from the Spanish travel industry attended the event, including senior representatives of the major Spanish hotel chains, airline industry and online travel agencies, as well as Segittur, the Spanish government agency charged with promoting research and development in the Spanish tourism sector. Among the major Spanish companies present at the event were NH Hoteles, Posadas de España, Viajes el Corte Inglés, Trivago, Tripadvisor, Rumbo, Expidia and Amadeus.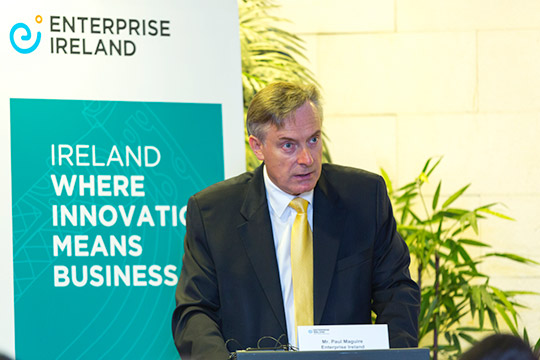 Irish software and service companies have a leading reputation of providing innovative distribution technologies and solutions to the global travel industry with Ireland having successfully developed a strong cadre of companies that have extensive travel industry experience. Irish companies supply distribution technologies to many of the world's leading airlines and hotels, with a dedicated focus on providing effective solutions that enable suppliers to sell their inventory in a cost effective manner. Some of the fields serviced by these companies include the business process and enterprise management solutions, customer relationship management, mobile technology and marketing solutions, leisure product sales providers, payment solutions providers and distribution and reservation technologies. There are currently more than sixty five Irish software and service companies selling into the global travel industry.