Greenings in Spain for St. Patrick's Day
Minister Perry greets the Mayor of Madrid, Ana Botella, in order to express appreciation for the "greening" of the city's monuments once again in 2014.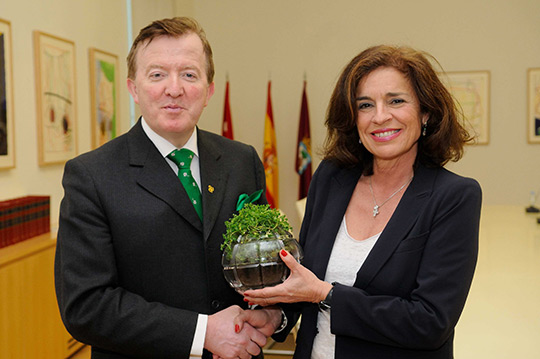 During Minister Perry's visit to Madrid, he met with the mayor of Madrid, Ana Botella, to present her with a bowl of shamrock as a sign of appreciation for facilitating the greening of Madrid's most famous monument, the Cibeles fountain and palace, in honour of St. Patrick's Day, for the second year running. The greenings in Spain began in 2011 with the Official Visit of President McAleese to Spain and the greening of the iconic Puerta de Alcalá.
This year's greenings in Spain were seen by over 2 million Tourism Ireland facebook fans, and over 100,000 twitter followers globally in important tourism markets like the US, Great Britain and Germany. The Madrid greenings also featured in press releases and TV footage released to media across the world as well as being seen by millions of Spaniards.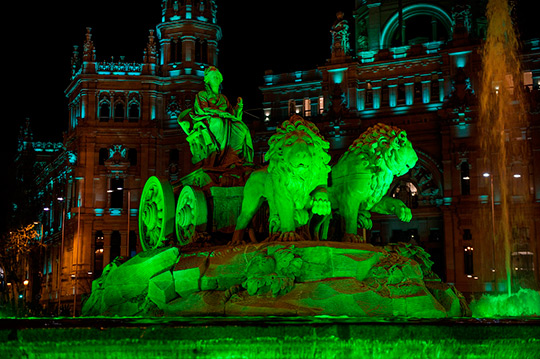 The UNESCO World Heritage site in Galicia, the Hercules Tower, donned the festive green colour for the occasion too.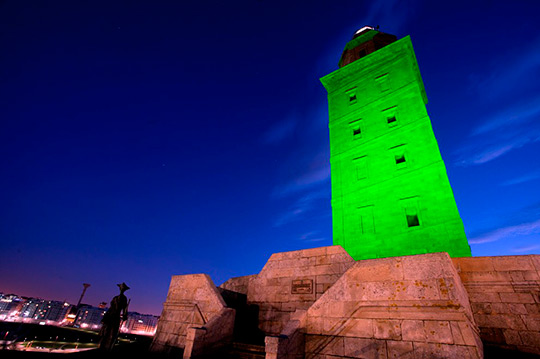 The beautiful Town Hall in the Plaza de Salamanca also joined the festivities by going green