Ambassador pays working visit to Tenerife for meetings with local authorities
Ambassador David Cooney visited Tenerife on 5th and 6th February for a programme of meetings with the local authorities and to review Ireland's consular operations on the island. He met with the President of the Canarian Parliament, the Mayor of Santa Cruz, the Government Delegate, the Canaries Tourism Minister, and the President of the Tenerife Island Council ("Cabildo").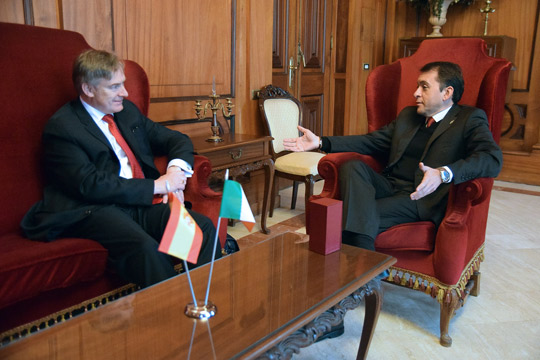 ‌
Throughout the visit, the deep historical links between Tenerife and Ireland were highlighted, dating back to the arrival of Irish merchants in the 18th and 19th centuries and the influence they exercised on trade with the island. The Ambassador visited a Franciscan chapel in Santa Cruz which had been built by Irish merchant families and saw the crypts of the Irish Prendergast and Forstall families. He visited sites associated with José Murphy (politician), Leopoldo O'Donnell (soldier and statesman) and Teobaldo Power (composer), all born in Tenerife with Irish antecedents and also met with Carlos Cologan, a historian of Irish origin who has written extensively about the influence of the Irish in Tenerife.
Those historical links find an echo in the more than 80,000 Irish tourists that today visit Tenerife each year. The Ambassador also visited the south of the Island, where the majority of Irish tourists stay when on holiday, and met with the Mayor of Adeje, thanking him for the warm welcome shown to Irish holidaymakers.
Ambassador Cooney was accompanied by the departing Honorary Consul in Tenerife, Mr. Ward Woods, whom the Ambassador thanked for his dedicated work with the resident Irish community and Irish visitors during his tenure.
The visit received good coverage in the local press:
http://www.santacruzdetenerife.es/actualidad/noticias/noticia/articulo/el-alcalde-reivindica-la-figura-de-jose-murphy-ante-el-embajador-de-irlanda/
http://www.parcan.es/noticias/detalle.py?ID_NOTICIA=1599
http://www.canarias24horas.com/sociedad/item/38761-el-alcalde-de-adeje-recibe-al-embajador-de-irlanda-en-espana#.VNn2RObz0_o
http://www.juancenteno.es/?noticia/1696/el-alcalde-recibe-al-embajador-de-irlanda-en-espana