Ireland celebrates Christmas at the Ayuntamiento de Madrid's International Christmas Fair in the Conde Duque
The Embassy is delighted to let you know about the Navideña Feria Internacional organised by the Ayuntamiento de Madrid and taking place in the Conde Duque from 17-22 December.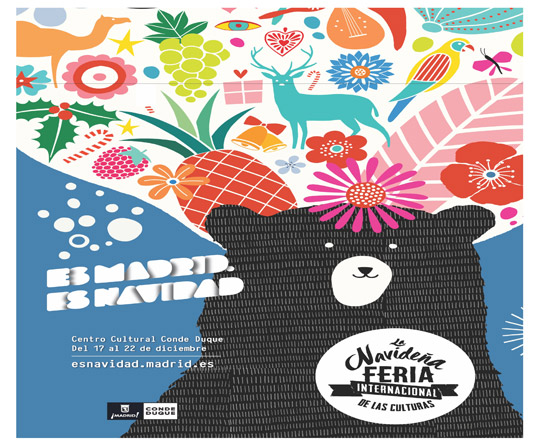 As part of the Feria, and with warm thanks to a number of collaborators and friends of the Embassy, as well as our colleagues in Tourism Ireland, Bord Bia and Enterprise Ireland, we have organised a programme of exciting and enjoyable activities of Irish interest. We are pleased to share the Irish elements of the programme with you here;
During the inauguration of the International Christmas Fair with the Ayunatmiento of Madrid, on Thursday 17 at 12.30, Bord Bia will offer a tasting of Irish beef, seafood and Kerrygold cheddar, accompanied with Guinness.
On Friday 18 at 6pm, The Irish Treble Danza Irlandesa group will delight the crowd with a workshop on Irish dancing, followed by a lovely performance with live music.
Tourism Ireland have sponsored Boys of the Hills and the Celtic Chamber Orchestra to play on Saturday 19 at 7pm. The music will be a wonderful mix of traditional and classical carols from the 18th century.
On Friday and Saturday from 7.30pm-9.30pm, Jameson Irish Whiskey will do a tasting at the Irish stand
On Sunday 20 at 2pm, Puca Óg will perform accompanied by the Irish Treble Dancers, and will relive the traditional celebrations of the Wren Boys on St. Stephen's Day at home.
Following the tradition in Dublin at Christmas, on Monday 21 at 7pm, The Bloomsday Society and the Yeats Society in Madrid will be doing a reading of "The Dead" by James Joyce.
The Madrid Harps will be doing a workshop of Gaelic football and hurling on Tuesday 22 at 5pm, for kids and adults.
Throughout the fair, Irish Company Green Angel will be giving away samples of their beauty products and creams. These products are 100% natural, made from Irish seaweed and natural oils.