Saint Patrick's Day celebrations 2015
Events around Spain for St. Patrick's Day 2015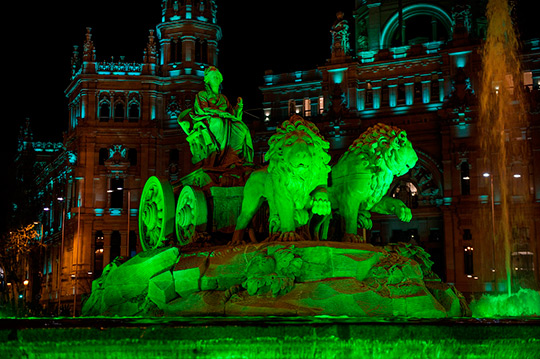 Madrid
Marbella
The Stolen Gnomes will be playing as part of the 5-day Costa del Folk Festival in Benalmadena on March 16 at 2.30pm. They will also be performing at El Pariaso Golf Club on 17 March from 4.30pm - 7.30pm
Mallorca
St. Patrick's Day celebrations in Santa Ponsa On Sunday 15th March. Please see flyer for more information and programme.
Barcelona
Los Stompers Irish group are playing at Dunne's Irish pub on 17 March at 19.30
Leslie Dowdell plays Dunne's pub on 21 March at 20.00 and in the Michael Collins later that evening at 23.00.
7th Mediterranean Currach Regatta, Sunday 22nd March.
Gran Canaria
Celebrate St. Patrick's Day in Playa de Inglés at the Irish Centre, on Tuesday 17 March. For more information please see the flyer
Tortosa (Tarragona)
Tortosa will be holding their English Festival again this year, from the 20-22 March. More details can be found here.
Zaragoza
Leslie Dowdell will be playing the following gigs: Centro Cívico Río Ebro, 17 March at 20.00, Pub Bull McCabe's on 19 March at 21.30 and Teatro de Bellas Artes (Tarazona) on 20 March at 20.30.
Sevilla
Saint Patrick's Day celebrations in Colegio Carlos I, Dos Hermanas, Sevilla, 17-20 March
Tenerife
FAILTE, (Friendly Association of Irish People living in Tenerife) have announced that their St Patrick's Day party will take place on the 14th March 7.30 for 8pm, at La Estancia restaurant, Chayofa. Live music and dancing provided by FAILTE. Price at €40 including IGIC. Menu will be typically Irish cuisine. Contact Brendan at 609754221 or Martina at 626194926.
Bilbao
Celebrate Saint Patrick's Day with the CARA Irish Basque Association.
Llanes
There will be a special Saint Patrick's Day mass celebrated in St. Patrick's church in the village of Pancar, LLanes at 12.00 on Tuesday 17 March. The church and the road between LLanes and Pancar will also be lit up in green to honour the day.
Lanzarote
"Be Irish for a day" in Puerta del Carmen, on Tuesday 17 March
As we approach St. Patrick's Day, many Spanish families will be celebrating a special ancestral connection with Ireland. Did you know that it is possible to get a "Certificate of Irish Heritage" as part of an official Government initiative to reach out to people of Irish ancestry around the world? You can apply online here.