Remarks by an Taoiseach on the 30th anniversary of Spain's signature of the EU Accession Treaties
The Taoiseach has congratulated Spain on the thirtieth anniversary of that country's signature of the agreement by which it joined the European Union.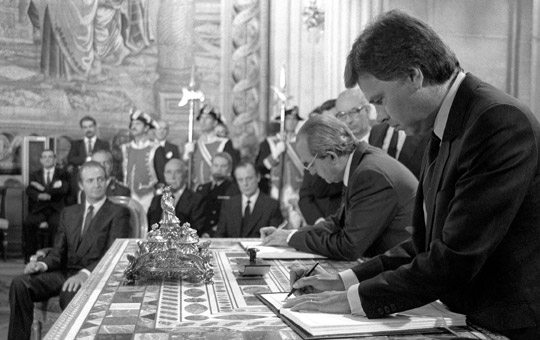 Speaking earlier today, the Taoiseach said:
"Thirty years ago this week, Spain signed the agreement by which it would subsequently accede to the European Union on 1 January 1986. The event marked a seminal period in Spanish history and a powerful affirmation of Spain's commitment to democratic values and European integration.
Like Ireland, Spain has contributed greatly to the European Union while at the same time benefitting enormously from the advantages that membership has brought. EU membership has generated profound and significant changes in both our countries. It has helped to lift us out of poverty and improve our standard of living, reduced our sense of isolation at the periphery of Europe and has undoubtedly transformed the lives of all our people for the better".
The Taoiseach added:
"Today, it gives me particular satisfaction to note that both Spain and Ireland are now emerging strongly from the financial and economic crisis of recent years. Our membership of the Union has played a key role in driving this recovery with the solidarity demonstrated by our EU partners serving to underpin the sacrifices made by the Irish and Spanish people. Looking ahead, it remains my profound conviction that it is only by working together that we can continue to build a secure and sustainable future for all of Europe's citizens.
I look forward to continuing to work closely with our friends and partners in Spain and on this very special day, I congratulate them on this important milestone in terms of their own engagement with the EU".