Ambassador Cooney attends 2016 Iberian GAA Championship, Madrid, 4 June
The Ambassador was delighted to attend the Iberian GAA Championship finals which took place in Madrid on Saturday 4th of June, welcoming the regional winners from the Spanish region for the inaugural sub-regional format of the competition to the Spanish capital.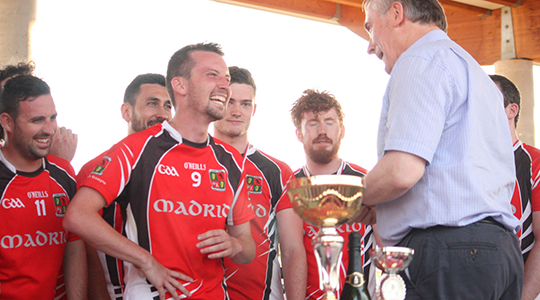 Hosts Madrid Harps welcomed mens' teams from Irmandinhos A Estrada, Estrela Vermelha, Fillos A Coruna, Valencia San Vicent and Sevilla Eire Og.
The ladies finals were contested by Madrid Harps, Fillas A Coruna, Irmandinhas A Estrada, Estrela Vermelha, Valencia San Vicent and Artabras.
In a cloudy day in Tres Cantos, the quality of the play was obvious for all to see, as well as the intensity produced by all teams on the day. The event was well-organised thanks to those from the European County Board and the Madrid Harps committee.
As in the mens' championship last year, the final showdown was between Madrid Harps and Irmandinhos A Estrada. The rivalry was renewed once again and after an enthralling encounter the Harps came out on top to make it three Iberian championships in a row.
In the ladies' tournament there was plenty of good football on show with some excellent individual players and team contributions. Madrid and Fillas met in the final and in the end the better team won on the day as the A Coruna girls triumphed as they brought Galicia its first taste of Iberian success.
A great day was had by all and preparations are well under way for 2017.