Ambassador Cooney travels to Barcelona
The Ambassador travelled to Barcelona in the week beginning 22 February for a series of high-level political engagements as well as to support Irish companies involved in this year's Mobile World Congress trade fair.
Ambassador Cooney called on a number of senior political figures, including the President of the Generalitat of Catalonia, Carles Puigdemont and Xavier Albiol, the President of the Partido Popular in the region.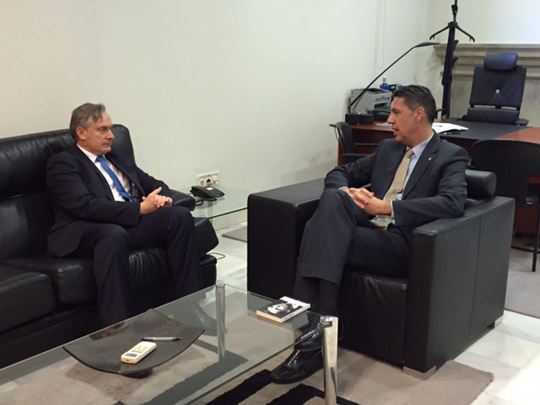 The Ambassador also took the opportunity to attend the Mobile World Congress, the world's largest and most prestigious mobile technology exhibition, and to support a series of talks and activities at the "Ireland Pavilion".
Speaking at the event, the Ambassador said:
"I am delighted to support the efforts of Enterprise Ireland at this hugely important event. This year will see the involvement of some twenty Irish companies who, thanks to Enterprise Ireland, will be given the opportunity to showcase their products and services to an expected 80,000 visitors and over 1,400 exhibitors attending this year's Congress".