St. Patrick's Day Family Fun Day
There will once again be a family-friendly celebration of St. Patrick's Day here in Madrid. This year's event will be held on Sunday, 13th March, at Parque Deportivo Puerta de Hierro.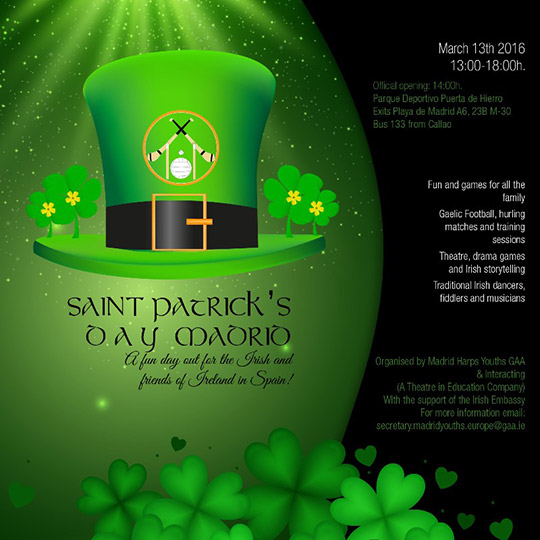 The event, which will take place from 13:00 to 18:00, promises to be a fantastic day out for everyone, offering a range of activities including Irish sport, music, dance, storytelling and theatre. There will be a particular focus on activities of interest to children and families, with the day featuring Gaelic games for children organised by Madrid's very own GAA club, the Madrid Harps Youths. Children's theatre will be provided by Interacting and Irish dancing workshops by the Irish Treble Dancers. Irish beverage products will be available for purchase at the venue while those attending may also bring their own picnic with them to enjoy at the park.
Further information on the day's activities and the location of the event is available in attached flyer.
We warmly invite you to share this invitation widely with friends and family, bearing in mind that the event is open not only to members of the Irish community here in Madrid but also to Spanish and international friends of Ireland.