Enmarcando Irlanda in Photoespaña 2023
Event
06 June 2023 - 06 June 2023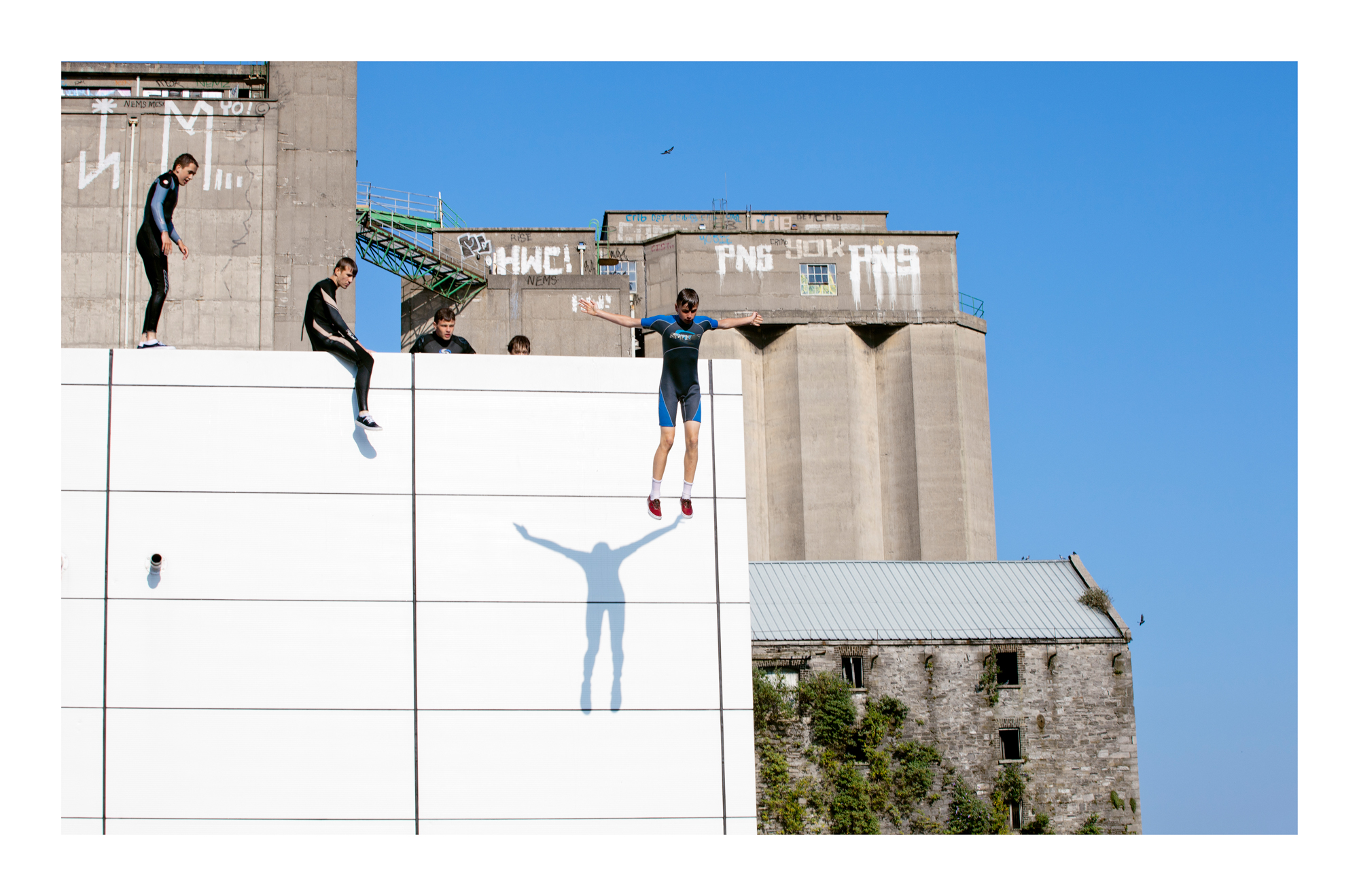 Leap of Faith Photo by Jeanette Lowe
Enmarcando Irlanda
Inspired by the exhibition presented in Berlin, Mexico and Santiago de Chile, Enmarcando Irlanda (Ireland in Frame) is a collection of street photography, which showcases real life in Ireland from a different and less common perspective, through the lens of four Irish photographers. This is an exhibition full of realism, which brings the urban landscapes and everyday life of the Irish to the streets of Madrid.
The strong empathy that exists between Ireland and Spain is deeply rooted. The Galician writer Salvador de Madariaga said that our characteristics were so similar that the Irish are "simply Spaniards who got disoriented and drifted north". Spanish-Irish relations are marked by mutual understanding and friendship and our close relationship is the result of a long shared history. Both countries have evolved through a lengthy complex historical process and in more recent years our common membership in the European Union has made our ties even stronger.
The urban works in Enmarcando Irlanda by photographers Eamonn Doyle, Brendan Ó Sé, Jeanette Lowe and Terry McAuliffe capture real life situations depicting an open, modern and diverse Ireland.
The exhibition will be hosted in B travel Xperience, Calle Miguel Ángel 33, from 15 June - 15 September.
Opening hours: Mon-Fri 10-19.00h
Free entry
About the Artists:
Eamonn Doyle
TWO
Born in Dublin in 1969, Eamonn studied painting and photography at college, graduating in 1991. He is a street photographer renowned for his position at the crossroads of observational and street photography. His deep curiosity for recording places or people going about their everyday lives in Dublin has positioned him as a one of Ireland's leading artists with an enviable list of awards, ground-breaking exhibitions (seen by more than 100,000 people) and major publications spanning 20 years. He has been credited by many critics as being the 'saviour of street photography' and has played an instrumental role in revitalising the art form.
His debut photo book i, 2014, was described by Martin Parr as 'the best street photo book in a decade'. This was followed by ON, 2015, and the award-winning End., 2016, which together with i, became known as his Dublin trilogy, culminating in a ground-breaking immersive exhibition at Rencontres d'Arles 2016.
Though most of this work was produced in and around the Dublin city centre location where he has lived for over twenty years, Eamonn's most recent bodies of work have taken him to the wild Atlantic coast of Ireland and to the volcanic landscapes of Extremadura in Spain [K, 2018], and back to his surburban home in south Dublin [O, 2020] . Recent collaborative moving-image work includes the short-film 'EX', and the multi-screen installation 'Made In Dublin', currently touring internationally.
Gallery representation:
Michael Hoppen Gallery, London / Gallery Fifty One, Antwerp
About the series TWO:
You are beckoned by a throng of vividly coloured symbols abstracted from meaning, like the clamour of half-glimpsed urban signage. Could that be a vinyl record? A cross? The lines of a tramway? Turning the page, you enter… and what felt like a lurid dreamworld or the inside of a pinball machine now yields to a rawer, less fantastical reality. A composition of brick and textured paving is rendered in a range of greys so unforthcoming about their context, it's barely possible to identify the scene as day or night.
But this is no crass Hollywood cut to wakefulness, where a surface of lurid fantasy is sliced open to reveal the brute (or brutalist) depth underneath. Notebooks away, critics – no such binaries reside in these pages. A stranger, more nuanced world is here revealed, if not unveiled. The first clue is itself an absence. It turns out there is nothing at all – neither staples nor glue – holding these pages together. Like a newspaper, the interior is always slipping under your fingers. After you realise the cover is in fact a fold-out poster which, to be viewed, calls for you to dismantle almost the entire printed work, you race back to the consolation of a solid, book-like structure and, yes, those mute bricks and stone.
Noting the haste of your retreat to stability and form, a word occurs to you, not for the last time: loose.
Flowing garments now coat the pages with exotic colour. It feels less that they fill the frame, more that the frame could not have existed without them. A page later, they reappear in a different position. Earlier or before? Impossible to say. Time presented without chronology.
Brick and fabric coexist, but loosely. Human skin is vulnerable against immutable forms: concrete, steel shutters, interlocking bricks. So much movement for a world where little seems to be open.
An alien species arrive on earth but struggle to identify the difference between people and buildings, so they send an undercover emissary to comprehensively document the myriad forms of both. He returns with an encylopedia of sensory detail, but more confused than ever.
A red balloon floats free of human agency, never mind string, across a bare wall – liberated and boundless as the page on which it appears… which turns out to be another removable "poster", slid slyly under the remaining pages, like a shiv or a file for you to lever yourself free of the confines of reading orthodoxy. To end reading and begin seeing. To cut loose. Unbound.
The full spectrum of urban puzzles unfolds, from cognitive riddle to architectural Tetris. A pair of feet pass over a red bucket lid. A second pair passes a second later… or, at least, a page later. Time is out of joint. Chronology is unbound. People hurry to places unknown, always slipping away.
Lid, balloon, pages.
Eamonn Doyle Biography Ireland in Frame
Jeanette Lowe
Village in the City
Jeanette Lowe is an award winning visual artist from Dublin working mainly through the mediums of photography and Installation. Her practice focuses on people, place and culture with a strong emphasis on inner-city communities, housing, and the architecture of a city.
Her vision is to use her practice in innovative ways to engage and educate diverse audiences and to challenge stereotypes.
She has exhibited in Ireland and internationally, notably at the National Portrait Gallery, London The Royal Hibernian Academy (RHA) Dublin, and in the U.S.. She has had many solo and group exhibitions and her work is held in public and private collections in Ireland and internationally.
Jeanette currently resides in Dublin and continues to work on her personal projects.
About the series Village in the City:
Jeanette Lowe's 'Village in the City' project showcases through contemporary photography, the people and environment of Pearse House flats in inner city Dublin. It is a celebration of people and a place, rich in history and heritage, living somewhat invisibly in the centre of Dublin today.
Her candid, yet sensitive, photography presents the flats in a way that people are not used to seeing them and as such challenges the viewer to stop and take a second look.
Today in Dublin over 10,000 people live in inner-city flats controlled by Dublin City Council. Some, like Pearse House with its 345 flats and unique cultural identity exist as villages within the city. The project sets out to recognise the contribution that both the people and the buildings have made to the city over many years. It is a story of Community that works on many levels - culturally, socially, historically, architecturally and aesthetically.
Through this and other inner-city projects Lowe also aims to highlight the threat to these old communities posed by regeneration as older flat complexes are demolished and communities dispersed and also Irelands current housing crisis which makes it more difficult for families to afford to stay in the city.
Jeanette's association with the Pearse House flats goes back to her grandmother Bridget Ashmore who was one of the first residents in the 1930s. The flats were built by the Dublin Housing Architect Herbert George Simms in the 1930s to address the housing conditions of the poor in Dublin and when built were considered 'state of the art'.
Jeanette Lowe Biography Ireland in Frame
Brendan Ó Sé
Brendan Ó Sé is an award-winning fine art photographer / iPhone photographer from Cork, Ireland.
Brendan was part of the original Apple #shotoniPhone global campaign of images shot on iPhone 6 in 2015. In 2017, he was iPhone Photographer of the Year. As well as winning many awards in international prestigious competitions, Brendan has been invited to speak about and exhibit his work around the world, from Iceland to Indonesia. Brendan's mobile photography workshops in Ireland with the Photo Museum of Ireland in Dublin and the Glusckman Gallery in Cork are very popular, and in recent times, he has delivered his workshops fully online to a global audience.
Using the iPhone Brendan tries to see and create in unusual ways and this results in some unique imagery and striking street photography.
Brendan Ó Sé Biography Ireland in Frame
Terry McAuliffe
Terry McAuliffe is a street photographer based in Cork City, Ireland. His passion lies in capturing the essence of the city with its colourful characters and hidden gems that make this city so special.
He first picked up a camera four years ago, and since then he has been refining his craft, experimenting with composition, lighting, and color. His style is inspired by the artistic
traditions of Cork and its vibrant community of creatives. He aims to capture the beauty and chaos of the city, through candid shots that showcase its people, architecture, and culture.
When he is not behind the lens, you will find him sipping coffee at some of his favourite cafes or exploring the city's galleries and museums, seeking inspiration and ideas for his next project. He loves nothing more than immersing himself in the artistic energy of this vibrant city, and he is always on the lookout for new ways to express his vision through photography.