Ambassador Sherlock
Welcome message from Paul Sherlock, Ambassador of Ireland.
‌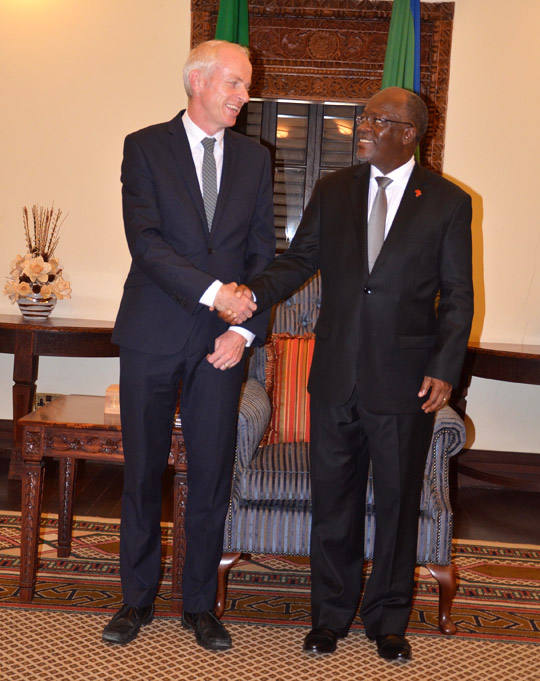 Welcome Message
Welcome Message
Dia dhaoibh go léir. Fáilte go Ambasáid na hÉireann.
I am delighted to welcome you to the website of the Embassy of Ireland in Tanzania which I hope you will find useful and informative. It is a privilege for me to represent Ireland in Tanzania – a country I have previously lived in and have fond memories of.
The relationship between Ireland and Tanzania dates back to the pre-independence period of our two countries. Irish missionaries first came to Tanzania in the mid-19th century establishing a relationship of friendship and solidarity that endures to this day. Over the decade following Tanzania's independence, other Irish people followed in their footsteps. They came to work side by side with Tanzanians to support them in their nation building efforts while many Tanzanians pursued higher education in Ireland. We are aiming to increase the number of Tanzanian fellowships in the years ahead and encourage more students to study in Ireland.
There is increasing interest in the potential to grow business and trade between our two countries. Tanzania is one of Africa's fastest growing economies. Its young vibrant population is creating economic opportunities for both countries. The Embassy supports Irish businesses operating in Tanzania and is open to help new businesses navigate the market for the first time. The Embassy is also promoting science and people to people links among Tanzania's youth through the Young Scientist Tanzania initiative. The winners travel to Ireland for the Young Scientist Ireland event to share experiences.
Our development cooperation programme is built on the values of partnership and openness and a shared commitment to ending poverty and reducing inequality. We work closely with the Government and Tanzanian citizens in areas such as health, nutrition, agriculture and human rights.
Ireland and Tanzania are countries very different in scale and population, yet through our shared history of colonialism, and nation-building, we find much common ground. Our values and our commitment to international norms ensure that there are many opportunities for cooperation at an international level.
There is a small but vibrant Irish community in Tanzania which the Embassy team is committed to serve and support. The community itself makes an important cultural contribution by its engagement in the fields of literature, drama, music, dance and sports.
Our aim at the Embassy in Dar es Salaam is to maintain and deepen the close relations between Ireland and Tanzania, and also with Burundi and Eritrea where we have secondary accreditation. For those of you planning on visiting, we recommend registering your details with the Embassy and checking our Travel Advice Section before you go. We also welcome queries from business – if you believe the Embassy may be able to assist you in exploring opportunities for trade with Ireland or in Tanzania.
I am committed to communicating my work and the work of the Embassy to a wide audience by using this website and our twitter accounts, which provide constant updates on the work of the Embassy and the day to day work of an Irish Ambassador in a busy African mission.
Finally, we always welcome feedback on our website and on the services we provide – please Contact Us with any comments or queries.
Paul Sherlock
Ambassador
Curriculum Vitae
Curriculum Vitae
Mr. Paul Sherlock
Date of Birth:
30th January 1973
Entered the Department of Foreign Affairs as a Development Specialist on 09 February 2004
February 2004
Development Specialist - Embassy of Ireland, Dar es Salaam
June 2008
Development Specialist - Development Cooperation Directorate Limerick
March 2009
Deputy Director, Policy Planning and Effectiveness Unit - Development Cooperation Directorate Limerick
January 2013 to August 2016
Deputy Head of Mission - Embassy of Ireland, Addis Ababa
Prior to joining the Department, Ambassador Sherlock worked for the Irish development organisation, Concern from 1996-2004 in Tanzania, Rwanda and Ethiopia. He is a graduate of University College Dublin where he read Economics and Development Studies.