Kipunguni Women Farmers Association
No more FGM here - 2018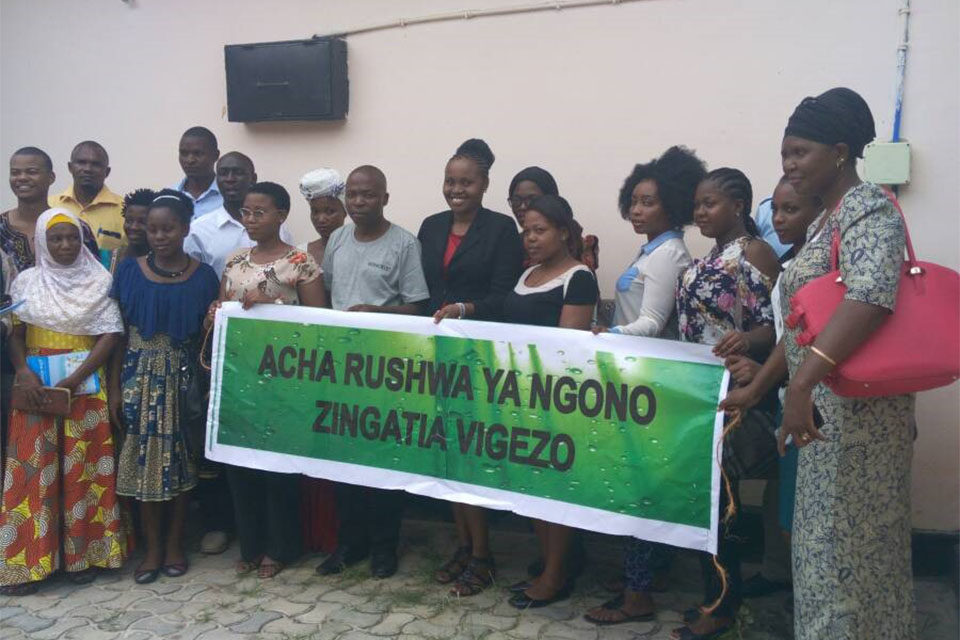 The Problem
Female Genital Mutilation, which is a form of (sexual) violence for women affects 18 percent of the female population in Tanzania. In some ethnic groups FGM is compulsory, and in others a woman who has not undergone the ritual faces community ostracise and may be considered unfit to marry. The practice endangers women and especially girls' lives, deprive them of their rights while denying them their ability to reach their full potential. The practice has serious health consequences, both physical and psychological. Attempts to eradicate the practice have not been successful over the past few decades.
Women Fund Tanzania (WFT) supports community initiatives to end these brutal acts. Within this context, under the Irish Aid funds, WFT funded in 2017/18, Kipunguni (Women) Farmers Association, a community based initiative at the outskirt of Dar es Salaam to raise awareness on violence against women and girls, including ending female genital mutilation and sexual violence (sextortion) issues. Ironically the practices have been taking place so close to the City of Dar es Salaam, in an urban setting in Kipunguni ward, an area much populated by the Kurya tribe usual practicing FGM secretly.
The Response
Kipunguni (Women) Farmers Association were supported to overcome the FGM challenge in their community through adoption of innovative strategies. These were focused on engaging the wider community and leaders in a mutually supportive approach that not only enabled them to engage in deeper debates and dialogues on how to address the issue, but more in bringing a wider sense of ownership. The following re part of the adopted interventions:
Conducted an effective "Door to door Campaign' that raised awareness of local communities in Kipunguni. The unique aspect of the campaign was in enabling communities involved to articulate the links GBV/FGM has to the poverty around them, and the deliberate efforts adopted by Kipunguni (Women) Farmers Association in inking victims of FGM and perpetuators (mainly parents and community leaders) to various agricultural economic opportunities for generating income. The assumption was that the parents and community leaders in Kipunguni continued the FGM practice as they had turned this to become a key venue of income, and that if this was to be stopped then the underlying poverty factors (that influences the perpetuation of this practice and thus creating a vicious cycle of keeping girls out of education, etc) had to be addressed. As part of this, door to door campaign was seen as the most effective and convenient strategy in reaching out to majority of local communities around Kipunguni area, due to its potential in accessing the most left out populations such as women and young girls at household level, but also its aptness to have a one to one conversation with the most vulnerable members of community by creating rapport for building confidence for victims to speak out about personal experiences.
Innovative participatory community dialogues promoted through conducted "Bunge la Jamii" i.e. Community Parliament session attracted community members, including women and young people, due to its uniqueness. But most importantly, the platforms attracted the involvement of local government leaders, traditional leaders, women FGM practitioners (ngariba), police gender desks, nurses and religious leaders as well as "the left behind" household women. These platforms created a safe space for community wide discourse on sexual violence, Gender Based Violence and Female Genital Mutilation. This was a successful participatory approach for communities' engagement which was effective due to the fact that communities, including adolescent girls and boys felt empowered to openly discuss and find common solutions on the ground.
The participatory methodologies and techniques adopted during the sessions added value in promoting meaningful dialogue between community members, leaders and young women/people and other stake holders on FGM, thus creating an enabling an environment for community members to gain a shared understanding of the need to play a critical role in protecting women and girls' rights. With this base in place, they then formed themselves into groups and started to work together through educating the Ngaribas/parents and others to say No to FGM as a matter of urgency. Coupled on this, was the way the collective patterns of the groups working on this campaign opened doors and opportunities for women and young girls to be exposed into leadership, as well as in becoming active actors in strengthening the women's movement processes at the local levels.
Success Factors/Lessons Learned
Forged links between local initiatives and community leaders have proven to have long lasting impact
Using a critical point of entry such as economic/agriculture interventions is important in mobilizing communities of women, men, young girls and boys (as well as leaders) to be encouraged in participating and discussing human rights abuse such as GBV/FGM.
Adoption of innovative campaign strategies such as Door to Door engagement work much impactful. Such an approach adopted by Kipunguni (Women) Farmers Association personalised the issues at hand and served as an effective sensitization campaign tool undertaken during the project period, as depicted through community member's active engagement beyond the campaign, which demonstrates that communities have taken over the campaign and are moving forward with addressing the practice.
The growing involvement of the community volunteers/ ambassadors whom have been connecting women and girls from the project area to visit the Centre for counselling and report on sex corruption and gender based violence issues point out to the growing of a strong women's movement at the local level.
The campaign has had a spill over effects to other nearby wards such as Kivule, Kisongola, Chanika, Kitunda and Majohe. Leaders of Kipunguni (Women) Farmers Association have also been invited by far away communities in Shinyanga to share their model and experiences. This indicates the potentiality of replicability of this project to several other communities/districts, and thus adding value to the sustainability of such a local based campaign.
What Next?
Continuous funding support from WFT to build up on the gains achieved during the past innovations. This will include: technical support to ongoing awareness raising interventions; linking key community actors, especially women and girls from the grassroots movement/s in Kipunguni and selected others with various national level learning platforms; dissemination of popularized booklets with key messages on FGM to grassroots movement/s in Kipunguni; continuous sensitization campaign to selected progressive local leaders, and other actors from the project area, while also supporting Kipunguni (Women) Farmers Association to grow institutionally for them to be able to support more victims of GBV/FGM through linking them to counselling and accessing of legal services through pro bono services within Kipinguni or beyond (Dar es Salaam).