Ambassador Rogers
Ambassador Rogers is the first resident Ambassador of Ireland to the Kingdom of Thailand. He presented his credentials to His Royal Highness Prince Maha Vajiralongkorn in August 2015.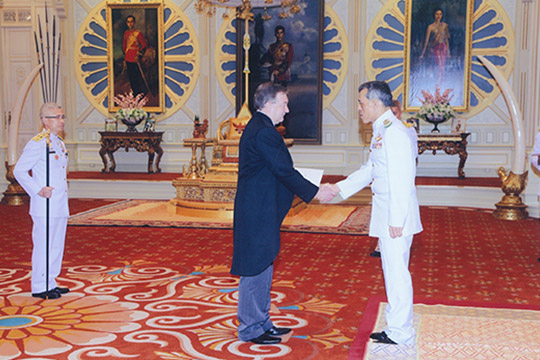 Message from Ambassador Rogers
Welcome to the website of the Embassy of Ireland to the Kingdom of Thailand.
I am delighted to be the first resident Ambassador of Ireland to Thailand and to have the privilege of opening our new Embassy on Wireless Road, Bangkok.
Táim thar a bheith sásta a bheith ar an gcéad Ambasadóir na hÉireann go Téalainn ina gcónaí I Bangkok.
On these pages you will find useful information on many aspects of Ireland and of the services provided by the Embassy here in Thailand.
The opening of an Embassy in Bangkok signals a significant shift in the strength and depth of Ireland's relationship with Thailand. Ireland and Thailand have had diplomatic relations for over 40 years. During that time our business links have developed and a vibrant Irish business community has grown in Thailand. We now have trade of almost €500 million per year.
The number of Irish tourists to Thailand continues to rise, with 70,000 now visiting this beautiful country every year. We have also had a number of important visits to Ireland from Thailand. The most important of these was of course the visit by HRH Princess Maha Chakri Sirindhorn in September 2014. I had the honour to accompany HRH on part of that visit. Her presence in Ireland was an important milestone in the strengthening of the ties between our two countries.
The opening of the Irish Embassy in Bangkok brings the Ireland -Thailand relationship to a whole new level. It is a clear indication of our strong desire to further enhance every aspect of our relations. We want to increase our trade in both directions, we want to embark on educational cooperation and exchanges, and we also desire cultural exchanges and people to people connections.
I want to emphasise that all of us at the Embassy of Ireland in Bangkok will be working hard to achieve all of the above. We are eager to reach out to the Irish community in Thailand and to provide the best consular assistance and advice for our citizens.
Le gach dea ghuí
Brendan Rogers
Ambassador
---
Teachtaireacht ón Ambasadóir Rogers
Fáilte chuig suíomh gréasáin Ambasáid na hÉireann i Ríocht na Téalainne.
Tá mé thar a bheith sásta a bheith ar an gcéad Ambasadóir cónaitheach de chuid na hÉireann sa Téalainn agus é a bheith ina phribhléid agam an Ambasáid nua dár gcuid a oscailt ar Wireless Road, Bangkok.
Ar na leathanaigh seo, gheobhaidh sibh eolas úsáideach faoi Éirinn agus faoi na seirbhísí a sholáthraíonn an Ambasáid anseo sa Téalainn.
Le hoscailt na hAmbasáide in Bangkok, léirítear an t-athrú suntasach atá tagtha ar chaidreamh na hÉireann leis an Téalainn, agus é níos láidre agus níos doimhne anois ná mar a bhí riamh. Is ann do chaidreamh taidhleoireachta idir Éire agus an Téalainn le breis is 40 bliain anuas. Le linn an ama sin, tá forbairt tagtha ar na naisc ghnó eadrainn agus tá borradh tagtha faoin bpobal gnó bríomhar Éireannach sa Téalainn. Tá trádáil eadrainn anois ar fiú beagnach €500 milliún in aghaidh na bliana í.
Tá méadú fós ag teacht ar líon na dturasóirí Éireannacha sa Téalainn, agus tugann 70,000 duine de mhuintir na hÉireann cuairt ar an tír álainn seo gach bliain anois. Tugadh roinnt cuairteanna tábhachtacha ar Éirinn ón Téalainn freisin. Ar an gceann is mó is fiú trácht, ar ndóigh, tá an chuairt a thug a Mórgacht Ríoga an Banphrionsa Maha Chakri Sirindhorn i mí Mheán Fómhair 2014. Bhí sé d'onóir agamsa a bheith in éineacht leis an mBanphrionsa ar chuid den chuairt sin. Bhí an chuairt a thug sí ar Éirinn ina cloch mhíle thábhachtach i dtaobh neartú a dhéanamh ar an gceangal idir an dá thír seo againne.
Anois nuair atá Ambasáid na hÉireann oscailte in Bangkok, tá an caidreamh idir Éire agus an Téalainn á bhunú ar leibhéal úrnua. Léiriú soiléir is ea é ar an rún daingean atá againn feabhas eile fós a chur ar gach gné den chaidreamh eadrainn. Ba mhaith linn cur leis an trádáil idir ár dtíortha, ba mhaith linn dul i mbun comhair agus malartuithe i réimse an oideachais, agus ba mhaith linn malartuithe cultúir agus naisc idir daoine aonair a chur ar bun.
Is mian liom béim a chur air go mbeidh gach duine againn anseo in Ambasáid na hÉireann in Bangkok ag obair go crua chun gach uile cheann de na cuspóirí thuas a bhaint amach. Tá muid ag dúil go mór le lámh a shíneadh amach chuig an bpobal Éireannach sa Téalainn agus an cúnamh consalachta agus an chomhairle is fearr a chur ar fáil dár gcuid saoránach.
Le gach dea-ghuí,
Brendan Rogers
Ambasadóir na hÉireann