Signing Ceremony of MoU on Educational Cooperation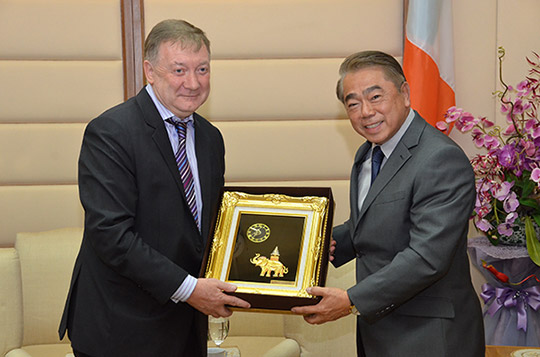 Ambassador Rogers signed a Memorandum of Understanding on educational cooperation between Ireland and Thailand with the Minister for Education, Admiral Narong Pipatanasai, on 27 February 2015. The signing ceremony, which took place in the Ministry of Education, was attended by senior officials from the Ministry of Education, the Ministry of Foreign Affairs, the Department of Education Ireland, and Enterprise Ireland.
The Memorandum will provide the framework within which details proposals for educational collaboration between Ireland and Thailand can be considered. The Embassy has been working with Irish universities to promote Irish education in Thailand and the MOU will greatly assist with that process.
There is considerable scope for attracting Thais to study in Ireland. The Office of the Civil Service Commission oversees scholarships for nearly 4,000 students each year. A large majority of these Thai students study in the UK and the US. However the Thai education authorities are keen to strengthen the relationship with Ireland. The Foreign Ministry has facilitated several trips to Ireland where they have met with Trinity, UCD and DCU, and last Autumn HRH Princess Sirindhorn visited TCD and UCD.
The OCSC Education Expo in Bangkok last October saw a large number of visitors and there was a steady level of interest in the Irish universities.