Irish Embassy presents first Irish Film Festival Bangkok
The Embassy of Ireland, Thailand will host the inaugural Irish Film Festival Bangkok on 6, 7 and 8 October this year. The festival will show the three classic Irish movies The Quiet Man (1952), Ryan's Daughter (1970) and Sing Street (2016) at the Bangkok Screening Room in Sala Daeng.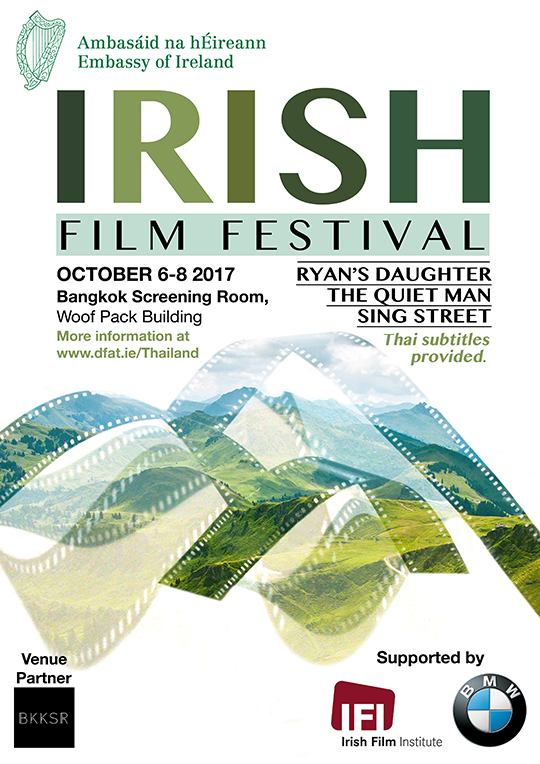 Ahead of the festival, Irish Ambassador HE Brendan Rogers said:
"The Embassy is absolutely delighted to present the first Irish Film Festival in Bangkok. Filmmaking in Ireland has a rich tradition and the films being showcased are great examples of this tradition. I invite all Thais to come a see these films to get a flavour of Irish culture, landscape and humour. "
Ambassador Rogers continued:
"This event marks another wonderful, positive milestone in Irish-Thai relations. Since the Irish Embassy opened almost 3 years ago relations between Thailand and Ireland have been going from strength to strength and I look forward to welcoming local Thais to our inaugural Film Festival."
The Irish Film Festival will be a ticketed event. For ticketing information please visit https://bkksr.com/movies/irish-film-festival-2017
Schedule:
Friday 6 October
19.00 Sing Street (By Invitation Only)
21.00 The Quiet Man
Saturday 7 October
17.50 Ryan's Daughter
21.30 Sing Street
Sunday 8 October
16.20 The Quiet Man
18.50 Sing Street
The Bangkok Screening Room is located on the second floor of the Woof Pack Building, 1/3-7 Sala Daeng Soi 1, Silom, Bang Rak, Bangkok 10550. Soi 1
Ryan's Daughter is an epic romance directed by the famous movie-maker David Lean (Bridge on the River Kwai, Lawrence of Arabia).
The Quiet Man is an Oscar-winning comedy-drama that highlights some of the most beautiful Irish landscapes.
Set in Dublin in the 1980s, Sing Street (2016) showcases modern Irish humour and music. This movie was already a big hit in Thailand last year and is sure to be popular again this time around.
All movies will be screened in English with Thai subtitles