Visit of Minister for Jobs, Enterprise and Innovation, Mr Richard Bruton
Minister for Jobs, Enterprise and Innovation, Mr Richard Bruton, T.D. visited Dubai on 19 April. He later led a large Irish trade Delegation to Qatar on 22 April and followed with a visit to Abu Dhabi on 23 April. The Embassy worked closely with Enterprise Ireland to organise and deliver the successful programme.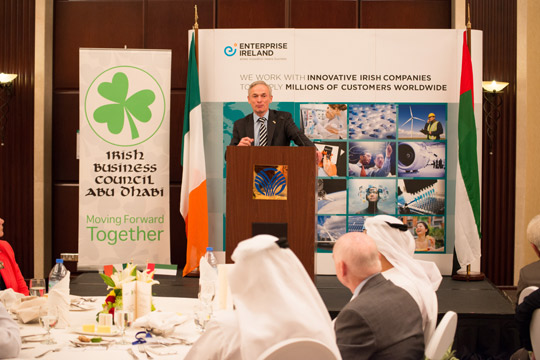 The Dubai leg of the Minister's programme included attending a major contract signing between Mater Private and Dubai Police, a meeting with the CEO of Air Arabia, attendance at a Dubai Irish Business Network lunch event, meeting with Undersecretary Abdullah Al Mahel, UAE Ministry of the Economy, meeting with the Director of Operations, Dubai Airports, and attendance at a contract announcement with EI client company PEL Manufacturing.
In Qatar, Minister Bruton met with Undersecretary Sultan bin Rashi Al Khater, Ministry of Economy & Trade, with HH Sheikh Saud bin Nasser Al Thani, CEO Ooredoo (Qatari mobile phone company) and a member of the Qatari Royal Family, meeting with Sheikh Faisal bin Saud Al Thani, Director of Business Development, Qatar Investment Authority.
In Abu Dhabi, the Minister met with senior representatives of the UAE Telecommunications Regulatory Authority and the Abu Dhabi Airports Company, and with HH Sheikh Nahyan bin Mubarak Al Nahyan, Minister for Culture, Youth & Community Development.