St. Patrick's Day in America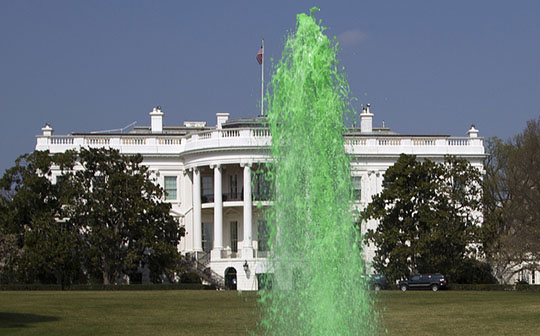 I have just come through my first St Patrick's Day in America and what a wonderful experience it was! I now realise that St Patrick's Day in this part of the world is a very different proposition from what I have encountered during my previous Ambassadorial assignments in Malaysia, Germany and Britain.
That is because in most countries our National Day is an Irish occasion in which local people who have an affinity with Ireland become involved. In the United States, however, St Patrick's Day is an Irish-American celebration in which Ireland plays its part. The first St Patrick's Day event took place in Boston in 1737 and the first parade was held in New York in 1762, which means that St Patrick's Day was marked in America even before the United States emerged as an independent nation. That long tradition of celebrating America's Irishness in March each year still flourishes today with parades in cities all over the country.
The fact that our national day is celebrated with such energy and enthusiasm in the United States rests on the presence here of 33 million people who lay claim to an Irish heritage. They are the product of a vast migration of Irish men and women across the Atlantic, especially in the decades following the Great Famine, 1845-1848.
Those Irish emigrants fled from a troubled country in search of better lives for themselves and their families. Many of them left Ireland infused with a sharp feeling of grievance on account of the political and economic circumstances that had caused them to abandon their homeland. This helped sustain their sense of Irish identity, which has been faithfully transmitted down the generations.
Irish immigrants were not always welcome in 19th century America where nativist movements strove to generate hostility towards the newcomers, but that just encouraged the Irish in America to band together in a determined expression of their Irish and Catholic identity.
In the 19th century, the Irish in America were a perennial source of support for political movements in Ireland. Prominent Irish visitors could attract vast crowds in American cities where they were able to raise substantial funds for Irish causes. Our community in America were influential in the genesis of the Easter Rising, for example by funding the return to Ireland of its chief organiser, Tom Clarke.
The advent of Irish independence may have dimmed the passionate nationalism of Irish America, but interest in Irish heritage never waned. Remarkably, engagement with, and affection for, Ireland flourishes today among people of Irish descent even where their forebears came from Ireland generations ago.
Today, it is a major asset for Ireland to have such a significant number of Americans who are proud of their Irish origins. It gives Ireland a profile in America that few other countries enjoy, hence the fact that our Taoiseach is welcomed at the White House and on Capitol Hill each year for a day-long celebration of St Patrick's Day.
I had the privilege this past week of accompanying Taoiseach, Leo Varadkar, during his visit to Texas (where he spoke at the South by Southwest technology conference), Oklahoma (where he paid a moving visit to the Choctaw nation to thank them for their support for Ireland during our Great Famine), Washington and New York and was able to witness at first hand the extraordinary access he had at the highest political level. In the course of a single day, there were three engagements with President Trump, two involving Vice-President Pence as well as meetings with Speaker Ryan, Senate Majority Leader McConnell, Minority Leader Schumer and the Congressional Friends of Ireland among many others. I doubt that there is another comparable country with anything like this level of access in Washington.
In New York, the Taoiseach was welcomed by the City's Mayor, Bill de Blasio, and State Governor, Andrew Cuomo, and led off the famous parade along the City's 5th Avenue. The Taoiseach's American visit offered ample opportunities for promoting Ireland as a source of high-quality goods and services, as an ideal European location for foreign direct investment by US companies and as a tourism destination. In his speeches, the Taoiseach highlighted the two-way nature of Irish-US economic ties, which sustain jobs and prosperity on both sides of the Atlantic. He reminded his audiences that Irish companies today employ over 100,000 people across all fifty states. And this investment is on the rise. Last year, Irish firms opened 59 new offices across the US, bringing to over 500 the number with operations here.
In recent decades, our Government has made a concerted effort to engage with the vast community of Irish descent around the world, a large percentage of whom live in North America. There is now an Irish Government policy on the Global Irish and a Government Minister has been appointed, with special responsibility for connecting with our diaspora (the current incumbent is Ciarán Cannon). Financial support is provided to Irish community groups around the world through our Emigrant Support Programme while the annual Presidential Distinguished Service Award recognises the contribution of Irish people overseas, and those of Irish descent, who have excelled in various fields including the arts and community service.
In my first six months as Ambassador in Washington, I have been uplifted by my interaction with the Irish in America, or the American Irish as I heard them described this past weekend. I have committed myself to engaging actively with our community throughout the course of my assignment here.
I take the view that we need to work on our liaison with Irish America so as to encourage their continued interest in Ireland, which should never be taken for granted.
Ireland has changed dramatically in recent decades and many of the assumptions Irish Americans traditionally made about Ireland may be somewhat dated. On the other hand, more and more Irish Americans visit Ireland as tourists where they have an opportunity to acquaint themselves with the realities of today's Ireland. We need to speak to the American Irish about modern Ireland and, equally, to listen to them about what it means to possess an Irish heritage in today's America.
The Irish in America will always be Ireland's privileged point of access to modern America. Their prominence and their affection for Ireland gives us a standing in American public life that we would not otherwise enjoy. Long may this continue!
Daniel Mulhall is Ireland's Ambassador in Washington