Bloomsday & Yeatsday to be celebrated, June 16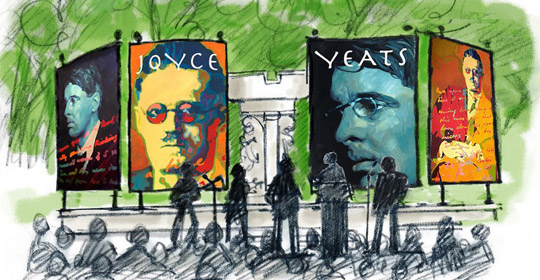 What days?
Bloomsday is a celebration of James Joyce's (1882-1941) literary masterpiece Ulysses that takes place in Dublin and around the world on 16 June every year. The day is named after Leopold Bloom, the central character in Ulysses. The novel follows the life and thoughts of Leopold Bloom and a host of other characters as he wanders around Dublin on 16 June 1904. Traditionally, people dress in the style of the early 1900s on Bloomsday. Enjoy this taste of Bloomsday and find out more about it via the James Joyce Center in Dublin.
Yeatsday celebrates the life and work of Nobel laureate, poet William Butler Yeats (1865-1939). 13 June 2015 will mark the 150th anniversary of his birth. A year-long worldwide programme of cultural and artistic events is currently underway to mark the occasion. Famous fans of Yeats's poetry include Vice President Biden. Find out more at Yeatsday and Yeats 2015.
The Embassy of Ireland is celebrating Bloomsday & Yeatsday on Washington DC's DuPont Circle Park from 12.30pm to 1.30pm on Tuesday 16 June. Come and enjoy music and readings from the works of two of Ireland's greatest writers. Bring a picnic and enjoy the sunshine as we recreate the atmosphere of 1900s Dublin, and remember, it is traditional to dress in the style of the early 1900s on Bloomsday!
Check out our Facebook event page for further details.
Thanks also to everyone who participated in our Bloomsday-Yeatsday art competition, we received some really beautiful and creative entries - Joyce and Yeats would be proud! We are pleased to announce that the winning design featured above is that of Barrie Maguire (www.maguiregallery.com).