Address by Ambassador Anderson at Philadelphia's Friendly Sons of St. Patrick Society event
Society of the Friendly Sons of St Patrick Gala Dinner Philadelphia, Saturday, 12 March 2016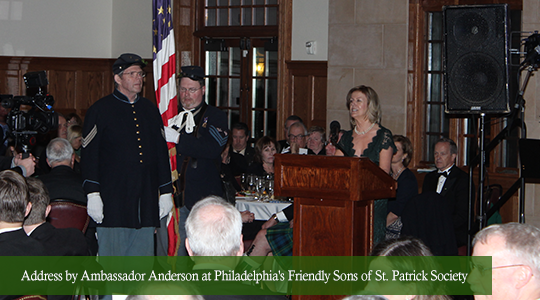 Keynote Speech by Ambassador Anne Anderson
This is a very special night, whose resonance extends well beyond this room and well beyond Philadelphia. It is one of these rare occasions when we feel the ground shift, and witness the arc of history bend a little.
Tonight, after 245 years as an all-male organisation, you have opened your doors to women members.
I feel immensely privileged to become the first woman honorary member of your Society, joining twenty distinguished women who are admitted to full membership.
It is a source of particular pride that I am only the second adopted member of your Society. I am informed that I follow in the footsteps of George Washington who in 1781 became the first – and to date the only - adopted member of the Society. There can hardly be a more exclusive club: a membership of two, with the other member being George Washington.
I express my deep appreciation to your President, Joseph Heenan, for his enlightened leadership and to your membership who last September, by an overwhelming majority, took the landmark decision to admit women members.
There is a fittingness to this evening, a fundamental rightness about it. So much chimes together: this city, this Society, this important centenary year.
Philadelphia is a city founded on a vision – William Penn's vision of religious tolerance and brotherly love.
It is a city which writes history – the city where it all began, the city where the Declaration of Independence was adopted two hundred and forty years ago.
It is also a city which bears powerful witness to the unique ties that bind Ireland and America. Let us recall with pride that when the Declaration of Independence was signed in Philadelphia in 1776, three of the signatories were Irish-born.
Five years before signature of the Declaration of Independence, the Friendly Sons of St Patrick were formed in Philadelphia. Your city is the cradle of this organisation; the Philadelphia Society is custodian of the traditions, keeper of the flame.
As Friendly Sons, you are heirs to a proud history. For nearly 250 years, your Society has brought men of Irish ancestry together, buttressing and affirming their pride in their Irish identity. You have a long and worthy tradition of philanthropy, evidenced by the grants and scholarships you continue to fund, which have touched and changed the lives of many.
From your foundation, you were ahead of your time in one key respect. From the very beginning, you have been consciously and deliberately non-sectarian, embracing Catholic, Protestant and Dissenter. In the words of Thomas Moore, for so long printed on your dinner menus, and which you have honoured and echoed throughout the years:
"Shall I give up a friend I have valued and tried
If he kneel not before the same altar as me".
Tonight, the embrace you extended to men of all religions over so many years is finally extended to women.
From one generation to the next, all of us recognise that we stand on the shoulders of those who have gone before. And who among us doubts that the shoulders of women have borne just as much weight as the shoulders of men?
"Irish Philadelphia", published in 2012, sets it out: "The sons of the famine immigrants became merchants, loom fixers, stevedores, locomotive mechanics, and skilled tradesmen. The daughters of these famine immigrants worked in mills, garment factories, nursing wards and domestic service." These women, and those who followed them, were just as courageous, resilient and indomitable as their menfolk.
We feel the shades of these generations of women thronging the room tonight.
I said at the outset that our gathering tonight takes place in a special city but also at a special time.
There could not be a more fitting year for your Society to take this step forward. 2016, as we all know, is a momentous year, centenary of what is perhaps the most iconic year in Irish history.
This is a year to reclaim the spirit and intent of the 1916 Proclamation. And that spirit and intent, remarkably for its time, was deliberately inclusive.
The Proclamation addresses both Irishmen and Irishwomen. Its second paragraph calls on "our exiled children in America". We might linger a moment on that language: not "our exiled sons" as would have been in no way unusual at the time, but "our exiled children", to include both daughters and sons.
The Proclamation's most sacred promise is the new Republic's guarantee of "religious and civil liberty, equal rights and equal opportunities to all its citizens".
Women were at the heart of the Easter Rising. They helped to forge its cultural underpinning; among their many roles during Easter week, women from Cumann na mBan did vital duty as nurses and despatch carriers; and women from the Citizen Army participated as combatants.
In the vision of many of these women, shared by some of the male leaders, there was a sense of a forthcoming Ireland that would be not just free but feminist, not just feminist but free.
Alongside all our pride in the visionaries of 1916, we know that proclaiming a vision does not guarantee it will come to pass.
This centenary year is time for stock-taking by all of us in Ireland. We are invited to examine the balance sheet of the past one hundred years, the paths we have taken and the priorities we have chosen. We look back with deep and genuine pride on all the many achievements, but we acknowledge also where we have fallen short, where the rhetoric of the Proclamation did not translate into the reality of people's lives.
As we carry out this stocktaking, we recognise that, for Irish women for much of the past century, the promise of the Proclamation rang hollow. The feminist Ireland that many of the protagonists of 1916 envisaged was lost to sight over subsequent decades.
Our history in this regard is in no way unique. What happened to women in Ireland in the aftermath of 1916 is part of a larger pattern – a global pattern – that continues in our day.
In 2011, as Ireland's Ambassador to the UN, I addressed a Security Council debate on Women, Peace and Security. I spoke about the Arab Spring, which had not then so tragically unravelled as it has in the intervening years. But it was already clear that, despite their inspirational roles in Tahrir Square and elsewhere, women were at risk of being sidelined. I said in that debate:
"The risks for women are obvious: revolutions begin in the street, but at a later stage key decisions may be taken in smoke-filled rooms. In that transition, women all too easily lose out: their courage helped to make the revolution, but their inexperience of power can allow others to shape the outcomes."
That is what happened – or at least part of what happened – in Ireland as the new State came into being.
Building on an honest reckoning of the past, our task now is to go forward with purpose and conviction. In this centenary year, we recommit ourselves to finally redeeming the promise of the Proclamation. As President Michael D. Higgins said in his eloquent address earlier this week on the Role of Women in the Rising: "Taking stock of what we have achieved, we must relentlessly seek to complete our collective journey towards the full enjoyment of women's rights."
Especially against this backdrop, the step you have taken here in Philadelphia could not be more fitting, and will stand as a proud moment in our centenary celebrations.
It is heartening, and moving, that Irish America should be marking this centenary year with new steps toward inclusivity. Five days hence, we will cheer a very different St Patrick's Day parade as it proudly marches down Fifth Avenue – a parade that for the first time includes Irish LGBT groups. Tonight the Friendly Sons have broken down barriers of 245 years; on 17 March in New York, we will see another barrier of very long standing dismantled.
In both instances, Irish America is making a statement: there are no second class citizens; no children of a lesser God.
Two hundred and forty five years ago, in choosing to become a non-sectarian organisation, the Friendly Sons grasped something essential: that inclusivity enriches us all. It is not just a gift bestowed or a right recognised. It is something which carries its own reward: binding us together, making our communities stronger and more resilient.
And so let us celebrate the more inclusive Irish America that is emerging in Philadelphia tonight and in New York next week – an invigorated Irish America, more ready to take on new challenges, better equipped to embrace the future.
As I conclude, let me emphasise again how meaningful this night is. In this hallowed city, in this centenary year, your Society has shown true leadership, decisively embracing renewal and modernity. As so often before, history is being written in Philadelphia. It is a privilege and a joy to be part of it.
Thank you all. Go raibh míle maith agaibh.