Remarks by An Taoiseach Enda Kenny, TD at a reception at the Consulate General in New York
Remarks by An Taoiseach Enda Kenny T.D. at a
Reception for Irish-American political, business and community leadership
Irish Consulate, New York
Friday 2 December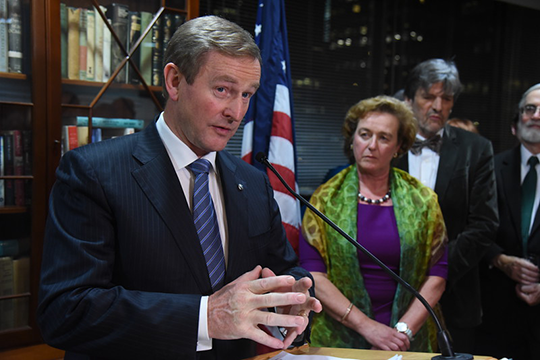 Distinguished Guests, Ladies and Gentlemen,
I am delighted to have this opportunity to join you here this evening.
Before I begin, let me thank our Consul General Barbara Jones and the staff of the Consulate for hosting this reception. The work of all of our diplomatic staff in the United States, including Ambassador Anne Anderson and the Consul General, Barbara Jones is an invaluable asset to Ireland. I have just come from San Francisco and I wish to also pay trib¬ute to Consul General, Philip Grant, especially for his work in relation to the Berkeley tragedy.
We also very much value your contribution as leaders who support the tremendous cultural and economic links between Ireland and the United States. On behalf of the Irish government I thank you for this.
My visit is an opportunity to reinforce the strength of the relationship between our two countries, to update you on Ireland's story and our mission to rebuild a strong economy.
Ireland's Competitiveness
In the uncertain times that we live in, Ireland will continue to pursue a clear economic strategy with a focus on making Ireland a fantastic environment for encouraging new business, innovation and, ultimately, job creation.
This is the message I took with me when I met many of the City's most senior business leaders today and during my other engagements both here and on the West Coast.
Ireland will continue to protect and promote the strengths that underpin our success in attracting foreign direct investment including our highly skilled people, our competitiveness and our focus on innovation.
Ireland is now 7th out of 61 countries in the 2016 IMD Competitiveness Rankings - our highest placing since 2001.
Ireland's favourable demographics and a quality education system ensure a plentiful supply of highly qualified people. Ireland is ranked 1st in the world for the flexibility and adaptability of its workforce.
We remain fully committed to maintaining our 12.5% corporate tax rate. This rate is applied to a broad base – a policy which is endorsed by the likes of the OECD as it is good for growth in our economy.
The Economy
GDP growth for 2016 is forecast to be 4.2% with employment now well above two million. There have now been sixteen consecutive quarters of employment growth. And I am particularly happy to be able to say that for the first time since 2009, Ireland has experienced more people moving back into the country and leaving, which includes a 74% increase in returning Irish nationals.
The Government is confident that our economy is resilient and we will work to ensure that we benefit from the many new opportunities that arise from a rapidly-changing global economy.
Brexit
While the UK referendum result is not what we hoped for, the Irish Government fully accepts and respects the outcome of the democratic process in the UK.
Ireland is, and will remain, a fully committed member of the European Union.
We retain all the advantages that make us an excellent location for investment.
Indeed, Ireland is set to become Europe's only English speaking common law jurisdiction in the European Union. This offers multinational companies a unique gateway into the European Union and its single market.
The negotiations are going to be complex and multilayered.
We will work with our EU partners and with the UK with the aim of ensuring a strong EU-UK relationship and a well-managed withdrawal.
My Government has put a clear plan in place to deal with Brexit. We delivered a Budget for 2017 that took particular account of the challenges and risks from Brexit for our business community.
We have clearly set out Ireland's priority areas of concern; the economy and trade; Northern Ireland; the Common Travel Area and of course the EU itself.
I have emphasised our priorities at the highest level in Europe in my meetings with Chancellor Merkel, President Hollande and Prime Minister Theresa May.
Our planning ahead of the negotiations – both for the risks and opportunities for Ireland – is currently intensifying at both political and official level.
I know that many Irish-Americans are concerned about the possible implications of Brexit for the Northern Ireland peace process. It is vital that the benefits of the peace process are safeguarded and built upon for future generations. We will seek to ensure that future negotiations give priority attention to the Northern Ireland dimension.
Through the Forum of the North South Ministerial Council I have also discussed our priority areas of concern with First Minister Arlene Foster and Deputy First Minister Martin McGuinness. We all agree on the need to protect our common interests, as well Ireland's broader national interests.
Immigration Reform
Another concern for many of you in this room is the future of immigration reform. Many of you have worked hard over many years on this matter.
I want to assure you that securing relief for the undocumented Irish in the US remains the key priority for the Irish Government.
The new US Administration and a new Congress will take time to settle in, but we will pursue this issue in our contacts with the Administration and Congress and encourage and promote any realistic possibilities for a solution that arise.
You can be assured also that under the leadership of Ambassador Anderson and our diplomatic staff throughout the US we will continue to work on this important issue. I know that we can count on your continued support in our efforts.
US Presidential Election
Throughout our history Ireland and the United States have had a strong and enduring friendship. This friendship has extended across partisan lines and will continue to do so.
Everyone here today knows of the enormous contribution to Ireland made by President Obama. I am certain that our shared friendship forged over many decades will continue well into the future.
I have spoken with both the President-elect and the Vice President-elect since their election and I look forward to working with President-elect Trump and his new Administration in the time ahead in the cause of international peace, prosperity and security.
The Irish Government will continue to work constructively and productively to ensure that our bilateral relations will continue to prosper during the next four years.
Commemorations & Irish Arts in NY announcement
This year we celebrated and commemorated the events of 1916 which led to Irish independence. Many of you here in New York were integrally involved in those events. Through supporting events hosted by the Consulate, or by organising the hundreds of events which took place right across this region.
This provided an opportunity to mark the contribution of Irish-America to Irish history. It also provided the opportunity to celebrate the continued close and vibrant ties between Ireland and Irish America.
New York is a global city for the arts and culture is central to Ireland's reputation here as a creative society. In that regard, I am truly delighted to announce here this afternoon a strong signal of support for the Irish arts in NY.
The Department of Arts, Heritage and Gaeltacht will provide €1Million for the Irish Arts Centre in New York. This Centre is a central plank of the cultural and political relationship with New York City Council.
I am also very pleased to announce that $265,000 will be provided this year to the Irish Repertory Theatre under the Department of Foreign Affairs and Trade's Emigrant Support Programme. This funding will support the Repertory Theatre's major restoration work which will ensure that the Theatre continues to be another beacon of Irish culture in New York and further afield for many more years to come.
The Arts have strong support from the business leadership, and cultural events genuinely brings the arts and the business worlds together here. This is also a very positive announcement in terms of affording great opportunities for our very talented Irish artists.
Looking to the future, we will continue to stand behind all of the tremendous work of the Immigration Centres in the region and their plans to develop their services.
Norwegian Air
On the last occasion in the White House speaking to President Obama, we did raise the issue that has been around for a while in respect of the proposal by Norwegian Air to fly direct to America from Cork and Shannon and to do for long-haul travel what Ryanair has done for short-haul travel to Europe.
I am pleased to tell you that following that conversation and all of the discussions that have taken place since, approval has been issued today for Norwegian Air to do their work.
And so at a time of uncertainty and some fragility about lots of things, there is still a beautiful world out there.
Conclusion
So it is with optimism that we move forward, together, to face whatever may lie ahead. We will face these challenges secure in the knowledge of the enduring strength of the relationship between Ireland, Irish-America and New York.
Go Raibh Míle Maith Agat
ENDS