Speech by Ambassador Anne Anderson at the Inaugural Irish America "Top 50 Power Women" Awards Luncheon, New York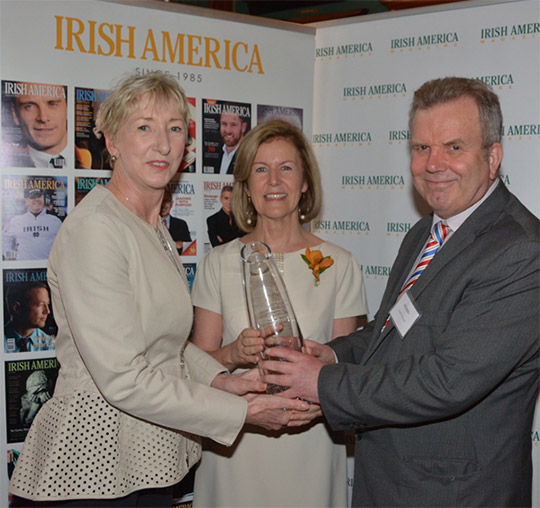 It is a very great pleasure to be here today to celebrate the inaugural Irish America "Top 50 Power Women". It is truly inspiring to see the list of awardees, spanning every sector: business and political life, education and the arts, media and philanthropy, and so much more besides.
Many of the awardees I have come to know personally – and to admire greatly – during my time here. For those of you I don't yet know, I have read your biographies in Irish America and am so struck and impressed by your achievements.
I have just one criticism: there is a significant omission from the list! If anyone else had compiled it, Patricia Harty of course would have featured, given her tremendous record of accomplishment over so many years. I'm sure I speak on behalf of all the awardees when I say that we want to co-opt Patricia to our list.
For each of us, it's a source of tremendous pride to be included on this list. I suspect that most of us have a double dose of diffidence: as women and as Irish people, or Irish-Americans. Our instinct is to point to all those who have helped us on our way – our families, and especially perhaps our mothers, our friends and mentors, our colleagues.
All of this is true, and needs to be said. Every one of us – and I am conscious of this every day – is shaped by those who went before and those who surround and support us. But let's also not hesitate to savour this moment, and acknowledge all the hard work that has brought us to this point. To each and every one of the awardees, comhghairdeas – my sincere congratulations.
2016 is the ideal year to inaugurate these awards – this important centenary year for Ireland. It is a time when we are not just looking back, but marking the one hundred year journey, and re-imagining the future. And in all this reflection and re-imagining, women are reclaiming their space.
The history of 1916 is being rewritten, in a way that finally acknowledges the role of women, rescuing them from the margins and from the invisibility to which they had been confined. And here is what is most encouraging: training a new lens on the past isn't something that is happening in isolation. It is part of a much broader re-evaluation – a real interrogation as to how women came to be so sidelined for much of the past century, and a determination to disrupt the status quo and create a new and more equal Ireland.
Across the board, we are seeing new intitiatives. Women in the arts world have triggered a movement "Waking The Feminists" which is shaking people out of their complacency. Just this week, we saw a new report on gender equality in third level institutions which uncompromisingly sets out new objectives, and clear timeframes. And – perhaps too little noticed in all the other news stories surrounding our elections this year – there is the fact that women in the general election of 2016 secured their highest ever representation in Dáil Eireann: 35 out of 158 seats, up from 15% to 22%.
So things are on the move in Ireland. The same is true here in the US – as we all know, for the first time ever, there is a woman presumptive nominee for one of the major political parties. Whatever one's political view, this is a milestone in the march towards equality and empowerment for women.
But even as we acknowledge and embrace the advances, we need to recognise the scale of the challenge. In Ireland, despite all the progress, we are still way off where we need to be in terms of women's leadership – whether in political life, business life, public administration. We are at base camp, energised for the climb ahead, but it will take effort and staying power, and collective commitment, if we are to continue our steady upward journey.
And of course, here in America, there is a ferment of questioning. To what extent are sexist attitudes conditioning the Presidential campaign? What are we to make of the generational divide that appears to have opened up between older and younger women? How do we bridge that gap so as to craft a feminisim that is fit for purpose in the 21st century?
And there are specific questions and challenges too for Irish America.
Women emigrated from Ireland in equal numbers to men; they showed extraordinary courage and resilience; they helped to shape the history of Irish America. We need to reclaim the stories of these women, and affirm their legacy. And, just as we are asking tough questions in today's Ireland, we should not hesitate to apply the equality lens here too. How well do the structures and societies of Irish America reflect the equal role of women, giving them equal voice and equal visibility? And, insofar as they fall short, what can we do about it?
Just one final comment. Today's awards recognise fifty of us as "Power Women". For some of us, this might not entirely fit our self description, or we might question where exactly we fit on the power spectrum. But there is one point on which I believe we would all agree. Being "powerful" is of limited interest as a label or even as an accolade – there has to be a point and purpose to it. We want to have power for something: to be in a position to shape and influence things, to help bring about change.
The ways we can effect change will be different for all of us – attitudinal change, workplace change, societal change. There are so many interwoven challenges, and we know that building a society that is fairer to women means building a society that is fairer to everyone.
But the key thing is this: if power and responsibility go hand in hand, as they do, then today's awards bring us challenge as well as recognition. Together with all my fellow awardees, I think we can declare ourselves gratified by the recognition and up for the challenge.
Thank you Irish America, for bringing us together on this day of celebration and recommitment.