Remarks by Ambassador Anne Anderson for Robert Emmet Statue Rededication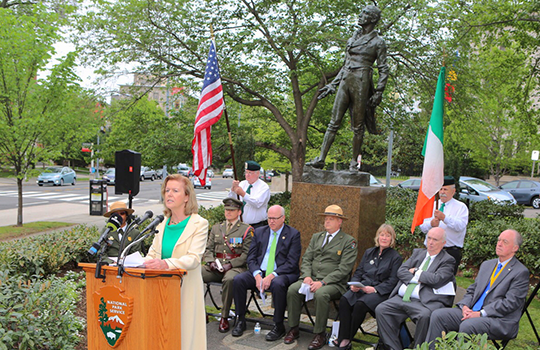 Wednesday, 27 April 2016
I want to thank all those who have worked so tirelessly to make today's event a reality.It is a wonderful coming together of three centenaries – of the Easter Rising, of the casting of this statue, of the foundation of the national Park Service.
The connection between the Robert Emmet statue and the commemoration of 1916 is not merely symbolic or circumstantial. The men and women of 1916 were heirs to a long tradition of which Emmet's story formed an important part. Patrick Pearse, in particular, venerated Robert Emmet and gave expression to his admiration in stirring speeches he made in New York and Brooklyn during his U.S. visit in 1914.
The parallels between the two men are striking: both understood heroic failure; both faced execution with stoicism and dignity; in both cases, their voices resonated more powerfully from the grave than they did in life.
This statue we rededicate today is uniquely important. Although over 100 years had passed since his death, this was the first statue of Robert Emmet created anywhere. And the history of the statue speaks powerfully to the Irish–American connection: commissioned by the Smithsonian, cast by Irish sculptor Jerome Connor, funded by a group of Irish Americans, and unveiled in theU.S. National Museum in the presence of President Woodrow Wilson.
In April 1966, in an imaginative gesture to commemorate the 50th anniversary of the Easter Rising – and a generous gesture on the part of the Smithsonian - the statue was moved to this site.
It was a carefully chosen location. This small and intimate space forms part of a triangle, the other points being the Irish residence on S Street and the Irish Embassy on Sheridan Circle. Appropriately, Woodrow Wilson's home is just a stone's throw away.
The site,as we see, has beenrenovated to mark the centenary anniversaries. The statue is now more visible, more open to the gaze of passers-by, with a new planting of Irish Yew trees and a new wayside marker.
Among those who will pass by, I have no doubt that Irish Americans will pause here, and reflect, and acknowledge Robert Emmet's place in the pantheon of Irish heroes.
But I hope that many others who do not share our Irish ancestry, mightpause for a moment too, and be led to explore who Robert Emmet was and what he stood for.
And what they find will hold their attention. Beyond the mantle of romantic hero, Robert Emmet was a man of intelligence and eloquence, a man of principle and passion.
Anyone in search of who Robert Emmet was will inevitably be led to that defining speech from the dock. It is a speech which takes us beyond the particulars of the 1803 uprising, or even the particulars of Irish history. Consider, for example, Emmet's response to the trial judge, Lord Norbury, who repeatedly interrupted him as he spoke. . . "I am a man, you are a man also; by a revolution of power, we might change places . . . As men, my lord, we must appear at the great day at one common tribunal".
These are words which might be emblazoned in court rooms everywhere, or indeed in any place where people wield power over other human beings.
In all of that eloquent speech, there are no more powerful lines than the final ones. Robert Emmet insisted that he be allowed "repose in obscurity and peace" until such time as "my country takes its place among the nations of the earth, then and not until then let my epitaph be written."
These lines help to explain the delay in casting the first statue of Robert Emmet. If astatue is a form of epitaph,who dared to create one during that long and sad century succeeding his death – when Ireland was not only unfree, but tragically scarred by poverty, hunger, and the million dead in the Great Famine.
But change came, shaped in significant part by the 1916 uprising. The milestones of the 20th century saw Ireland definitively take its place among the nations of the earth – independence in 1922, the final break with the Commonwealth in 1949, joining the United Nations in 1955, becoming a European Union member in 1973.
Our present-daysecurity in our identity, fully at home within the family of nations, has brought maturity and perspective to our commemoration of the 1916 centenary. Our homage to our patriot dead is heartfelt, but it is not hagiography. Our legitimate pride in all the achievements of the past 100 years is tempered by recognition of where we have fallen short. Looking to the future with optimism and confidence, we do not underestimate the challenges that lie ahead.
Today, as we rededicate the Robert Emmet statue and this park, there is an opportunity for rededication in a larger sense.
Ours has been a long and hard-won struggle for a place among the nations of the earth. Robert Emmet, along with many who went before and came after, paid with his life. It is our task, in our time, to safeguard and give substance to what was so dearly won.
As we re-familiarise ourselves with the Proclamation, we are strengthened in our resolve to be true to its vision and ideals. And as we remind ourselves of those powerful final words of Emmet's speech, we are more than ever determined that our foreign policy – our mark on the world – will be purposeful and values-driven.
At this time of remembrance and renewal, today's gathering in this spot is especially meaningful. With its statue of an Irish patriot who drew deeplyon the American Revolution for his inspiration, this park honours the ties of our shared past.Even more importantly, today's ceremony helps to fortify us for the future, confident that the precious friendship between our two countries will be renewed and replenished by the events of this centenary year.
Go raibh míle maith agaibh.