Address by Ambassador Anderson at American Fund Gala
The Ireland Funds: 25th National Gala, Washington DC
15 March 2017
Presentation of International Leadership Award to Ambassador Anne Anderson
Remarks by Ambassador Anderson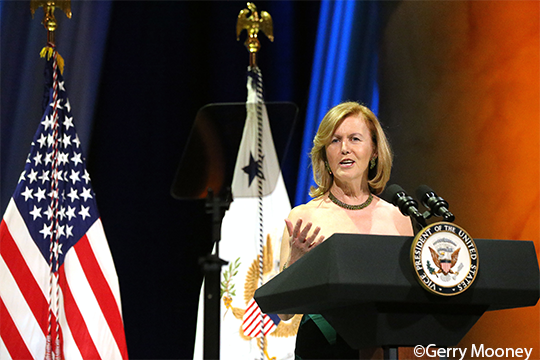 Taoiseach, Vice President, Ladies and Gentlemen,
I am deeply honoured to be recognised this evening by the Ireland Funds – this organisation which I respect so much, and whose work has transformed so many lives over the past forty years.
The company this evening could hardly be more distinguished.
I listened to the Vice President's eloquent words and was moved by his pride in the Irish American story.
As always, when we heard the Taoiseach speak, it was testimony to how much he cherishes this relationship between Ireland and the United States – and how much it matters to him personally.
And I greatly look forward to hearing from Senator Mitchell in a few moments.
Tonight is especially meaningful for me because it is the last Ireland Fund gala I will attend as Ambassador. This summer will bring to an end my forty five years in the Irish Foreign Service, the last twenty two of them as Ambassador in five different posts.
Although my achievements do not begin to compare to those of the other honourees this evening, I share what I have heard them describe as a sense of awe at arriving at this point.
Nothing about this was fore-ordained. My parents came from farming backgrounds in Limerick and Tipperary. My father was a psychiatric nurse and my mother, before she married, was a post office clerk.
I had the opportunities I did because of my parents' ferocious commitment to their children's education, and the enlightened policies of the Irish state. I was a beneficiary of free secondary education and of state grants which made it possible to attend university.
So, when I serve my country, I have a deep sense of giving back. And all these years of representing Ireland have reinforced my pride in who we are – flawed and imperfect, yes, but a country of conscience, resilience, imagination and spirit.
Each of my assignments as Ambassador has inspired me, and left a deep imprint, but my twelve years in the United States have created unique bonds.
The ties are very personal. My beloved daughter, my only child, was born here in Washington in the mid-80s. And my partner, Frank, such a stalwart support to me, is a New Yorker whom I met when I was Ambassador to the United Nations.
But it goes well beyond the personal. As Ireland's Ambassador here, there is a constant, pervasive, sense of how close and multi-faceted the relationship is – not just the solemn ties of history but also the human ties that give such life and depth to the relationship.
Tonight, from the kaleidoscope of experiences over the past few years, I want to summon up just some of the moments that will stay with me.
Early on, a cold winter day when I made the pilgrimage to the battlefield in Gettysburg, and stood before the Irish monument there, remembering Irish heroism and Irish sacrifice at key moments of American history.
The visits to so many Irish immigration centres, often meeting elderly people with seamed faces, who shared their stories of decades in this country, still deeply Irish but embracing America as their land of opportunity.
All the St Patrick's Day parades: the pride as one walks down that green line on Fifth Avenue, but also the intimacy and spontaneity of the smaller parades – when you see the lovely mosaic of this country: the Irish American redheads but also the African American and Hispanic kids tentatively trying out their Irish dancing steps.
The slightly surreal, fun-filled moments, like meeting the members of the GAA Club in Anchorage, Alaska, which they assured me was the most northerly GAA club on the planet.
The moving moments, like being at the Special Olympics in Los Angeles – being inspired by the courage and passion of the athletes, and the joy of their families, and feeling profoundly grateful to America for having given us this movement.
The many moments during our 1916 centenary celebrations, from the snow of Notre Dame to the sunshine of New York, from the glamour of the Kennedy Center to the small halls of Butte, Montana – everywhere hearing the interwoven stories of Ireland and America, and the determination to keep that story going.
The delight of so many groups in America when Ireland adopted the Marriage Equality referendum in May 2015. I was in Minneapolis a couple of weeks later, and was presented with a rainbow flag which had flown on their bridge during their referendum.
The wonderful night in Philadelphia, city of brotherly love, when I was admitted as the first woman member of the Friendly Sons of St Patrick in that city – another small crack in the glass ceiling, in this case a ceiling that was almost 250 years old.
As well as all the joy, moments too of great sadness, never moreso than the tragedy in Berkeley, when five beautiful young lives were lost, but where the outstretched hands of America helped to hold up the families in their time of grief.
These are some of my moments – this is my love letter to America. I know that, at its heart, this is a country of grace and generosity, a country that has such a special place in the affections of Irish people, and a country that we pray will stay true to the essence of who it is and what it has always represented.
It has been, and is, the greatest privilege of my life to be Ireland's Ambassador here.
And so: my thanks – to the Taoiseach for the confidence he has placed in me as Ambassador, to my accomplished and dedicated Embassy team, and of course to the Ireland Funds for this unforgettable evening.