Opening remarks by Ambassador Dan Mulhall at Poet-Patriots musical event at Washington National Cathedral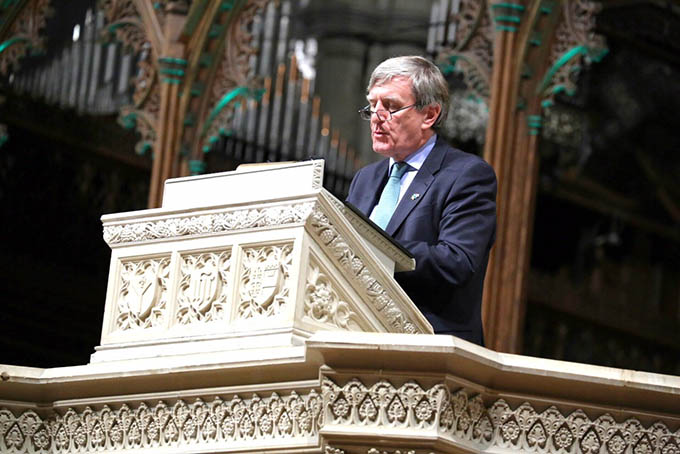 As Ambassador of Ireland to the United States, it is a genuine pleasure for me to be here this evening, in this hugely impressive Cathedral, to introduce this commemoration in words and music of Ireland's Poet Patriots. I wish to pay tribute to composer Richard Evans and his team for putting together this powerful evocation of Irish history and literature.

Ireland's story is one of a centuries-long struggle to assert a separate political and cultural identity. This came to a head in the late 19th century when an emerging generation that included such talented figures as Patrick Pearse, Thomas MacDonagh, Douglas Hyde, WB Yeats and James Joyce strove, in their different ways, to shake off the shackles that had bound Ireland for much of the 19th century.
In Ireland, the 19th century was characterised by a series of political campaigns led by Daniel O'Connell, Charles Stewart Parnell and others aimed at ameliorating Ireland's situation. There were also periodic revolutionary upheavals led by Robert Emmet in 1803, by the Young Irelanders in the 1840s, and by the Fenians in the 1860s. The Great Famine brought catastrophe to the Irish people and resulted in decades of mass emigration to the New World, which means that Irish today are part of a vast global family that is so strongly in evidence here in the United States.

More than a century ago, a number of dynamic new movements were established devoted to reviving Ireland's fortunes, culturally as well as politically. These included the Gaelic League dedicated to reviving the Irish language, the Gaelic Athletic Association set up to promote Irish games and the Irish Literary Revival which aimed at creating a distinctive national literature for Ireland.
With unstinting support from the Irish in America, the Irish Free State emerged in 1922 following six years of strife beginning with the Easter Rising of 1916. No event better illustrates the overlap between literature and history than the events of Easter week 1916, most notably the extraordinary fact than three of the seven signatories of our Proclamation of independence – Patrick Pearse, Thomas MacDonagh and Joseph Plunkett - were published poets. You will be hearing some of their writings performed here this evening. The Rising also inspired one of Yeats's greatest poems, 'Easter 1916' which acknowledged that Ireland had been 'changed utterly' by those momentous events. The poet George Russell (AE) rightly referred to this period of our history as a 'confluence of dreams.'

Tonight's concert represents a powerful illustration of an enduring American interest in Ireland. In my short time here, I have already been deeply impressed and uplifted by the manner in which people of Irish descent in this country identify with Ireland and take a positive interest in our affairs. This was very much in evidence during the conflict in Northern Ireland when US influence was one of the factors behind the success of the Good Friday Agreement of 1998, which provides an agreed framework for Ireland's future based on peaceful cooperation and democratic consent. We continue to look to our friends in this country to help us further the cause of political progress and reconciliation in Ireland and to manage the challenges posed in Ireland by Britain's decision to leave the European Union.

Buoyed by the talents and resilience of our people, and by the support of our extended Irish family around the world, we face the future with confidence as we seek to fulfil the ambitions of those whose struggle a century ago we will be remembering here this evening.

I will be back later as one of this evening's narrators when I will deliver part of the libretto in Irish and then in English. Before I finish, as a lover of poetry I cannot resist the opportunity to read an Irish poem. In order to illustrate the complexity of the period in Irish history we commemorate here this evening, I have chosen a piece, Francis Ledwidge, an Irish poet who was killed on the Western Front in 1917 and whose most famous poem is a 'Lament for Thomas MacDonagh', one of the leaders of the Easter Rising. Ledwidge was a man with strong nationalist views who was deeply saddened and angered by the execution of his friend, Thomas MacDonagh, in whose memory he wrote these lines.
He shall not hear the bittern cry
In the wild sky, where he is lain,
Nor voices of the sweeter birds,
Above the wailing of the rain.

Nor shall he know when loud March blows
Thro' slanting snows her fanfare shrill,
Blowing to flame the golden cup
Of many an upset daffodil.

But when the Dark Cow leaves the moor
And pastures poor with greedy weeds
Perhaps he'll hear her low at morn
Lifting her horn in pleasant meads.

But now it is time to hand over to our musicians and my fellow narrators and to dip into the rich history of Ireland's manifold tribulations and triumphs.
Daniel Mulhall is Ireland's Ambassador to the United States