Visiting Washington D.C.
How to apply for tours of some of the US capital's most iconic landmarks.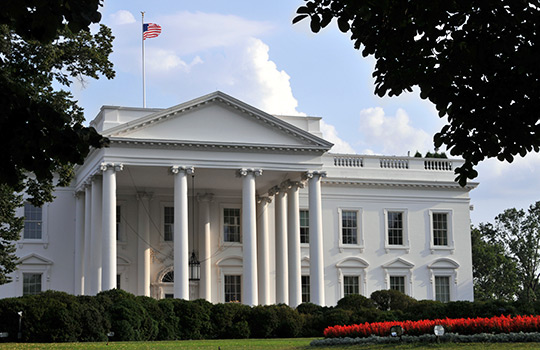 TOURS OF THE WHITE HOUSE
Intending visitors to the White House should contact the Embassy 21 days before the date of their arrival in Washington D.C. and supply their full names (as they appear on passports), and country of citizenship for each person requesting a tour. The maximum number of visitors that can be accommodated in a visit application is 5.
Please note that White House tours are increasingly difficult to secure. Tours are not automatically possible and there is no guarantee that the White House will facilitate a request from the Embassy. Availability changes daily and tours can be suspended for long periods of time, especially during holiday periods. Please note that tours are not available from Saturday to Monday.
In addition, tours of the White House that are available to Irish citizens are the accompanies tours i.e. the visitor must be accompanied by the Ambassador or the Deputy Chief of Mission. Due to the extremely busy schedules of the Ambassador and the Deputy Head of Mission, unfortunately they are not in a position to accompany every White House tour.
Irish visitors who would like to get other perspectives on political life in Washington D.C. may also wish to arrange a tour of Capitol Hill or other attractions - see below for details.
The White House Visitor Center, located at 1450 Pennsylvania Ave. NW, offers visitors a window into the US President's iconic home. The visitor center is open from 7:30 a.m. until 4:00 p.m. daily (except January 1,Thanksgiving, and December 25). Admission is free. Visitors can explore an interactive touchscreen tour of the White House, view over 90 artifacts from the White House collection, shop at the White House Historical Association retail store, and view the 14 minute film, "White House: Reflections From Within".
TOURS OF THE US CAPITOL
The US Capitol is open to the public for guided tours but advance reservation is required. For more information please visit the Capitol Visitor Center website.
TOURS OF THE PENTAGON
Advance reservation is also required for tours of the Pentagon. For more information please visit the Pentagon website.