Welcome Message
Our role is to promote Ireland's foreign policy interests and values at the UN and, through the UN, to promote effective international action on a range of global issues.
Welcome message from Ambassador David Donoghue
Ireland joined the United Nations in 1955. Since then, a deep commitment to the UN and the values and principles of its Charter has been a cornerstone of our foreign policy. At the United Nations, we work actively to promote international peace and security; respect for human rights and the rule of law; disarmament and non-proliferation; sustainable development; and effective humanitarian action.
Ireland is making a strong national contribution at the UN to the global efforts which are increasingly needed to meet the challenges of today's world.
Please contact our team at the Mission with any queries for information about our activities. We have also included easy links here to a number of closely related websites.
---
Ghlac Éire ballraíocht sna Náisiúin Aontaithe i 1955. Ó shin i leith, tá tiomantas daingean do na Náisiúin Aontaithe agus do na luachanna agus na prionsabail atá sonraithe ina Chairt ina bhunchloch de chuid ár mbeartais eachtraigh. Anseo ag na Náisiúin Aontaithe, bímid ag obair go gníomhach chun an tsíocháin agus an tslándáil idirnáisiúnta a chothú agus cur chun cinn a dhéanamh ar an meas ar chearta daonna agus ar an smacht reachta; an dí-armáil agus an neamhiomadú; forbairt inbhuanaithe; agus gníomh daonnúil éifeachtach.
Tá cion mór náisiúnta á dhéanamh ag Éirinn ag na Náisiúin Aontaithe i dtaobh na n-iarrachtaí domhanda a bhfuil gá níos mó agus níos mó leo chun na dúshláin a bhaineann le saol an lae inniu a shárú.
Téigh i dteagmháil lenár bhfoireann ag an Misean le do thoil má tá faisnéis ar bith uait faoinár gcuid gníomhaíochtaí. Táimid tar éis naisc fhurasta a chur ar fáil anseo freisin le suíomhanna gréasáin atá gaolmhar linn.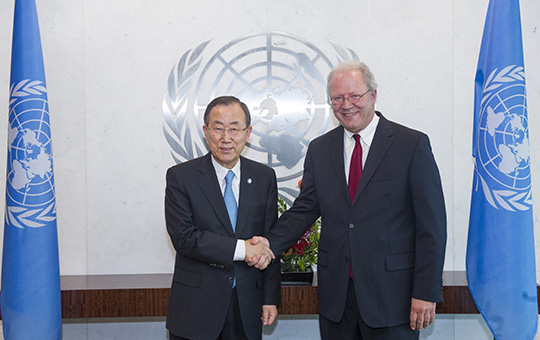 Ambassador David Donoghue presents his credentials to the UN Secretary-General Ban Ki-moon, 13th September 2013
Ambassador David Donoghue
Curriculum Vitae
Born in Dublin in 1952, Ambassador David Donoghue was educated at high schools in Ireland, England and the US.
He obtained a BA degree (Honours) in French and German from the National University of Ireland in 1972 and an MA degree in German, also from the NUI, in 1974. He spent a year as a lecturing assistant in the English Department of the University of Aachen in West Germany (1972-73). He also worked for a year (1974-5) as a junior lecturer in German at St. Patrick's College, NUI Maynooth.
On entering the Department of Foreign Affairs in 1975, Ambassador Donoghue served in the Anglo-Irish Division, dealing with Northern Ireland and Anglo-Irish relations, where he would serve again on two further occasions. He was involved in the negotiation of both the Anglo-Irish Agreement and the Good Friday Agreement. He served as Irish head of the Anglo-Irish Secretariat in Belfast from 1995-99.
Ambassador Donoghue had postings to the Irish Embassy to the Holy See (1977-78), the Irish Embassy to Germany (1978-83), the Irish Permanent Mission to the UN (1987-88) and the Irish Embassy in London (1988-91). In addition, he was seconded to the French and Italian Foreign Ministries (1984-85) as part of a support service for what is today the EU's Common Foreign and Security Policy.
From 1999 to 2001, he served as Irish Ambassador to the Russian Federation, with side accreditations to Belarus, Georgia, Armenia, Azerbaijan, Kazakhstan and Uzbekistan. In 2001, he returned to Dublin as Director-General of the Irish Government's development cooperation programme (known today as Irish Aid). From 2004 to 2006, he served as Irish Ambassador to Austria and the Vienna-based UN agencies. From 2006-2009, he was Irish Ambassador to Germany.
From 2009 to August 2013, Ambassador Donoghue was the Political Director of the Department of Foreign Affairs and Trade in Dublin. He presented credentials to the UN Secretary-General Mr. Ban Ki-moon on 13th September 2013 and now serves as Ireland's Permanent Representative to the United Nations.