Welcome Message
Our role is to promote Ireland's foreign policy interests and values at the UN and, through the UN, to promote effective international action on a range of global issues.
Dear Friends,
Welcome to Permanent Mission of Ireland to the UN. We hope that you will use this website as a means of keeping in touch with what is happening at the UN, and the difference Ireland, and our team are making here in the greatest global forum there is - the United Nations.
My name is Geraldine Byrne Nason and it is a dream job for me to represent Ireland at the UN. I believe that for Irish people, the UN is part of who and what we are. It is in our DNA. As a small country, with its own troubled past, we see our values and interests firmly embedded in a rules-based international order. I lead a small but dynamic team at the Irish Mission and we are dedicated to promoting those Irish values and interests.
Ireland, has kept faith with the UN since we joined in 1955 as a young Republic which had fought hard for its independence. Back then, we saw being a member of the UN as fundamental to our future and to our peace and security. We still do over 60 years later.
But we certainly have something to say about the future of the Organisation, and the role we believe it must play in reducing suffering across the globe, and securing our shared peace, security and prosperity.
The UN matters to us.
As Ambassador to the UN, I plan to work tirelessly to ensure that Ireland's voice is heard. It can sometimes a tower of babel here- but we have a credible and respected voice and we won't stop trying to make a difference where it matters. We will be a player- from peacekeeping to disarmament from development issues to human rights and gender issues.
Recently Ireland played a pivotal role in agreeing the Sustainable Development Goals which have the power and potential to transform our world, addressing the root causes of poverty, inequality and instability.
Now as we approach the centenary of our own independence, we want to step forward and take on even more responsibility. Ireland is currently a candidate for election to the Security Council: the vote is in 2020. We believe that we can and should play our part at the top table, particularly at this time of global instability and uncertainty.
We have something to say, and, importantly, we will listen when others speak. We will be courageous in that role. In the period ahead I will keep you updated on our campaign and candidature, as we seek to make an even greater difference at the UN.
Please follow our activities here on the website and on twitter @irishmissionun
Thank you
Geraldine Byrne Nason
Ambassador
‌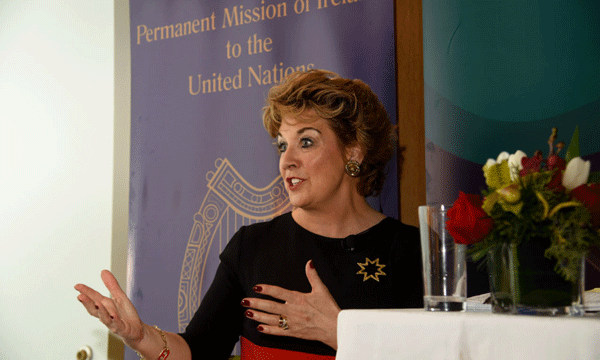 ‌