UN Reform
Ireland is actively involved in reform efforts to ensure that the UN is fit for purpose.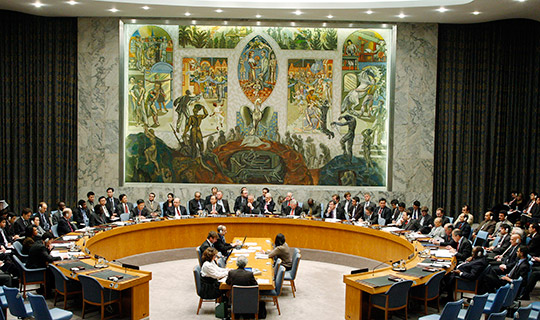 The Security Council chamber was a gift from Norway and the large mural on the east wall symbolises the promise of future peace and freedom.
Security Council
We are closely involved in negotiations, underway for some time, to reform and enlarge the Security Council. Acknowledging that the composition of the Council needs to be updated to take account of changing global realities, we favour a Security Council that is more representative, more inclusive, more effective, more transparent and more accountable in its actions. We have also joined many other countries in calling for the abolition of the veto rights conferred on the five permanent members of the Council.
Ireland is a leading member of the ACT group, launched in 2013, which seeks to improve the accountability, coherence and transparency of the Security Council in its current composition. We are working to encourage greater Security Council efforts on early warning and conflict prevention, as well as a more open and interactive relationship between the Security Council, the broader UN membership and civil society.
Development system
We actively support a reform initiative, Delivering As One, which the UN launched in 2008 with a view to improving the effectiveness of UN agencies in the field. The aim is to achieve more coherent programmes and to lower costs for governments and for the UN. This reform programme is now being implemented in some 40 countries.
Ireland has also provided strong support for UN Women, an agency which was created in 2010 as part of the wider reform effort and which seeks to advance gender equality and women's empowerment.