Overview
Ireland's efforts to maintain international peace and security are informed by our strong commitment to multilateralism, the rule of law, the international rules-based system and the pacific settlement of disputes. They are also based on our longstanding policy of military neutrality, our experience of conflict on the island of Ireland and a desire to offer our distinctive contribution to building sustainable peace and resolving conflict abroad.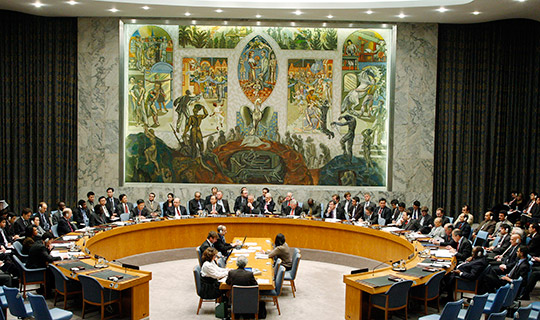 The maintenance of international peace and security, as enshrined in the UN Charter, is a key priority for Ireland. Our work towards this goal is informed by our experience of conflict in Ireland; a desire to offer our distinctive contribution to building sustainable peace and resolving conflict abroad; and the distinguished contribution of our Defence Forces to peacekeeping missions.
Peacekeeping
We have had a continuous presence in UN peacekeeping since our first deployment in 1958 and currently we are the sixth largest EU troop contributor to UN peacekeeping operations. We have also become increasingly engaged in discussions on UN peacekeeping policy. In statements delivered at the Security Council we have, for example, defended more robust UN peacekeeping approaches in certain circumstances, and called for greater use of modern technology by peacekeeping missions, including unarmed unmanned aerial vehicles. We have also welcomed greater regional participation in peacekeeping operations as a concrete expression of the sharing of a collective security burden. In January 2014 Ambassador Donoghue chaired and brought to a successful conclusion a key peacekeeping negotiation which resulted in the UN accepting, for the first time, some responsibility for assisting troop contributors in rotating their equipment into and out of theatre.
Reconciliation
On other aspects of the peace and security agenda, we are actively highlighting the importance of post-conflict reconciliation. In a statement to the Security Council in January 2014, Ambassador Donoghue called for the UN to take a more integrated approach to reconciliation – which would involve peacebuilding, development, human rights and governance.
Women, Peace and Security
Ireland is also a leading advocate for strengthening women's participation and leadership in peacebuilding. In April 2014 we co-hosted two events at the UN which addressed respectively conflict-related sexual violence in Burma / Myanmar and progress made by Sierra Leone on gender equality and women's empowerment.
Disarmament
Ireland is committed to working to achieve a more peaceful, secure and prosperous world. We recognise that the spread of weapons fuels conflict, contributes to human rights abuses and hinders development. Promoting disarmament, therefore, is one of five signature foreign policies for Ireland and builds upon Ireland's historic legacy in this area.