UNESCO Cultural Projects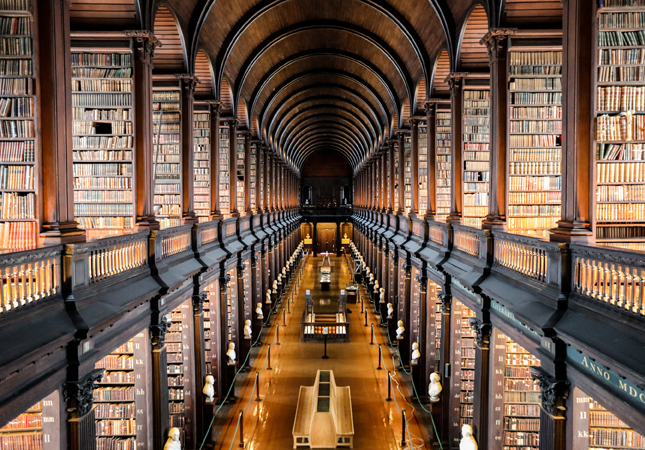 UNESCO established the Memory of the World Programme in 1992. The programme aims to protect the world's Documentary Heritage, which continues to be endangered by conflicts in various parts of the world. It promotes good practice in access to documentary heritage and offers advice on technicial and preservation matters.
Of the 193 documents currently inscribed on the Memory of the World Register, one lies in Ireland: The Book of Kells.
UNESCO's Creative Cities Network was launched in 2004. Its aim is to promote the social economic and cultural development of cities in both the developed and the developing world. The cities in network promote their local creative scene and contribute to UNESCO's goal of fostering cultural diversity.
Ireland has two UNESCO Creative Cities designations: Dublin was made a City of Literature in 2010, and Galway a City of Film in 2014.
Dublin UNESCO City of Literature
In July 2010 Dublin was officially designated as the world's fourth UNESCO City of Literature, which is part of the UNESCO Creative Cities Network. This award is a permanent designation and its realisation was led by the City Library Service of Dublin City Council. The accolade celebrates Dublin's unparalleled literary past and vibrant contemporary literary scene and features a comprehensive programme of events throughout the year.
The Vision for Dublin UNESCO City of Literature is that Dublin is recognised locally, nationally and internationally as a 'A City of Words' where reading, writing and storytelling are experiences embedded in the cultural, social and economic life of the city, its citizens and its visitors.
The aim is to support, animate and develop Dublin as a UNESCO City of Literature, reflecting a capital city where the literary ecosystem is creative, dynamic and sustainable - and positioning Dublin as a valued partner, actively contributing to the UNESCO Creative Cities Network.
Further details on Dublin UNESCO City of Literature, including its annual programme of work, can be found on the Dublin City of Literature website.
Galway UNESCO City of Film
In December 2014 Galway was designated as an UNESCO City of Film, which is part of the UNESCO Creative Cities Network. This is a permanent global designation, which brings the highest internationally recognised standard of excellence in the creative industries to Galway.
Galway's overall vision is to showcase the rich heritage, tradition and legacy of film in the area, to broaden ongoing film activities and to enrich the social, economic and cultural contributions across the region.
The objective is to develop areas such as learning, production, participation and overall enjoyment; to expand film and television audiences; promote media literacy in schools; encourage access and participation to film events and activities; to grow the number of productions; and to forge new links within the UNESCO network.
Further details on Galway UNESCO City of Film can be found from the Galway Film Centre and the Galway City of Film website.
UNESCO Chairs in Ireland
Launched in 1992, the UNITWIN (University Twinning and Networking) UNESCO Chairs Programme promotes international university cooperation and networking, through knowledge sharing and other related activities.
There are three UNESCO Chairs on the island of Ireland:
UNESCO Chair in Children, Youth and Civic Engagement. National University of Ireland, Galway.
UNESCO Chair on Transforming the Lives of People with Disabilities through Physical Education Sport, Fitness and Recreation. Institute of Technology, Tralee.
UNESCO Chair in Education for Pluralism, Human Rights and Democracy, University of Ulster, Northern Ireland.