A Welcome Message from Representative Sexton
Welcome to the website of the Representative Office of Ireland in Palestine. I am honoured to represent my country here as the eighth Irish Representative. Together with my colleagues, we work to promote relations between the Irish and the Palestinian peoples and to support the state-building efforts of Palestine.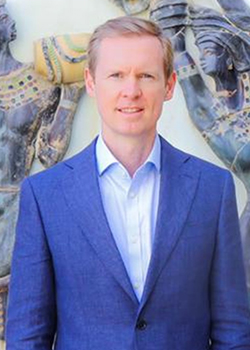 Ireland and Palestine share a close affinity, and understanding and support for the Palestinian people is deeply rooted in Irish society. We have had a Representative Office in Ramallah since 2000 and we have been providing development and humanitarian assistance to the Palestinian people for over two decades.
In these pages, we aim to inform you of our activities, as well as keeping up-to-date on relevant developments. For those of you who wish to know more about Ireland, we have some links to useful sources of information.
With best wishes,
Don Sexton
Representative of Ireland
---
Teachtaireacht ón Ionadaí
Fáilte chuig suíomh gréasáin Oifig Ionadaí na hÉireann sa Phalaistín. Is mór an onóir dom é ionadaíocht a dhéanamh ar son mo thíre anseo, áit a bhfuilim ar an ocht Ionadaí de chuid na hÉireann. Bíonn an obair a dhéanaimse agus mo chomhghleacaithe dírithe ar an gcaidreamh idirmuintir na hÉireann agus muintir na Palaistíne a chothú agus ar thacú leis na hiarrachtaí chunstát a chur ar bun sa Phalaistín.
Tá an-bhá ag Éirinn agus an Phalaistín le chéile agus tá tuiscint ar chás mhuintir na Palaistíneagus tacaíocht dóibh fréamhaithe go domhain i sochaí na hÉireann. Tá Oifig Ionadaíochtaagainn i Ramallah ó 2000 i leith agus tá cúnamh forbartha agus cabhair dhaonnúil ádtabhairt againn do phobal na Palaistíne le breis is fiche bliain anuas.
Sna leathanaigh seo, is mian linn cuid de na gníomhaíochtaí atá ar bun againn a léiriú agus anscéala is déanaí a thabhairt faoin méid atá ag tarlú.
Le gach dea-ghuí,
Donncha Ó Seasáin
Ionadaí na hÉireann