1930
1930: John Dulanty's 20-year stint representing Ireland in London
John Whelan Dulanty (1883-1955) has the distinction of being the longest-serving Head of Mission in the history of Ireland's diplomatic service. He was High Commissioner in London from 1930 to 1949 and, after Ireland declared itself a Republic and left the Commonwealth, he was appointed our first Ambassador, serving until his retirement in 1950. His record of 20 years heading up the same diplomatic post is unlikely ever to be matched.
Ambassador Dulanty was an unusual Irish diplomat, but not because he was born into an Irish family in Manchester in 1883, for quite a few members of our service over the years have been born outside the state, reflecting the fact that we Irish are a globally-dispersed people. What's unusual about Dulanty's story is that, before joining our service, he had been a high-ranking British civil servant, having spent time in the Ministry of Munitions during the First World War and later as an Assistant Secretary in the Treasury, before resigning in 1920 because of his opposition to British policy in Ireland
Dulanty, who joined the Irish civil service in 1926 following a stint in the private sector running the retail business, Peter Jones Ltd., was by no means the only British official to transfer allegiance to independent Ireland. In all, some 20,000 individuals made the same move. In Dulanty's case, it was no sudden assumption of an Irish identity. Like many British-born children of Irish immigrants, he had been a strong supporter of the Irish Parliamentary Party under John Redmond and would quite possibly have assumed an administrative role in Ireland had the Home Rule Act been implemented in 1914.
During his years in our diplomatic service, first as Trade Commissioner in London and later as Head of Mission, he served the Cumann na nGaedhael and Fianna Fáil Governments, as well as the first Coalition Government after 1948. The 20 years John Dulanty spent at the helm of Ireland's diplomatic mission in London were eventful and testing times for our relations between with Britain. The only other era in Irish-UK relations that can compare with the 1930s and 1940s is the past two decades which have seen the successful negotiation of the Good Friday Agreement and its successors, an historic exchange of State Visits and the development of a unique partnership within the EU now sadly soon to be sundered.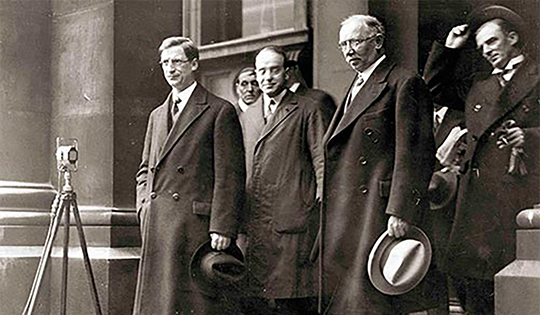 ​Photo Credit: Royal Irish Academy
His first challenge was to manage the impact of the change of government in 1932 which brought Eamon de Valera to power, a development that did not go down well in London. King George V told Dulanty in January 1932 of his admiration for the Cumann na nGaedhael Government because it had a 'sense of reality', but worried about the impact of a Fianna Fáil electoral victory. Dulanty wisely counselled against the British Government adopting 'too aggressive an attitude' towards the new Irish administration.
In the months after Fianna Fáil's election victory, Dulanty was involved in intensive negotiations between the two governments which failed to resolve their differences over the payment of land annuities. Dulanty served in London throughout the Economic War which witnessed a tit-for-tat imposition of tariffs by both Governments. He was there for the Anglo-Irish Agreement of 1938 that resulted in control of those Irish ports over which Britain had retained sovereignty under the Anglo-Irish Treaty being handed back to Ireland. This gave Ireland the option of remaining neutral during World War 2.
During the war, Dulanty had to cope with British resentment of Ireland's neutrality and managed to smooth relations between Dublin and London in those trying circumstances. One report from 1940 published in Documents on Irish Foreign Policy shows him seeking an assurance from a British Minister that Britain would not invade Ireland without 'a formal request for help from the Irish Government.' A consummate, well-connected networker, in the words of the entry on him in the Dictionary of Irish Biography, Dulanty 'could build bridges across the widest and deepest chasms through friendship, diplomatic skill, his personal wit and his innate cunning.' In the last years of Dulanty's diplomatic service, he observed Ireland's emergence as a republic and became its first Ambassador in London for three months before his retirement.
John Dulanty never worked in the building in which I have had the privilege of serving Ireland since October 2013. His offices were located on Regent Street St. James overlooking Piccadilly Circus. The Embassy secured the lease on our current building at Grosvenor Place in December 1950. John Dulanty does, however, have a presence in Grosvenor Place as we have a bust of this distinguished Irish diplomat outside my office, a reminder of that formative period in the history of our diplomatic service.
Daniel Mulhall is Ireland's Ambassador in London
---