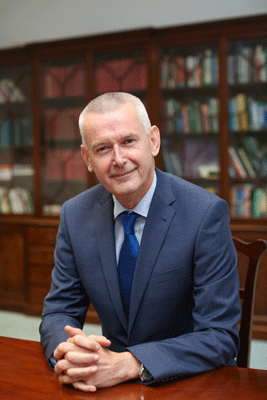 A chairde/Dear friends,
Welcome to our website which I hope will provide you with both an engaging connection to Ireland and a helpful insight into the work of the Embassy. I am honoured to join my team of colleagues in the Embassy and to take up my appointment as Ambassador of Ireland to the United Kingdom, our near neighbour and close friend.
Thanks to all of the good work by many over recent years, I arrive at a time of great warmth and friendly collaboration in the relationship between our two countries. In my former role as Secretary General to the President of Ireland, I had the privilege of experiencing the State Visit of Queen Elizabeth to Ireland in May 2011 and of the return State Visit of President Higgins to Britain in April 2014. The moving words and inspiring events associated with these visits reflected a transformed relationship of mutual respect and friendship.
The Irish connections in Britain are deep and diverse. That diversity is represented in the flourishing economic relationship between our two countries; in the vibrancy of our cultural links and the rich interaction of our artists and sports people; in the respectful commemoration of significant moments in our intertwined history; and through the lives of many citizens and descendants of Ireland for whom Britain is home. In undertaking my new role, I am deeply conscious of the generations of Irish people past and present who have contributed so much to life here in Britain and, indeed, to Ireland.
While there is therefore much to celebrate, to profile and to build on, I also acknowledge the challenges of the present moment that must be tackled, including the impact on Ireland – and on the Irish community in Britain - of the UK's decision to leave the EU and the continuing need to nurture the hard won peace in Northern Ireland. Working under the direction of our Government, I and my colleagues in the Embassy will draw on the strength and positivity of our diverse Irish-British relationship to address these current challenges and to ensure the very best outcome for Ireland and the Irish in Britain.
Le gach dea-ghu
Adrian O'Neill
Ambassador
Curriculum Vitae
Date of Birth: 6 November 1957
Educated: B.A. Mod. (Honours), TCD (1983)
Career to date: Joined Department of Foreign Affairs, October 1983
Third Secretary at HQ (Economic and Political Divisions), 1983-1986
Third Secretary, Embassy, Madrid, 1986-1989
Third Secretary at HQ (Anglo-Irish Division), 1989-1992
Vice Consul, Boston, 1992-1993
First Secretary at HQ (Anglo-Irish Division), 1993-1996
First Secretary, Embassy Washington, 1996-2000
Counsellor at HQ, 2000-2005 (Anglo-Irish Division)
Counsellor in Corporate Services Division - Head of Finance and Management Services 2005 – 2006
Assistant Secretary (Head of Corporate Services) 2006-2009
Director General (Anglo-Irish Division) 2009 to 2010
Secretary General to President Mary McAleese, and President Michael D. Higgins, Áras an Uachtaráin. 2010 - 2014
Second Secretary General, Department of Foreign Affairs and Trade (Ireland, UK and Americas Division) June 2014 to August 2017
Ambassador of Ireland to the United Kingdom, September 2017 to date
Ambassador O'Neill is married to Aisling, and they have two children.