Authenticating documents
Foreign governments and organisations sometimes require that documents be authenticated before they accept them. In the Department of Foreign Affairs and Trade, we can authenticate documents that were created in Ireland and legalise documents that were created abroad so that they are acceptable for use in Ireland.
E-Register Verification of Apostilles and Authentications
The online electronic register enables you to verify the authenticity of an Apostille or Authentication issued by the Department of Foreign Affairs and Trade in Ireland.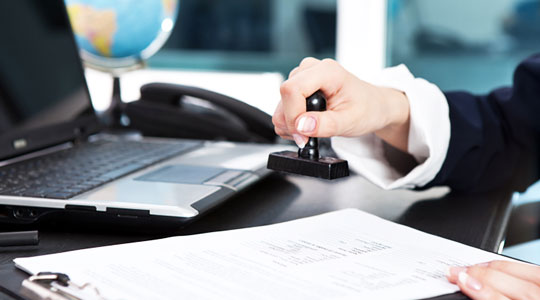 Overview
Overview
Authenticating a document verifies its origin by confirming that a signature, seal or stamp appearing on a document is genuine.
All documents to be authenticated should bear an original signature, seal or stamp from an Irish practising public official or organisation.
When would I need a document authenticated?
If you are going to use Irish documents overseas, for business or personal reasons, you may be asked to have them authenticated by the Department of Foreign Affairs and Trade.
If you're an Irish citizen returning to Ireland or a foreign national who wants to work or live in Ireland, you may be asked by the Irish authorities to have your documents authenticated by our Embassy staff.
Who can authenticate documents?
In Ireland
The Department of Foreign Affairs and Trade can authenticate documents created in Ireland that will be used in other countries. All documents must show an Irish connection such as an Irish address where the person swearing the document is resident in Ireland.
Abroad
Staff in our Embassies, Consulates and Honorary Consulates overseas can legalise documents created abroad so that they are acceptable for use in Ireland.
Our Embassy staff is also empowered under Irish law to administer oaths, affirmations and statutory declarations.
They can also certify copies of original Irish documents or translations. Be sure to check that photocopies are acceptable to the authorities you're dealing with.
Remember...
Authenticating a document doesn't mean that its contents are accurate or that we approve of its contents.
Methods
Methods
How we authenticate documents
The three most common type of authentication are:
Authentication
Authenticating a document means verifying that the signature, stamp or seal is genuine.
Apostillisation
Issuing an apostille is another method of authenticating a document, which may be required by countries that have acceded to the Hague Convention. It involves adding a certificate, either stamped on the document itself or attached to it.
Legalisation
Legalising a document means authenticating the signature or seal of a foreign authority or functionary so that it's acceptable to an Irish court.
Remember...
Find out what kind of authentication you need from the authorities you're dealing with.
Documents
Documents
Documents we authenticate
Original certificates (eg birth, marriage, death)
Company documents issued by the Companies Registration Office
Documents signed by the Chambers of Commerce in Ireland
Court documents, powers of attorney, and other notarial acts
Educational certificates and qualifications recognised by the Department of Education
Medical reports signed by a doctor who is registered with the Medical Council of Ireland
Garda Clearance letters (they must be issued from the Superintendent's Office of the Garda station where you last lived in Ireland and bear an original stamp and signature of the Garda Siochána).
Photocopies
We can Authenticate\Apostille photocopies of certain types of documents provided they have been certified by a practising Irish Solicitor or Notary Public in Ireland. However, you should in the first instance confirm with the authority to whom you are presenting the document that a certified copy will be acceptable to them.
How to apply
How to apply
Applying in Ireland
Call to our offices (Dublin and Cork)
If you have a document that was created in Ireland, and that needs to be authenticated, you can call to our public offices in Dublin or Cork. Please make an appointment if you have a large number of documents or a full foreign adoption dossier to be processed.
Dublin
PUBLIC OFFICE ADDRESS:
Authentication Section
Ground Floor
Knockmaun House
42-47, Lower Mount Street
Dublin 2, D02 TN83
Tel: 01 408 2174
Opening hours
Monday - Friday (excluding bank holidays)
9:30am - 12:30pm and 2:30pm - 4:00pm
The postal address for applications will continue to be:
Authentications Section, Department of Foreign Affairs and Trade, 80 St Stephen's Green, Dublin 2, D02 VY53
Postal Address
Authentication Section
Consular Division
Department of Foreign Affairs and Trade
80 St. Stephen's Green
Dublin 2
D02 VY53
Cork
Consular Services Section
Department of Foreign Affairs and Trade
1A South Mall
Cork
T12 TA46
Tel: 021 4944765/021 4944766
Opening Hours
Monday - Friday (excluding bank holidays) 9:30-1:00 and 2:30-4:00pm
By post:
ALL REGISTERED APPLICATIONS MUST BE SENT BY REGISTERED POST. POSTAL APPLICATIONS TAKE A MINIMUM OF 2 WEEKS FROM THE DAY OF RECEIPT IN CONSULAR DIVISION.
If you're sending documents by registered post, include a brief covering letter giving:
your name
return address
telephone number
the name of the country the document(s) are for use in
the appropriate fee
Fees
Each Apostille/Authentication stamp is €40, with the exception of documents directly relating to the export of goods, which are €10 each
Adoption Dossiers are €100 for the original pack, regardless of the number of labels required. Additional documents relating to this original pack are free of charge.
Post Placement Reports are €40 for each report (usually up to four post placement reports)
Methods of payment
You can pay by:
Cash
Bank draft (drawn on a bank in Ireland and payable to the 'Department of Foreign Affairs and Trade')
Irish Postal order
Credit/debit card
We do not accept Cheques or Electronic Fees Transfers.
Applying Outside Ireland
If you are living abroad and want to apostille or authenticate a document created in Ireland, the process is the same as for people living in Ireland: you have to apply to the Department of Foreign Affairs & Trade directly – see instructions above re sending applications by post. This cannot be done via the Embassy or the Honorary Consulates.
If you are living abroad and need to have a statutory declaration or affidavit witnessed, a Notary Public in your area should be able to assist you.