Minister Coveney launches Irish Beef in Mid-West US market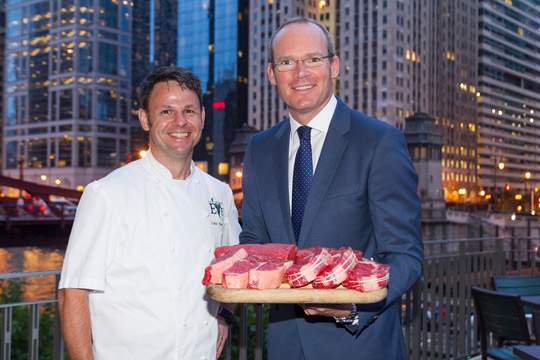 From 8-9 September, Minister Coveney visited Chicago to promote Irish beef following its re-entry to the US market this year.
On Tuesday 8th September, Simon Coveney T.D, Minister for Agriculture, Food and the Marine hosted a high profile event in Chicago to promote Irish beef following its re-entry to the US market this year. The event was aimed at building awareness and generating excitement among key trade buyers and media in the mid-west area. Irish beef is a premium product and the Minister was keen to share this message with the many interested attendees.
Earlier in the day, the Minister also met members of McDonald's global management team at McDonald's HQ in Oak Brook, Illinois. The meeting provided an opportunity to cement the strong partnership between McDonalds and the Irish beef sector, built on Ireland's commitment to sustainability and the rapidly developing international recognition of Ireland's Origin Green programme.
Minister Coveney was also guest of honour at a dinner hosted by the Irish Consulate in Chicago at the Drake Hotel where he spoke to an audience of Irish-American business and community leaders about the quality and sustainability of the Irish beef which was, of course, featured on the menu and the great opportunities for Irish farmers to export into the US market".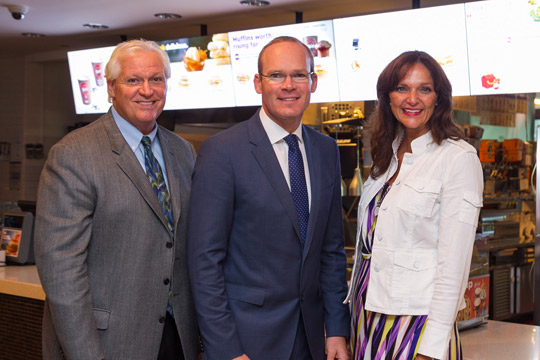 On Wednesday 9th September, the Minister visited well-known premium US retailer Wholefoods to mark the growing volume of Kerrygold products on sale there. Butter consumption is at an all-time high in the U.S. and Kerrygold is quickly gaining a growing share of this market. Ornua continue to successfully promote Irish dairy produce on overseas markets.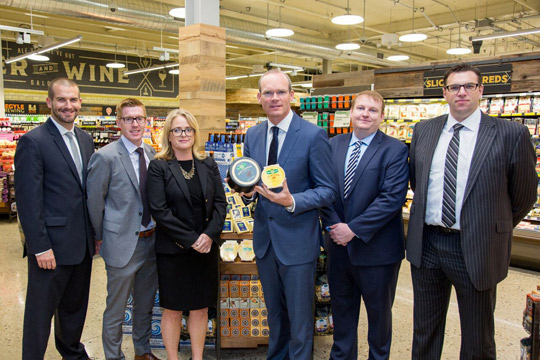 Later that day the Minister also visited Carbery co-op's international flavours business in the US, Synergy flavours. It is a leading supplier of flavours, extracts and essences to the global food and beverage industry. This innovation centre is an excellent example of the value and opportunity offered by strategic partnerships in innovation between Ireland and the US. Ireland's new strategy for the development of the food sector, "Food Wise 2025" advocates exactly this type of smart, sustainable and innovative food production, based on a deep understanding of consumer preferences and global market opportunities.
Commenting on the visit after its conclusion, the Minister said "My main aim coming here this week was to build on the momentum behind Irish beef exports to the US as well as helping to drive further Irish dairy exports. Securing and developing international market access opportunities for Irish food and drink in such as the US has been a priority of mine since taking office. I am committed to working with our exporters to build these opportunities around the world".