Ambassador Anderson's Remarks at the Signing Ceremony for the Extension of the Memorandum of Understanding for the Ireland Work & Travel Program
Signing Ceremony for Extension of MOU
for the twelve month Ireland Work and Travel (IWT) Programme
at the US State Department, 5 December 2016
Remarks by Ambassador Anne Anderson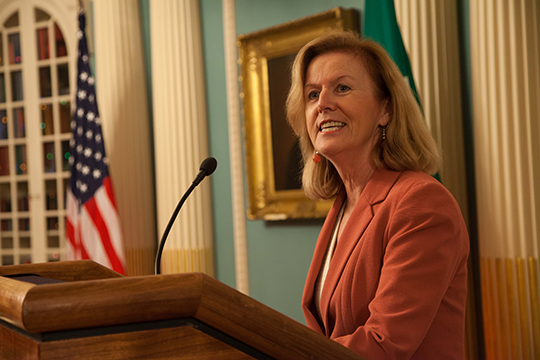 Thank you Assistant Secretary Ryan and Deputy Assistant Secretary Lowry.
To Assistant Secretary Ryan in particular, my appreciation for always being available to us and for engaging with our concerns with such professionalism and empathy.
And thanks also to your colleagues at the Educational and Cultural Affairs Bureau here at the State Department.
Not forgetting of course your colleagues from the Ireland Desk and the Western Europe Bureau, so ably headed by Deputy Assistant Secretary Conrad Tribble.
I also wish to salute members of the Irish American community from DC, Maryland, and Virginia, who have joined us today and with whom we at the Embassy work so closely.
As 2016 draws to a close, we can look back on a landmark year in Irish US relations.
The 1916 centenary has had a particularly deep resonance in the United States. Taoiseach Enda Kenny was here in May to launch the Ireland 100 Festival at the Kennedy Center, and to plant an Irish oak tree on the grounds of the Capitol. Across the country, we worked with community organisations to organise more than 300 commemorative events – all honouring and interrogating the 1916 legacy, reminding us of how America travelled with us on the road to the Rising, and has remained at our side throughout the subsequent 100-year journey.
Again and again throughout the year, we were reminded of those immortal words of President John F. Kennedy when he addressed the Irish Parliament in 1963: "No people ever believed more deeply in the cause of Irish freedom than the people of the United States. And no country contributed more to building my own than your sons and daughters". These words will undoubtedly echo and re-echo in the course of next year, when we commemorate the centenary of President Kennedy's birth.
The contemporary relationship between the two countries remains extraordinarily vibrant. One simply has to look at the rhythm of high level visits – the Taoiseach has just completed his third visit to the US within twelve months. The centrepiece each year of course is the St Patrick's Day programme: now well-established through successive Presidencies, and which we so greatly cherish.
And we have been delighted to welcome so many high-level visits in the other direction: Vice President Biden, together with his family in June; Secretary of State Kerry at the end of October to accept the Tipperary Peace Prize and to meet our Foreign Minister Charlie Flanagan; a Congressional delegation in March to attend the Easter Rising commemorations; a delegation from the House Appropriations Committee in August. And so many others came: Governors, Mayors, and of course those thousands that showed up for the wonderful Boston College-Georgia Tech football game in Dublin in September.
As we experience the warmth and vitality of the relationship – constantly renewed and reinvigorated from decade to decade – one thing is clear: the people to people contacts are the very lifeblood of this relationship.
Over so many years, the J1 Programmes – including both the summer programme and the 12 month programme - have made a contribution which is hard to overstate. When our young people spend time in each other's countries, at a formative period in their lives, the experience stays with them long into the future.
Time and again, throughout my years here as Ambassador, I have heard from Irish political leaders, and decision-makers in every walk of life, about their J1 experience in the US and the positive imprint it has left on them. The comments are almost always along the same lines: the experience has challenged them, helped them grow, left them with an enduring sense of warmth about this country. It is not that they will always necessarily agree with every aspect of American policy, but they will have a context in which to make an assessment, and a level of understanding they would not otherwise have.
And of course this is not a one-way street: just as the participants in the programme benefit greatly, so too do the businesses or institutions who hire them and host them, and who highly value their enthusiasm and hard work.
And so I am extremely pleased to be signing today the extension of the Twelve Month Work and Travel Programme for a further three years. The current Memorandum of Understanding has worked well from our perspective; in particular, the flexibility of the programme has been a key factor in making it attractive to Irish participants and we are very pleased that this can continue.
We are also happy to work with our US counterparts to identify how US participation rates in the J1 programmes might be improved. As I said, these are win-win experiences, benefitting both the young people who participate and those who host and employ them. Especially with Ireland's economy now in recovery, we look forward to seeing the numbers of US participants increase.
Let me say a word about the J1 Summer Programme, which is not affected by the Memorandum we are about to sign, but which will be the subject of discussion at a meeting this afternoon with our State Department colleagues.
The J1 Summer Programme for fifty years has been a cherished rite of passage for so many young Irish people, and there can be few better examples of public diplomacy in action. The programme attracts some of our best and brightest – before they leave, we remind them that they are ambassadors for Ireland; after they return, we see them develop a dual mandate: as well as being the face of Ireland in America, they help communicate America to Ireland.
And so we have no doubt that it is in the interest of both countries to nurture and develop this programme. We had concerns that changes to the summer programme introduced last year would have the unintended effect of reducing numbers, and this in fact proved to be the case. As we continue our discussions with the State Department, we want to do everything possible to restore numbers to the 2015 level. Our objective is clear: to have the best quality programme with the highest possible level of participation.
Just one final comment. We are on the threshold of a new Administration taking office in the United States, and we can anticipate that there will be a strong focus on immigration issues. As part of that debate, there is likely to be some consideration of exchange programmes and the role they play. Ireland will of course be making its case on the wider issues of immigration reform, but we will also be happy to share our tremendously positive experience of J1 programmes.
And our central message will be this: these J1 programmes are not just an act of generosity towards young people, although they certainly offer life changing experiences and opportunities. But they are about so much more than that – conferring mutual benefit, projecting soft power, and building enduring relationships.
Especially as we round out this special year, which has helped to fortify and re-energise the extraordinary relationship between our two countries, I am delighted to sign this agreement.