Address by an Taoiseach, Mr. Enda Kenny T.D. to Irish Community Reception at the Drake Hotel, Chicago 5 June 2017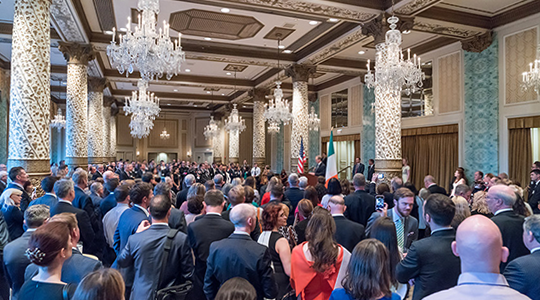 Senator, Ambassador, Consul General, Distinguished Guests, Ladies and Gentlemen,
Go raibh míle maith agaibh as ucht an fáilte.
It is a great pleasure to join you this evening here in Chicago. My last visit here was for St Patrick's Day in 2012 when I also had the privilege of addressing a reception hosted by the Irish Fellowship Club.
I have since learned that more than half a century earlier, on St Patrick's Day 1956, a certain young Senator from Boston was guest of honour at the same gathering.
With the easy warmth and winning smile for which he would become famed, John F. Kennedy addressed the Fellowship saying;
''I am glad to be in Chicago tonight; I feel at home here… because I feel strongly the bonds of a common kinship. All of us of Irish descent are bound together by the ties that come from a common experience, experience which may exist only in memories and in legend, but which is real enough to those who possess it.''
Like that young Senator, the centenary of whose birth we have just marked, I too am glad to be with you in Chicago tonight; a city with which I feel common kinship.
A City of Firsts
While known by many as the second city, for us in Ireland, Chicago has long been a city of firsts.
Chicago was the first great US city which the Irish not only built, but rebuilt, following the great fire of 1871
Chicago was the first city in the world to green its river in honour of St Patrick's Day, inspiring a greening programme that Tourism Ireland has since carried across the globe.
Chicago was the first city to host a victory for the Irish rugby team over New Zealand's All Blacks, ending a century of disappointment days after the Cubs had a similar remarkable success. [And I believe that Chairman Ed Burke, who even before the game arranged for the City Council to designate the 5th of November ''Irish Rugby Day'', was the first to predict that famous win!]
And Chicago is the first city in the world to provide a Diaspora representative to the Irish Parliament, I am referring of course to Senator Billy Lawless.
Senator Lawless
I appointed Billy to be Ireland's first Senator for the Diaspora just over a year ago.
His appointment reflects the value we place on our relationship with this great city. But more than that, it represents our commitment to our global community and our conviction of the value of our Diaspora.
This was also demonstrated in my announcement in March that Ireland will hold a referendum on extending voting rights in Presidential elections to our citizens overseas.
Senator Lawless, I know, is already at the heart of this campaign. And we can count on him to press the case as forcefully and articulately as he has long pressed the case here for the undocumented Irish.
Immigration
As I explained to President Trump when we met in the White House on St Patrick's Day, the undocumented Irish have built their lives in America, becoming part of this nation's fabric.

They work hard. They give back. They love America.
They want the chance to come out of the shadows, to have their contribution recognised.
As Bobby Kennedy once remarked, the undocumented – wherever they hail from – want the opportunity to rise as their talent and energy allow. Let me assure you, the Irish Government will continue to press for comprehensive reform that will allow them do just that.
Bobby Kennedy's words are always worth recalling. But we recognise that this evening, the 5th June, marks the 49th anniversary of the terrible night he was shot in Los Angeles.
I am conscious that today is a difficult day for all Kennedys and a painful one for Bobby's son Chris, a proud member of this Fellowship, whom I am honoured to have join us this evening.
Special Olympics – A Special Relationship
But Chris, as you well know, your father's death did not see the passing of the values he epitomised, and expressed so eloquently.
In a remarkable display of resilience, they found special expression, just one month later, here in Chicago in the work of his sister, Eunice Kennedy Shriver.
Alongside Anne Burke – now Chief Justice Burke [who is our esteemed guest this evening] - Eunice launched the first Special Olympics at Soldier Field, offering people with intellectual disabilities "the chance to play, the chance to compete and the chance to grow."
From these beginnings, the Special Olympics took flight, extending first across the United States and then across the globe.
In 2003 the first World Summer Games outside America were held in Dublin, with 7,000 athletes representing 150 countries across 18 disciplines.
Broadcast live across our nation, these games radically changed perceptions regarding people with intellectual disabilities. They were, as our then President Mary McAleese put it, an example of "Ireland… at its superb best".
Today, as we approach the 50th anniversary of those first Chicago games, the Irish connection to this project remains every bit as strong.
Like a good many here this evening, Mary Davis, the CEO of Special Olympics International, hails from Ireland's finest county - Mayo.
And here, in the city of broad shoulders, the Irish roots of this great project can be seen everywhere:
in the leadership and vision of Justice Burke;
in the boundless energy and enthusiasm of the thousands who volunteer to support the games, led by the legendary 'Skinny' Sheehan;
and in the fact that thousands of otherwise sane people – including Chris Kennedy, our Consul General and scores of Chicago Aldermen led by Patrick Thompson – could be induced to plunge through Lake Michigan's ice in early March, risking hypothermia in the name of a good cause.
Their work and efforts is testament to the resilience, the imagination and the compassion of the Irish of this city.
Michael Collins
I began my remarks by quoting a great American leader. I want to end them by quoting a great Irish one.
We are deeply privileged to be joined this evening by Dennis, Renee, Ruth and Constance Collins, descendants of Michael Collins, a hero of our nation.
Dennis and Renee are the grandchildren of Michael's eldest brother Patrick, who came to Chicago at the turn of the last century and served with distinction in the city's police service.
Patrick urged his younger brother to join him in this remarkable city and, at one time, I understand, went so far as to secure him a post at the First National Bank.
How different our history might have been had Michael accepted that invitation. But fate did not have it thus.
Instead, Michael Collins was not content to see things as they are and ask why, but dreamed of things that never were, and asked why not. More than that, he made his dreams reality, winning Ireland its independence.
Of Ireland, he told his followers: ''We are a small nation. Our military strength... can never be considerable. Our strength as a nation will depend upon our economic freedom, and upon our moral and intellectual force. In these we can become a shining light in the world.''
A shining light in the world is what Ireland has always aimed to be. And Chicago is a shining city in these Great Plains.
Perhaps that's why this city is so special to us. And why our people here are so special to this city.
Thank you for being here and for all that you do to represent Ireland with distinction in Chicago. I hope that you enjoy the evening.
Go raibh míle maith agaibh a chairde.
ENDS