Visit by Minister Coveney to Washington DC, October 2017
The Minister for Foreign Affairs and Trade, Mr. Simon Coveney TD was in Washington for a two day visit to undertake a number of meetings with the Administration, Congressional leaders and to deliver a Brexit address at CSIS.
Minister Coveney traveled to Washington DC in early October for a number of political engagements, including meetings with the Administration and with senior US politicians on Capitol Hill. The Irish Government Envoy to US Congress, Deputy John Deasy accompanied the Minister for his meetings on Capitol Hill.
Speaking in advance of his visit, Minister Coveney said:
"The key objective of my first visit to Washington DC as Minister for Foreign Affairs & Trade, is to engage with the Trump administration and from both sides of Congress. I will be updating a number of our key political contacts on developments in Ireland, including our continued economic progress, the implications of Brexit for the island of Ireland and the political situation in Northern Ireland."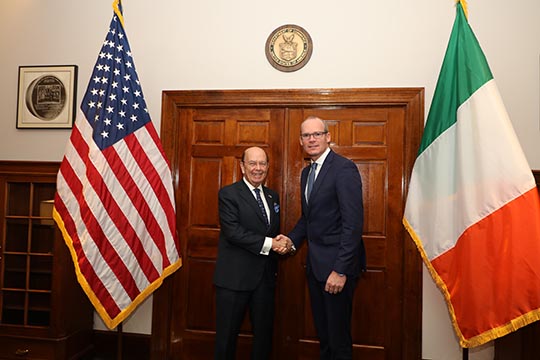 Minister Coveney with US Commerce Secretary Wilbur Ross
On the first day of the official visit, the Minister met with two key figures in the Trump Administration, US Secretary of Commerce, Wilbur Ross and the Director of the Office of Management and Budget, Mick Mulvaney. At the meeting with Secretary Ross, the Minister raised the Bombardier case and they also discussed the Ireland-US economic relationship. Speaking after the meeting, the Minister said:
"Having already written to Secretary Ross about the Bombardier Case, I was glad of the opportunity to raise it with him in person. I outlined our concerns at the preliminary finding and the implications the case could have for Bombardier's operations in Belfast. I explained that if these preliminary findings were to be repeated in a final ruling, the implications for the more than 4,000 people directly employed by Bombardier in the city would be very serious."
Later that afternoon, the Minister delivered a keynote address at the Center for Strategic & International Studies https://www.csis.org/events/managing-brexit-challenge-ireland-eu-and-transatlantic-relationships about Brexit and its potential impact on the island of Ireland.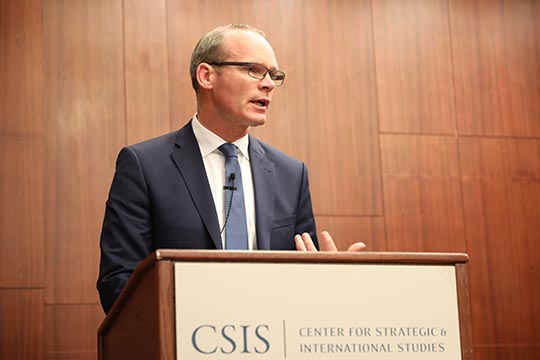 Minister Coveney speaking at the CSIS.
The following morning, the Minister met with the Deputy Secretary of State, John Sullivan to discuss Brexit, Northern Ireland and the Middle East Peace Process.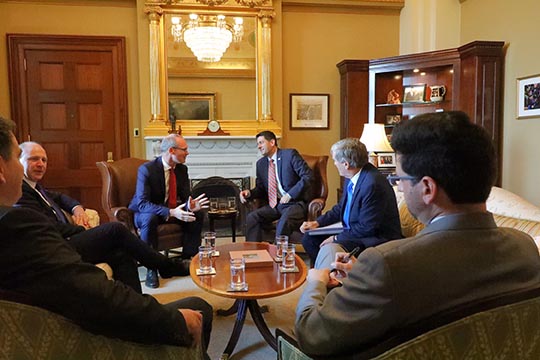 Minister Coveney with Speaker Ryan and officials.
The Minister also held a series of meeting with US Congressional leaders, both Republican and Democrat, including with House Speaker, Paul Ryan and with House Democratic Leader Nancy Pelosi.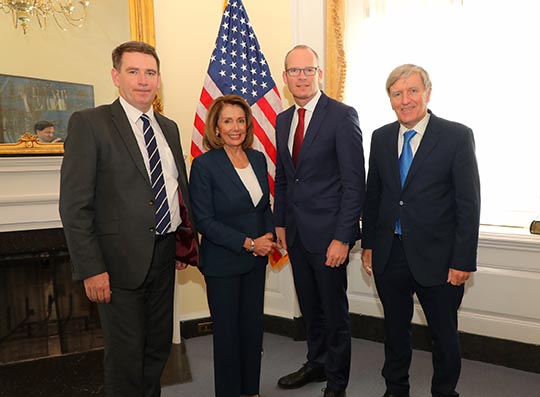 Minister Coveney with Pelosi, the Ambassador and Deputy Deasy.
The Minister also met with up to a dozen members of the bi-partisan Congressional Friends of Ireland group including the Co-Chairs, Congressmen Peter King (R-NY) and Richard Neal (D-Ma).