Remarks by Minister Heather Humphreys at the launch of Creative Ireland in the US, the five year arts & culture initiative and Culture Ireland's US programme for the year ahead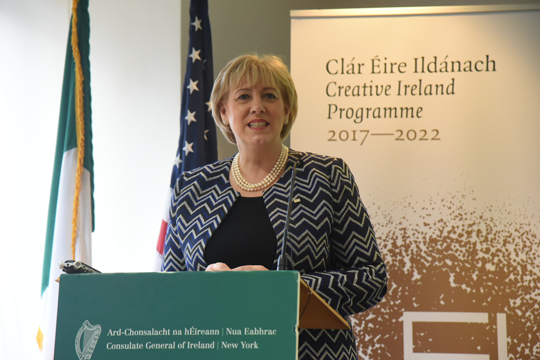 Consul General, distinguished guests, ladies and gentlemen.

It is a pleasure to be here with you in New York to launch Culture Ireland's excellent US Programme for the year ahead and to showcase Creative Ireland, the Irish Government's ambitious five year arts and culture initiative which will place culture and creativity at the heart of public policy.
This time last year we were embarking on a year of centenary celebrations, in Ireland and overseas, to remember and reflect on the tumultuous events of 1916 which ultimately led to the foundation of the Irish State.
When we set about planning the Ireland 2016 Centenary Programme, we never could have imagined – or indeed hoped for – the extent to which it would be embraced by the Irish people, at home and abroad.
What started as a list of official ceremonies, grew into a catalogue of more than 3,500 local community events across Ireland and another 1,000 events internationally including, of course, here in New York.
Irish people became engaged in active citizenship, creating imaginative cultural experiences that spoke to our values and shared identity, and not just to the specific events of 100 years ago.
We wanted to create a Centenary Year in which everyone could participate – and that's how it turned out.
We believed that 2016 should be a year for children, for creativity, for theatre, dance and visual arts – and indeed children were the heart and soul of the year.
It was also a year when the power of community was to the fore.
The result was creative citizenship, engagement in unprecedented levels of cultural activity, making a profound statement about our identity and our values as a nation.
As the year progressed, it was becoming increasingly clear that we needed to seize on this huge level of public engagement – that we couldn't let this opportunity pass.
The centenary celebrations reminded us all of the transformative power of our unique culture - something that was understood so well by the revolutionary generation.
We saw that there could be a legacy programme from the centenary, that would be rooted in culture and creativity.
So we started by taking the same approach that we had taken to planning to the centenary in the first place – we talked to people, we consulted.
We asked ourselves – and all the key stakeholders involved in the commemorations – what had worked well, and how could we build on it for the future.
What kind of practical but inspirational legacy could we leave for future generations?
Our response is Creative Ireland, a bold and ambitious all-of-government initiative to mainstream culture and creativity in the life of the nation - so that individually and collectively we can realise our full creative potential - and then use that creative potential to foster collective wellbeing and social cohesion.
In my view, it is the most significant Government action for arts and culture in Ireland in a generation.

Creative Ireland is about placing culture at the centre of our lives, for the betterment of our people and for the strengthening of our society.
At the heart of Creative Ireland is participation: an approach that says it isn't enough to provide additional supports for the arts and artists: we must devise and implement strategies to radically increase public participation in creative cultural activity.
It's about building bridges between culture and creativity, between artists and communities – for the benefit of our entire society

With Creative Ireland, the Irish Government is telling everyone – policy makers, arts practitioners, our citizens, our dispora and our friends everywhere – that we believe in the value of creativity, for people and for society.
That arts and culture function as a robust social infrastructure and as a key underpinning of individual wellbeing.
That the arts are of intrinsic value to individuals and to society, and participation in arts and culture is instrumental in developing individual and collective creativity.
And that this all has enormous implications for our society and our economy.
Through Creative Ireland we want to build on the huge level of collaboration we have experienced throughout the centenary year - between central and local government, across embassies and consulates, between universities and state agencies, between creative artists and industry.

We want to create an ecosystem of creativity for the benefit of our citizens, our country, our society.
The Creative Ireland Plan is built around five pillars, and the first pillar is all about children – which of course is the right place to start.
Because, let's face it, if we get it right for the children, we're off to a pretty good start.
It's called Enabling the Creative Potential of Every Child.
We will develop a creative schools programme to embed arts in education in an unprecedented way. Our ambition is that by 2022 every child in Ireland will have access to tuition and participation in art, music, drama and coding.
Pillar 2 – Enabling Creativity in Every Community - is about bringing the creative power of culture to every corner of Ireland.
There will be a culture team in every county nationwide, who will develop a culture and creativity plan.
We will establish an annual County of Culture award and a new cultural day will be held on Easter Monday each year.
Pillar 3 focuses on Investing in our Creative and Cultural Infrastructure
The Irish Government is committing to investing in our cultural institutions – not just in terms of their buildings, but also in their collections and digitisation – making our cultural heritage accessible to everyone.
Pillar 4 focusses on making Ireland a Centre of Excellence for Media Production.
It is appropriate that I am here in New York talking about the Irish film sector when one of the biggest Irish movies of last year was none other than Brooklyn – which saw the work of one of our great contemporary literary artists become a visually stunning piece of film.
But we believe that Ireland has the creative talent, the storytelling and literary traditions, and the right taxation structures to grow our audio visual sector significantly in the years ahead -– and we will take new initiatives to drive this sector.
That brings me to Pillar 5, whichis the outward looking piece of Creative Ireland – it's about presenting a coherent representation of Ireland to the world as a creative people – telling the world that Ireland is the place to come to if you want great things to happen – whether as a student, an investor or a visitor.
This Pillar is called: Unifying our Global Reputation.
As you know very well here in New York, Culture Ireland, our embassies, consulates and agencies do tremendous work to present Ireland to overseas audiences – but now we want to combine all of their efforts to ensure that we capture the overarching narrative of our unique creativity and cultural heritage.
Ireland.ie will be developed as a new digital platform that will be the first encounter with that narrative for anyone who wants to know about Ireland.
We will host a Creativity Forum and conference next year as part of our efforts to ensure that we are all aware of best national and international thinking on all of these matters.
I was joined by the Taoiseach and the Minister for Public Expenditure Paschal Donohoe in the newly restored wings of the National Gallery in Dublin in early December to launch the Creative Ireland programme.
The response in the month that has followed has been quite dramatic.
There has been a groundswell of excitement and enthusiasm.
A real sense that we can all pull together and do this right, that we can achieve something really important – important for the arts and important for Ireland..
Creative Ireland is bold and ambitious, but I also believe it is achievable.
We have set ourselves some challenging targets for 2017, but work is already underway on achieving our goals.
As Minister for the Arts in the Irish Government, it is very important to me that we present this initiative to the international Irish community.
And I could not think of a more appropriate location than New York.
When I think of Irish culture and creativity overseas, I think of New York.
There's an Irish footprint on every block of this city.
Irish culture permeates Manhattan, Brooklyn, Queens and beyond.
The Irish Government is hugely appreciative of all that the Irish community does here to keep our culture and our sense of identity thriving.
And for that I say thank you to everyone in this room.
Today also marks the official launch of Culture Ireland's US programme for 2017.
It very diverse and involves support for many of Ireland's finest artists to tour in the US.
I won't list out all of the highlights here, as there are many, but to name just a few…
We Banjo 3, The Gloaming, Teada, Dervish and The Outside Track will all be on tour.
Up to a dozen Irish music acts will be featured at South by Southwest in Austin, Texas in March
Irish films will be presented at the Sundance Film Festival this month and there will be spotlight on Irish film at Newport Film Festival as well as New York Irish Film Festival, The Craic Fest in New York and the Boston Irish Film Festival
Irish visual artists will exhibit across the US from New York, Portland to LA.
Award winning theatre company Fishamble will present as part of the 1st Irish Festival in September, which has become an increasingly important event in the calendar for Irish theatre in New York.
And Enda Walsh's 'ROOMS', a wonderful theatrical installation will also have its American premiere when it is presented by The Irish Arts Center in partnership with St. Ann's Warehouse around the corner in the Cybert Tire site, just months before it is demolished to make way for the new Irish Arts Center facility.
So there is much to look forward to in the year, and indeed the years, ahead.
I hope you all manage to take in many of the Culture Ireland support events here in New York in the coming months, and I hope you will join us as we develop the breadth and ambition of Creative Ireland for the benefit of Irish arts and culture at home and abroad.