March 8 International Women's Day 2021 Theme #ChooseToChallenge
News
02 March 2021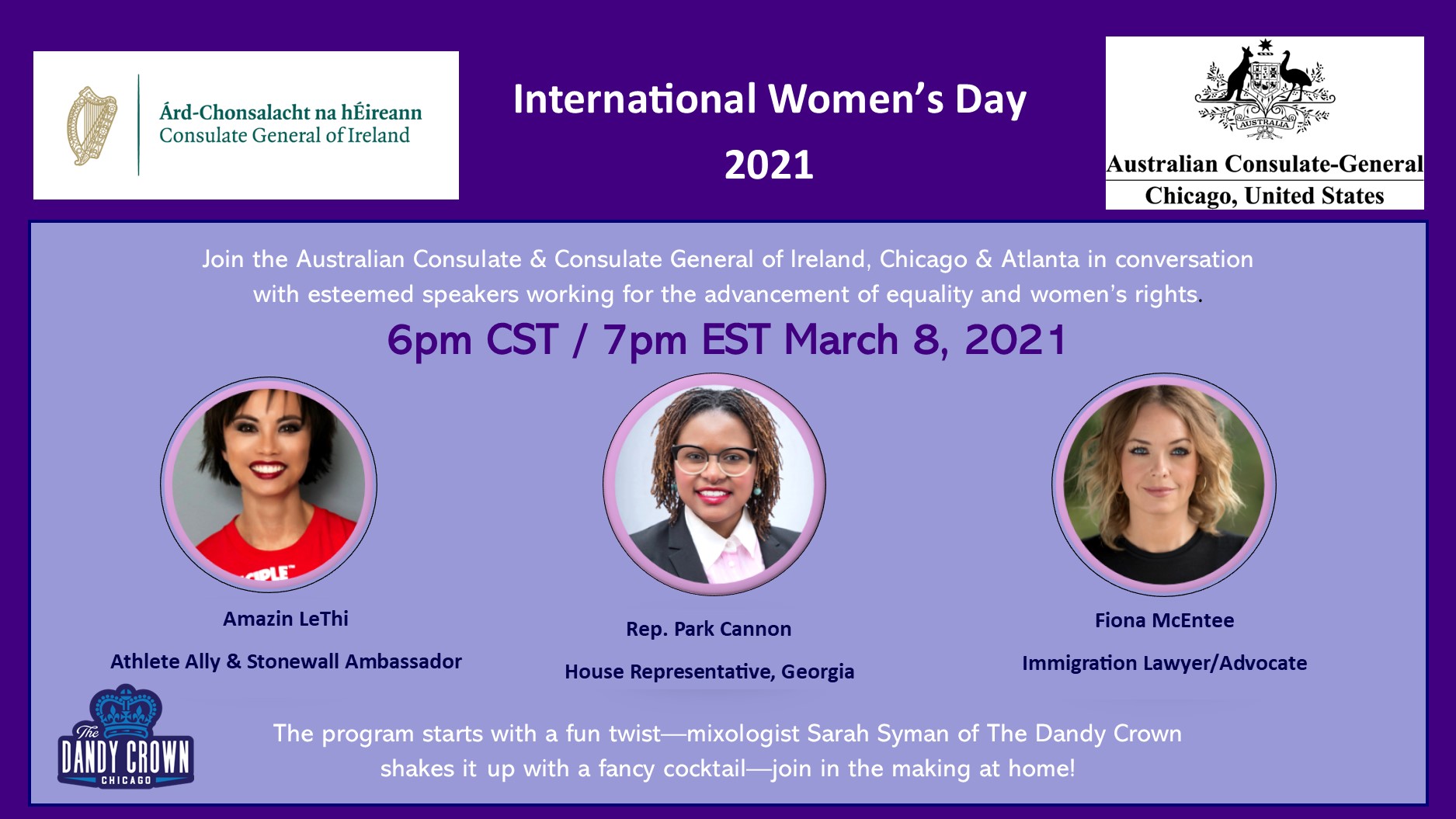 Chicago & Atlanta Consulates join with the Australian Consulate, Chicago to discuss the theme of #choosetochallenge 2021
This year for International Women's Day, we are delighted to join with our friends at the Australian Consulate, Chicago and the Consulate General of Ireland, Atlanta to create a program round the 2021 #choosetochallenge theme. Opening remarks will be given by Consul General Ciara O'Flionn and Jo Christopherson, Deputy Consul General, Australian Consulate.
We are honored to be joined by three esteemed guests - all of whom have worked hard for equality and women's rights in their fields. They will share with us their journeys and perspectives on the challenges they have faced as well as guidance for the next generation of female leaders. Vice Consul Sarah Keating from the Consulate General of Ireland and Office Services Manager Amanda Slone from the Australian Consulate will be in conversation with our speakers:
Representative Park Cannon, now in her fourth term as the youngest Democrat and youngest female member of the Georgia House of Representatives. At the 2016 Democratic National Convention in Philadelphia, Representative Cannon said "We need to trust black women!" and will continue to stand up for LGBTQ and minority visibility in the South.
Amazin LeThi, a former competitive natural bodybuilder, TV/Film star, entertainment executive and the first Vietnamese internationally published health and fitness author, who has overcome enormous barriers to become a leading global rainbow (LGBTQ) sports activist and thought leader. During the Obama administration, Amazin helped organize the first 'Spirit Day' collaboration with GLAAD and White House Initiative on Asian Americans and Pacific Islanders 'Act to Change' in October 2016 and her story was part of the first public White House Initiative 'Act to Change' an awareness campaign that addresses bullying within the Asian American Pacific Islander community.;
Fiona McEntee, an award-winning, nationally recognized immigration attorney at McEntee law Group in Chicago. She is Chair of the Media & Advocacy Committee for AILA National. Fiona has recently published her first book - Our American Dream - a children's book on immigration. As a mom of two young children, an immigrant and an immigration lawyer, she wrote Our American Dream to explain the importance of a diverse and welcoming America.
The program will open with 15 minutes of fun with a cocktail demonstration by mixologist Sarah Symans of The Dandy Crown. The Dandy Crown is a female owned business in Chicago's River West neighborhood.
Please register here! We hope you will all join us for this event on International Women's Day!