Oct 30th: Frederick Douglass Symposium at Celtic Arts Center, Minnesota
News
26 October 2020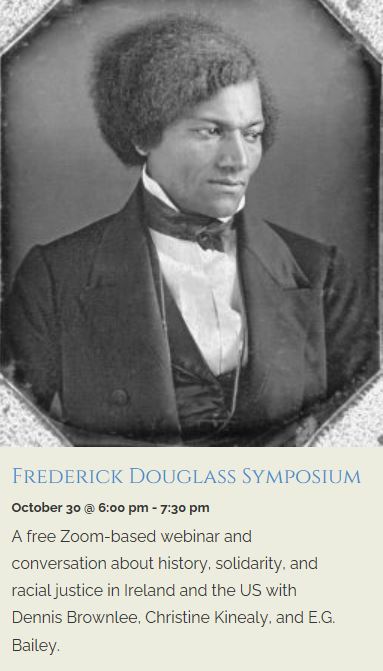 Frederick Douglass Symposium takes place virtually on Oct 30th
The Frederick Douglas Symposium is a Zoom-based webinar and conversation about history, solidarity, and racial justice in Ireland and the US which takes place during Ireland's Black History Month featuring opening remarks by Ireland's Consul General to the Midwest, Kevin Byrne.
Presenters and panelists include African-American Irish Diaspora Network founder Dennis Brownlee, Quinnipiac's Great Hunger Museum director Christine Kinealy, Minnesota artist and filmmaker E.G. Bailey, and more.
Celtic Junction Arts Center is Minnesota's Irish Cultural Center, based in the Midway area of St. Paul MN. We are compelled by the current events in our city and around the world to take this opportunity on the 175th anniversary of Frederick Douglass's escape to Ireland to prompt our community into a discussion about history, solidarity, and racial justice.
Register here. Registrants will be sent a Zoom link in order to connect to the event.