President Higgins Address at Indiana University Commencement Ceremony
To you the graduates, on this a day that I am sure will always linger in your memory – your graduation day – my warmest congratulations and my admiration for your achievements. May I extend these congratulations to all those who are with you on this celebratory occasion, family, friends, and others who have been there for you, who have made this day possible for you, who have given assistance, and perhaps on occasion, shown patience. It is good that you can now celebrate together.
I am honoured to be joining you and I thank President McRobbie, the Board of Trustees, Provost and Staff for the honour they bestow on me by asking me to speak at your commencement as well as conferring on me a Doctorate in Humane Letters Honoris Causa, which I receive with full consciousness of the honour it constitutes, coming as it does, from the great institution that is Indiana University.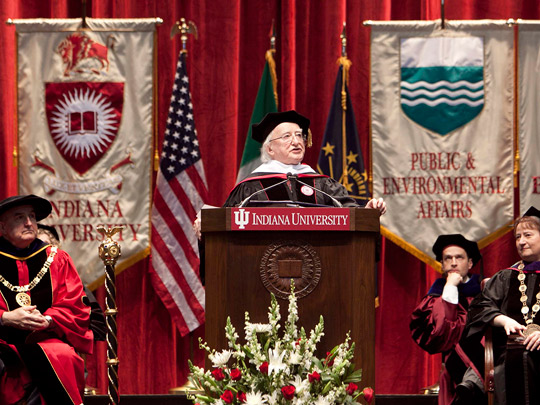 It is almost half a century since I came to study at Indiana University. It is 47 years since I graduated with a Masters Degree. I was part of an ambitious programme of research training in sociological research – the Indianapolis Area Project, conducted in my time here by Professor John Scanzoni. I was also a teaching assistant to Professor John O'Connor and Professor Westie. Time does not allow for a full recital of how a West of Ireland young graduate in his twenties came to Indiana, and Bloomington of the beautiful autumnal colours, in the Autumn of 1966.
Suffice it to say that I was a graduate in both Arts and Commerce of the National University of Ireland at Galway, who had begun research in economics. I was also a graduate in English literature and Language as well as Politics and Sociology, and this interdisciplinary orientation has stayed with me all my life. As the late Edward Said put it – "it is in the interstices that the most interesting work can happen".
As to my journey in 1966 – A colleague had been investigating the new subject of sociology, and how it should be taught as he travelled on a fellowship through the United States. He met Professor Grimshaw of Indiana University who spoke of a training programme, with an empirical focus where you would, in addition to coursework, have to fit yourself, with your research project, into an exercise where you learned to execute every phase of the research design and execution or simply perish. The fieldwork was in Indianapolis and the research preparation was in addition to the usual coursework.
I had had an interest in the intersection between both sociology and economics, and sociology and literature. I had been accepted in Berkeley to study with Neil Smelser, with whose work on the sociology of economic life I was familiar, but all their money was allocated. Indiana University offered me a teaching assistantship and thus, serendipitously driven, I was on my way to Willie Nelson country.
I had never been to the United States and I flew in to New York, where I stayed a night in the New York Motor Inn. I remember being woken in the middle of the night by four men waiting to go on night shift from The New York Times who were playing poker in a corner of the room – apparently a regular part of their night. An inadvertent allocation of the poker room to an Irish migrant however created no problem whatsoever.
After a few very American "good God's" I suggested they continue with their game and they explained to me, in a classically New York version of hospitality, what a Greyhound Bus trip to Bloomington would involve, and I heard the word 'hoosier' for the first time.
I arrived on campus on a Sunday, which was not convenient for anyone, but the general U.S. hospitality continued and the particular Indiana University hospitality, combined with a fascination with my accent, worked well as I got to access Graduate Residence Centre where, until I moved to an apartment, would be my Bloomington experience. To this day I value all of the friendships I made there.
Indiana University offered me a summer fellowship in 1967 and I entered their doctorate programme in that summer but I had, due to family illnesses at home, to return to Ireland. I was also at the edge of entering Irish politics, but Indiana University renewed their offer of a fellowship to me each year for two years. I have always been grateful to them for that. They lived with the threat of my return.
I do hope that you all had as pleasant a time, even more important as interesting a time, of discovery and achievement here in Bloomington as I had 47 years ago. After all, education is so much more than an investment. It is part of one's formation as a fully participating and successful citizen.
As I look back through decades, I can say that the courses and the work I undertook here influenced my teaching and my writing in a most fundamental way. I mean, of course, in the technical capacities it introduced, but also later in my own writing it constituted a solid intellectual body of work which I would critique and whose assumptions I would question.
As you graduate today, I cannot overstate the importance of always being willing to challenge assumptions and to guard against intellectual hubris. Hubris, pride in false certainties, always brings dangerous consequences. The history of humankind is replete with such moments. Even the great Francis Bacon's remark at one of the founding moments of Western science is typical of such hubris, when he suggested that the natural world could be dominated and mastered:
"I lead to you Nature and her children in bondage for your use, to gouge out her secrets."
The hubris took the form of a belief in a uni-linear idea of progress, a form of simple evolutionism, as it were, with science-driven technology conquering and taming a planet.
The line I have just quoted had it all: an excessive arrogance of reason; a justification of dominance, of an imperialism of conquest; a disruption of any or ancient symmetry between nature, human understanding and scholarship. This paradigm served too, not only as a rationalisation of empire, but also as an intolerance of intuitive wisdom.
The late 1960s, we must remember, were years which witnessed a particular hubris in the social sciences. The idea of progress as espoused by Bacon was an early progenitor to what would become the dominant paradigm in the Twentieth Century and beyond in the Social Sciences: – Modernisation Theory. Unlike physics or chemistry, disciplines whose paradigms of knowledge could change in a single lifetime, Modernisation Theory was not amenable to change.
The intellectual underpinnings of this model are the Princeton Studies of Gabriel Almond, Lucian Pye, Huntingdon, McClelland, Rostow and others in the early 1960s.
In the development theory which this model spawned, countries could be divided along a continuum of modernisation that was deemed to be measurable. Modern, urban, industrialised Western peoples constituted one end of the spectrum, and rural, traditional, agricultural peoples were at the other end, and were perceived as having obstacles of a cultural, political and economic kind to overcome. On some occasions more crude formulations forgot the continuum and simply spoke of modern and backward societies. I need not remind you of the harm which has been done to international relations, and to the prospects for global justice, by an unquestioning acceptance of this type of thinking.
New research technologies may have inadvertently contributed to the theoretical paucity which affected the social sciences during this period.
With large scale sampling, and computerised data analyses, manipulating statistical measures based on probability theory meant that sociology could now claim to be a science, at least in method, and could take its place alongside physics or any other science. The dropping of causality, of causal explanations, and their replacement with probabilistic generalisations had led a President of the American Philosophical Association in the 1960s to announce the coming together of the social and the experimental sciences facilitated by the new aids in sampling and data interpretations by computer use.
Farther back, of course, was an older assumption – of an epistemological kind: the assumption that that which might be known was measurable and calculable; that that which was not calculable, quantifiable might be ignored. In economics, this led in part to the dominance of the Chicago School, the consequences of which we live with today, as students all over the world have to agitate yet again for pluralist teaching, of economics in particular, and of social sciences in general.
I raise all this today so that we may all remind ourselves of the great truth that those who have the benefit of education must always guard against an arrogance of knowledge; that they must always base their intellectual endeavours on the values of curiosity, equality and respect, and must remain open to new ideas.
All those decades ago, students like myself came and acquired tools of investigation which were valuable. Later we came to realise that you also had to struggle first within, and then get past, a dominating paradigm of thought and practice, if the tools themselves were not to be elevated to the status of a replacement for serious, even morally engaged, not to speak of emancipatory, work.
In its narrowest sense, such an excellent university education as you have completed will equip you with great technical skills which will, at the minimum, make you useful to society; but at its broadest, the experience of an open intellectual education in a university such as this one can enable you to be so much more.
Graduating, from the root concept graduus, is a step on the road, a commencement indeed, of a journey. I wish you all intellectual satisfaction, moral courage and good and lasting friendships on that journey.
The critical capacity to challenge false inevitabilities will serve you well on your journey. May you not only acquire and retain critical consciousness, but my wish for you is that you also retain a sense of wonder, of possibilities that are never fully contained, never exhausted.
The following is a poem I wrote during a hard winter, in memory of a friend, the Irish theologian John O'Donoghue:
Of Possibility
From that wider space
that is imagination,
is made possible
a visual beauty
that dazzles and ensnares
Deep in that space lies too,
in unreleased expectancy,
versions of a world unborn,
sending shards of light and colour
that make an invitation
to something truly human.
They lodge in memory,
making an inheritance
of possibility not always realised.
And in that site yielded up by memory
to spirit at the end,
it is these shafts
and unrealised suggestions
that endure,
at the end,
making a rich legacy
of possibility.
It is an exciting time to have graduated. Challenging, yes, but open to all the energies of mind and heart, propitious to nurturing the bonds of friendship you have forged as a support, as a source of joy and creativity, and to putting the stamp of ethics on all that you do and on your version of the American Dream.
The decades that face you will, I believe, be ones of great change where the scholarship will be called upon to redefine itself in a great task of re-integration – of economic theory, ethics and environmental sustainability. It has to do this realising that existing borders to subjects within the academy are to be transcended if we are to achieve an adequate response. All three policy areas – ethics, economics and environmental integrity – require it. A consideration of justice, for example, cannot be bounded by any narrow legalism, but must be able to embrace issues of intergenerational justice, and do so without boundaries of nations or generations, if we are to have policies that are economically inclusive, ethically worthy, and environmentally sustainable.
The major challenges facing our planet require a global response. If previous generations did not make redundant the instruments of war, or eliminate poverty, while benefiting from scientific achievement; if they did not deliver the results of science and technology for the full benefit of all humanity; if they allowed an abuse of enlightenment reason to evolve into an unaccountable irrationality – none of those failures, often by those with the best of intentions, none of them constitute unavoidable inevitabilities.
The gift to you of our times – through your study, through your ethical, sensitive, and critically-aware lives together – is the possibility, the opportunity, to make a new world, and such a great project for humanity as that in which you will engage is surely necessary.
The current distribution of life chances on our planet has to be redressed if we, as inhabitants of this fragile planet, are to hand it on with the possibilities of the essential symmetries between nature, human mind and heart being restored.
I wish you the necessary courage to face all these issues, and in a professional way. Issues of how fictive and speculative capital can leech capital from productive use, capital that might have created sustainable employment, are ethical issues that have to be faced urgently, as too are issues of environmental sustainability.
A recent article by an Irish colleague points out that The World Bank calculated in 2009 that the wealthiest 10 per cent of the world's peoples consume 60 per cent of its resources, whereas the bottom 40 per cent consume just 5 per cent. 'This rich minority uses the equivalent of one and a half planets a year on consumption and waste'. We cannot go on being consumed in our consumption.
Almost 50 years ago the message in the social sciences may have been one of hubris, of arrogantly suggesting that removing the obstacles that impeded all others on the planet coming to be just like us, the consumers of the developed world, was the sole path to prosperity. Now the message, in humility, has to be that we must change, and that we can change.
A new generation of graduates such as yourselves will, I hope, be taking the first steps in a new ethical version of economics, a subject restored to its original title of political economy, social studies that are defined as craft, informed by wisdom as well as by contestable fact. You may find yourselves drawing on what is indeed potentially measurable, but you will be writing of it with intuitive creativity, relying on the wisdom of several traditions.
I wish you well in all of this beckoning future, and to conclude, may I offer you a blessing in our own ancient Irish language:
Beir Beannacht agus, rath Dé ar bhúr n-iarrachtaí ar son leas agus Fónaimh muintir an Domhain uilig san todchaí.
[Every Blessing on your efforts on behalf of all of the people in the world in the future.]
Go raibh maith agaibh.
Thank you for your attention.