Team Ireland in Brazil
The Embassy of Ireland in Brazil works closely with the Consulate General of Ireland in São Paulo, the Enterprise Ireland Office in São Paulo and with the other Irish state agencies to promote trade, tourism and inward investment. The Ambassador chairs the local market team in Brazil.
We can:
Support Irish companies who want to find and access new markets and help with resolving commercial difficulties where possible
Provide general advice on doing business locally and, through our network of contacts, pursue export and investment opportunities that will benefit Ireland
Work to secure market access for Irish products in key sectors in high-growth and emerging markets
The Embassy and the Consulate General in São Paulo also help to provide consular assistance to Irish citizens who need it while travelling in Brazil.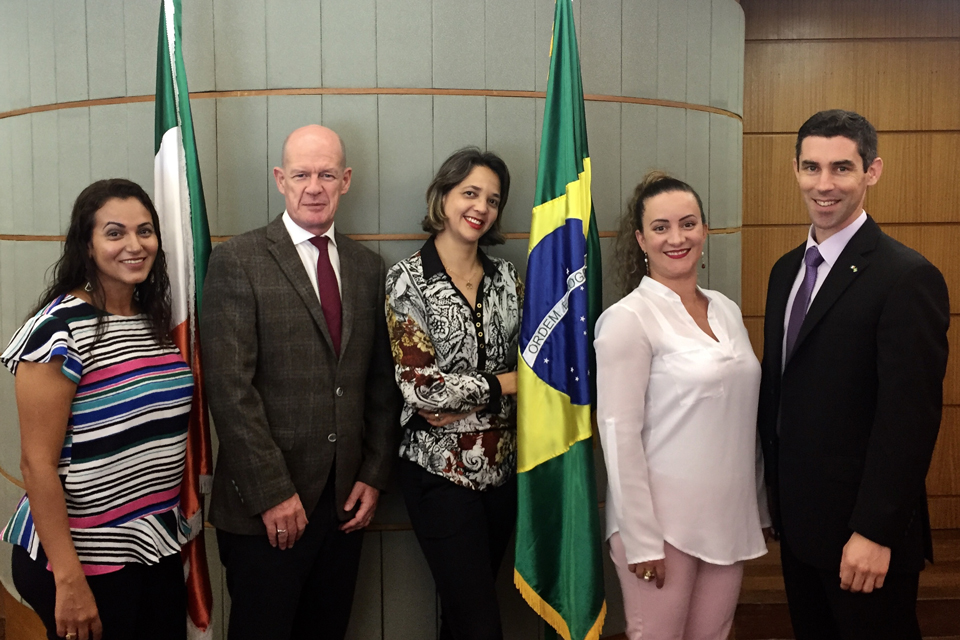 Team Ireland in Brasília (left to right): Alice Madruga, Ambassador Seán Hoy, Vânia Brandão, Érica Meireles, Declan Heery.
The Embassy Team
Consulate General
Irish State Agencies
Consulate General of Ireland, São Paulo
Consul General
Mr. Eoin Bennis
Deputy Consul General
Ms. Rachel Fitzpatrick
Consulate General of Ireland
Alameda Santos, 787, conj 61 – 6 º andar
CEP: 01419-001 Cerqueira César
São Paulo – SP
Brazil
A resident Consulate General of Ireland has been established in São Paulo, with responsibility for south and south-east Brazil (São Paulo, Rio de Janeiro, Minas Gerais, Santa Catarina, Rio Grande do Sul, Paraná and Espírito Santo).
For regular consular enquiries, the Consulate can be contacted by email (below). For emergency consular enquiries, please contact the Embassy of Ireland in Brasília on +55 61 32488800 in the first instance.
Email: Submit your query
Website: https://www.dfa.ie/sao-paulo/
Irish State Agencies
Working with the right expertise in relevant state agencies is part of our successful strategy.
Bord Bia
The Irish Food Board, known as Bord Bia, acts as a link between Irish food, drink and horticulture suppliers and existing and potential customers throughout the world. Bord Bia has a network of overseas offices.
Enterprise Ireland
Enterprise Ireland (EI) is the government organisation responsible for developing and growing Irish enterprises in world markets. Enterprise Ireland has an office in São Paulo. It also has a network of nine regional offices throughout Ireland and over 30 international locations.
Tourism Ireland
Tourism Ireland markets the island of Ireland as a holiday destination overseas. It devises and implements world-class marketing programmes and provides industry partners with opportunities to market their own products and services alongside Tourism Ireland overseas.
IDA Ireland
Ireland's inward investment promotion agency, IDA Ireland (Industrial Development Agency) is responsible for attracting and developing foreign investment.The IDA has an office in São Paulo.